Hello!
So, I've been leaving it a few day's (of recovery) before I finally posted some photos from the V Festival at Western Park last weekend. As a festival 'first timer' myself, I was a tad nervous, when I turned up and saw crowds of around 150,000.  However, it was such a fab weekend - I'd definitely recommend the festival to first timers like myself!
As I went with a rather large group of girlies, I managed to take lots of photos - some against their own will - and thought I'd share some festival outfit ideas! 
However, unlike the magazines/newspapers/any other source of media, at the V festival, who seem to all get their photos directly from the VIP area, I've taken a more realistic approach to what people really wear to festivals!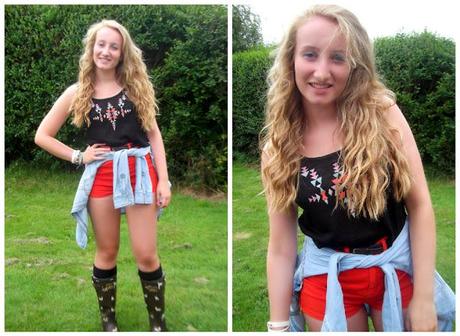 For my first day's outfit, I chose a Aztec Cotton Crop top from New Look, with a bright coloured pair of shorts from River Island. It was freezing when I left home, so I also took my blue denim shirt to cover up - and tied it around when the sun came out!
My Joules wellies are my new best friends, and you may find me out shopping in them fairly soon! They are so comfy, and cute with little doggies on them.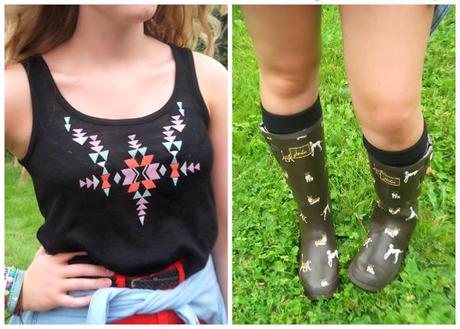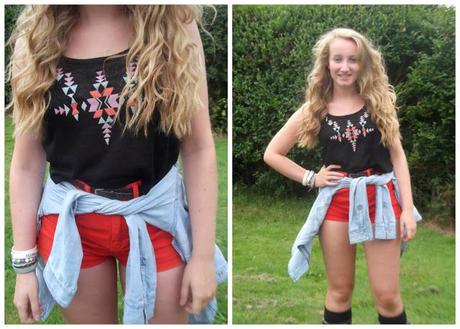 What I'm Wearing: Top - New Look, Shorts - River Island, Denim Shirt - Primark, Wellies - Joules, Socks - Top Shop

 From my first day I picked up the following TIPS:
1. Get a bloody good Waterproof MAC just in case of rain - it's really worth it!
2. Take food - because there are lots of reason why you won't want to buy food there!3. Don't be foolish, wear your WELLIES! 4. Take you bare essentials in a trusty rucksack!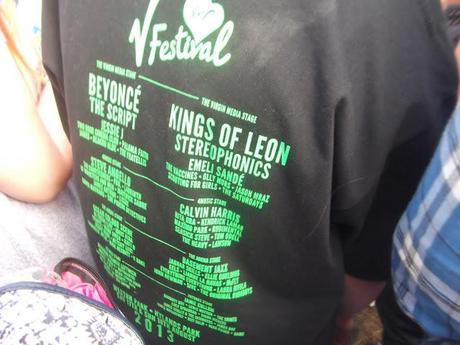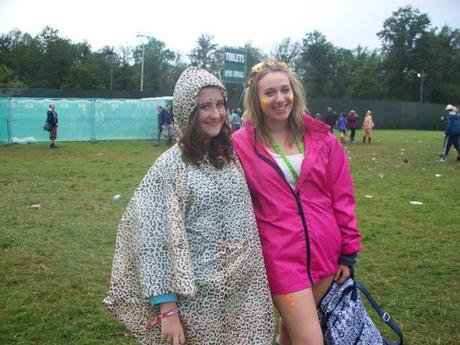 When I said you'd need a waterproof, I wasn't lying! Emily and Sarah (above) both rocked out their rain macs! You can get them for as little at £2.99-£9.99, depending on the quality!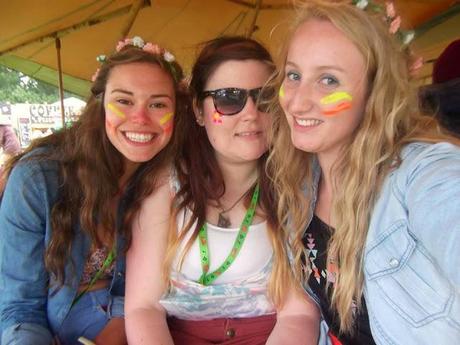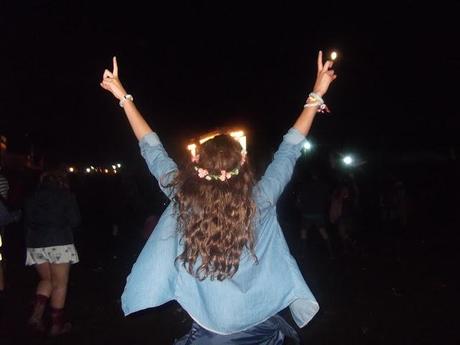 Charlotte's floral crown (above) from Primark was perfect to control camping hair, and she too had the genius idea to bring a denim jacket along - Charlotte's is from Top Shop.
Sarah also chose a sun flower floral crown from Claire's (in 3rd photo up)...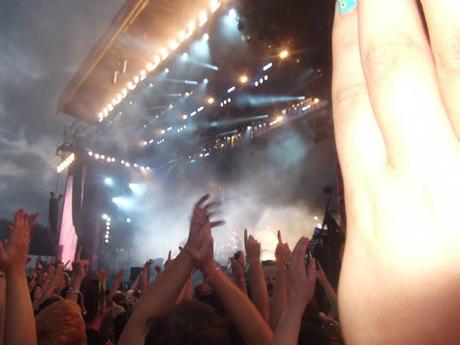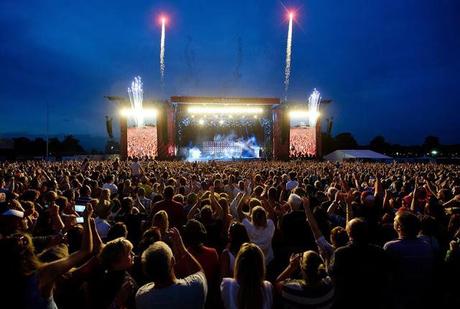 And the crowd goes wild - above photo from V festival website..
So that was my first day of V Festival!
I'll post my second day later! :)
Lots of Love,