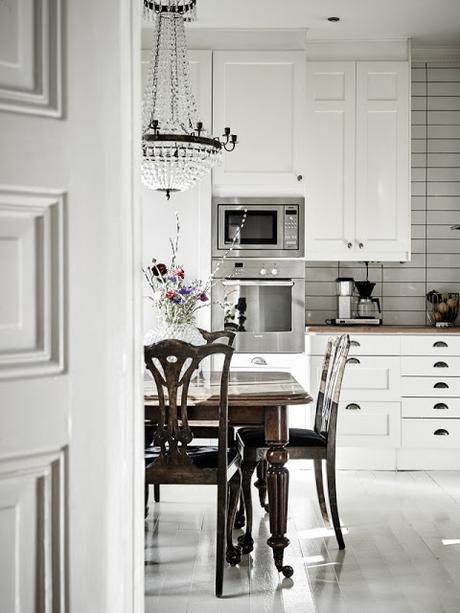 via
First off, I should clarify something.
I'm definitely not a purist when it comes to using authentic vintage lighting in a kitchen.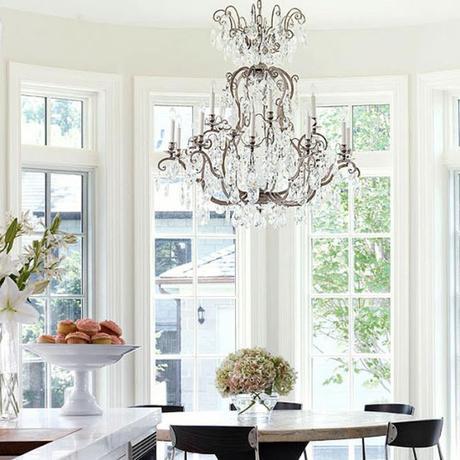 via
There are just so many wonderful reproductions out there but I do notice how my eye is always drawn to the real thing.
That certain worn patina that can't be faked. The weightiness and look of real crystals.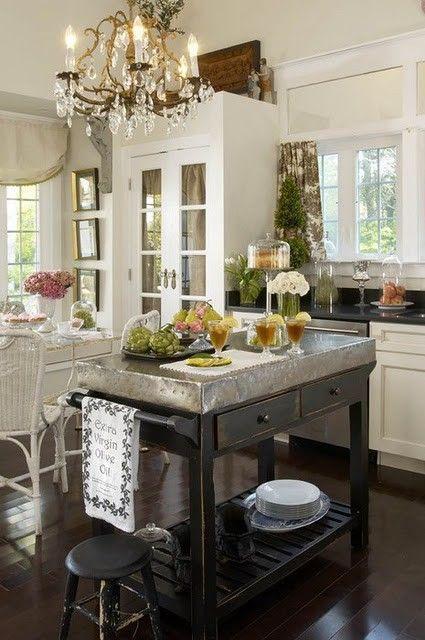 I guess I admire the effort it takes to locate that special "find,'  and the patience of having it re-wired so that it can have a whole new life again. And even though using authentic lighting fixtures do involve more work I like the instant warmth and sense of history they inject into a kitchen, especially a white kitchen which depends on a mix of materials to keep it from being too 'cold' or modern for my taste.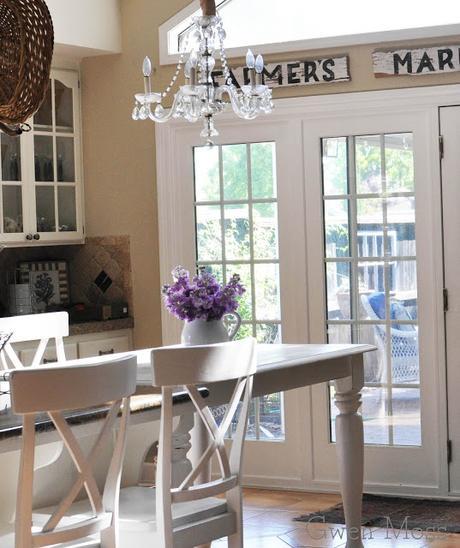 In my last house I had an old crystal chandelier that broke during our relocation. Even though it wasn't large enough for our high ceilings it sealed my love for sparkling chandeliers in the kitchen.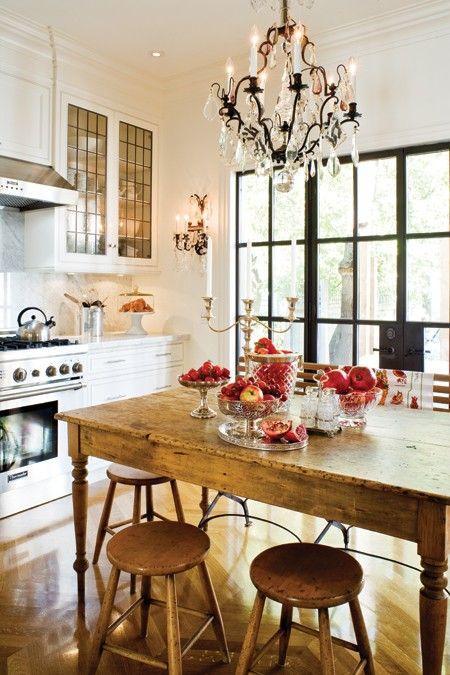 I especially love them paired with rustic wood.
The only problem was I hadn't been able to find a replacement for my broken one. 
I  even thought about giving up and buying this classic version,but in the end, it seemed a bit too restrained for me. I needed more bling.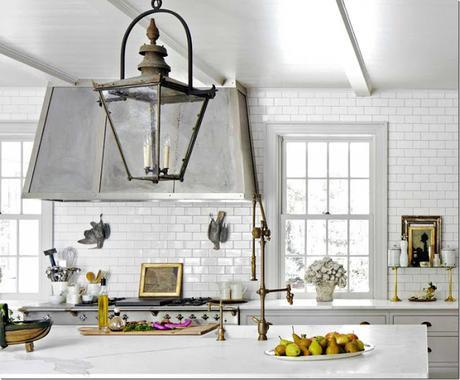 Or did I?
I started considering old, oversized lanterns like this one which I think looks gorgeous surrounded by marble countertops.  This kitchen was designed with the classic French bakery as inspiration and you can see more of this swoon-worthy house HERE.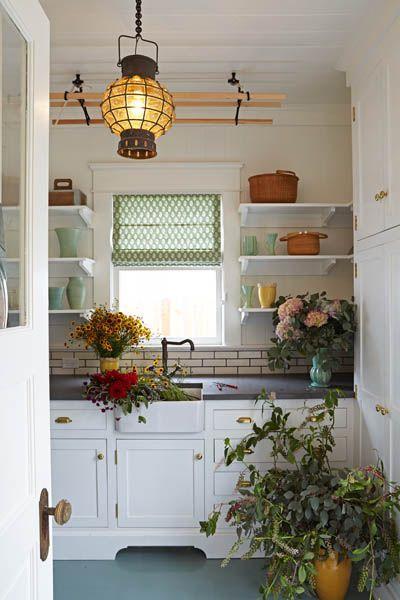 Where ever I'd go I'd keep my eye open for the right chandelier...
 but I soon realized something.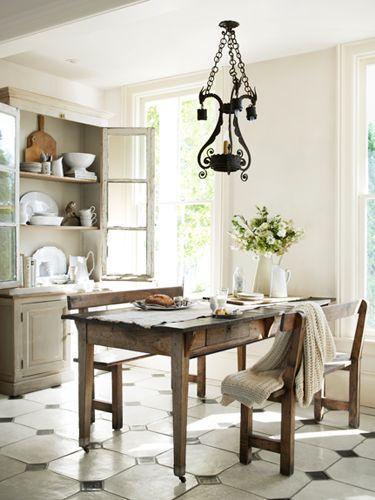 ( love this home in Sonoma, CA)
I realized that even though I have an affinity for quirky, eclectic pieces when it comes to my kitchen chandelier I kept coming back to classic choices.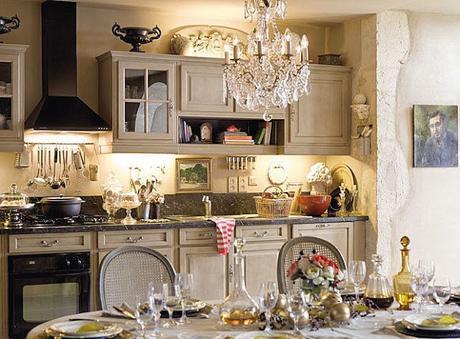 And teardrop crystals.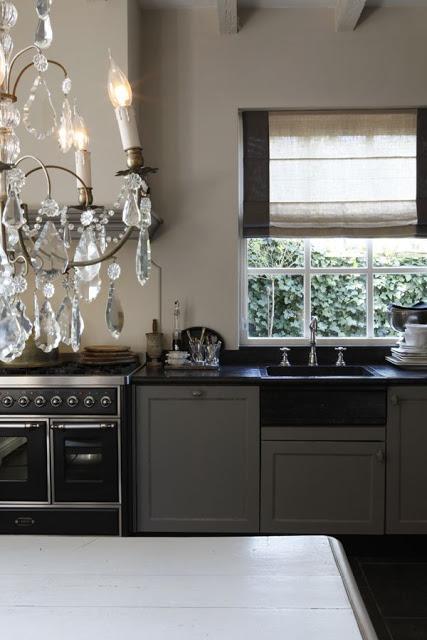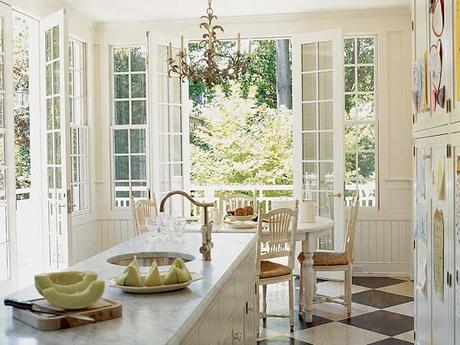 And what is it about authentic looking brass right now?
I have no idea if it's "In" or "Out" of style these days---(and I don't really care)
 but it's been calling my name lately. So I decided to keep an open mind when Mr. Moss and I went shopping for my Christmas gift last weekend.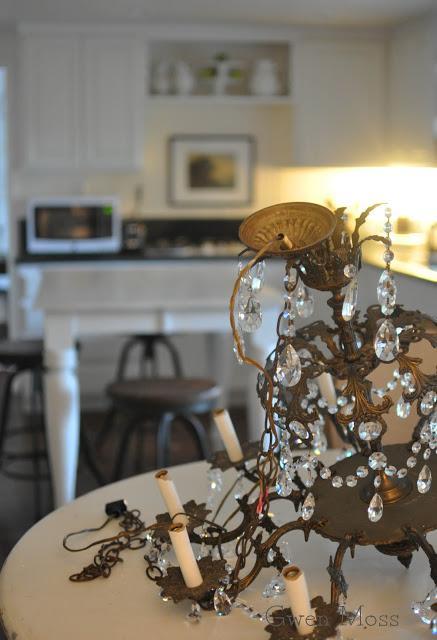 I'm not sure if this is a sign of a 27 year-old-marriage, but my favorite Christmas present was a handmade gift certificate for a afternoon of antique store shopping and lunch  from none other than my Honey.  
I know!  How did he know (I believe in hints) that  making goo-goo eyes at lots of old chandeliers followed by a glass of wine and lunch next to the pier was my version of a dream date?!
Also we found this chandelier at the first place we went.
Should I  be suspicious that he liked it so much?

(He hates shopping)


As you can see we bought an old, oversized brass fixture with crystals and lots of engraved detailing which you can't see in the photo. It was pretty close to an impulse buy and afterwards I had to check my IPhone picture to learn that it has ten lights... yes ten!! Which kinda made me worry about it's size.
But now that it's home sitting on the table I'm feeling excited. We both agreed we selected it for our future kitchen which I'm slowly designing in my head.
It goes up on Monday and of course it means re-working my gallery wall--probably removing it (paired with this chandy, it might be too much of a good thing if-you-know-what-I-mean) 
but I'll have some pictures I'll share with you soon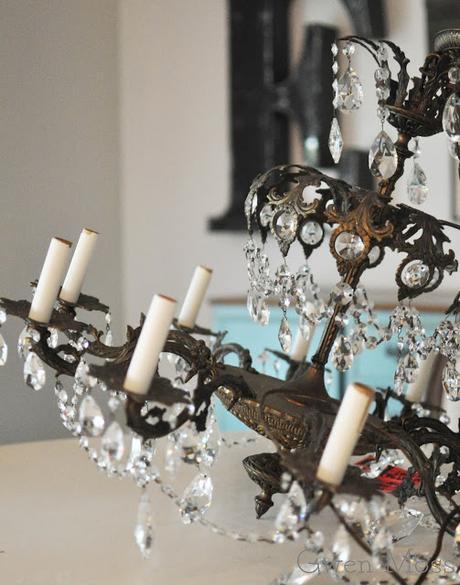 How about you?
What do you think about using vintage lighting fixtures in your house?
xoLeslie
I'm sharing this post with these friends:
Share your Cup
Share your Style