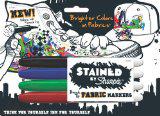 I have to confess, crafts are not my strong point. I'm not what you call talented. In fact, it took me two hours and a sewing machine to make two pillowcases. Pitiful, I know. There are certain crafts that I have been forced to engage in over the years, one of which was stenciling names onto fabric.
The first thing I tried was the fabric spray paint. No. Just… no. After a big mess, a splotchy and terrible looking thing that faintly resembled a name, and a bunch of wasted time, fabric and effort; I decided to give up on the spray stuff.
Next were the gel pen things. Scratchy and irritating to wear, these were a huge fail on the first t-shirt I stenciled, and the child I made it for refused to wear anything I made ever again. Another failure. Sigh.
At the end of my rope, I bypassed the iron-on letters because there were one, too expensive, and two, just as scratchy as the gel pens. But what could I use? At last, I came upon a miracle product. Sharpie makes permanent fabric pens! In pretty colors! But would they work?
Buying a small pack, I took them home and started experimenting. You had to move the pen at a steady rate and it was best to use a fat stencil and outline the edges first, but it did work! Now to the test… it looked great, how did it feel?
The kid never said a word against it. In fact, he mentioned how cool it looked and how I should start selling them online. Since it still took me a significant amount of time to complete one t-shirt, I didn't think that was feasible, but I appreciated the compliment. My stomach was still in knots, however. It was great that it worked for now, but would it survive… the wash?
I'm happy to say that several washes later, the shirt still looks as good as new. No fading or splotching or (as I feared) bleeding of colors. And I used navy blue, black, and red, so there was plenty of opportunity there.
I have to admit, even a klutz like myself can use Sharpie's markers. I think they'll stick around a while.
This guest post is contributed by Debra Johnson, blogger and editor of live in nanny.
She welcomes your comments at her email Id: – jdebra84 @ gmail.com.