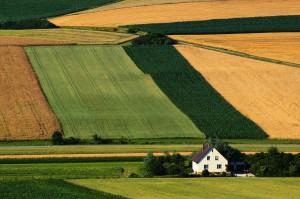 What is a USDA Home Loan?
A United State Department of Agriculture loan might be right for you if you want to purchase a home with no down payment. If you're unsure about your credit rating, or have concerns about a down payment, USDA mortgage loans can give you piece of mind with super low closing costs and flexible payment options.
What Types of Loans does USDA offer?
Currently, there are two kinds of USDA mortgage loans available for single family households:
USDA Guaranteed Rural Housing Loans:
The most common type of USDA home loan and allow for higher income limits and 100% financing for home purchases. USDA Guaranteed Loan applicants may have an income of up to 115% of the median household income for the area. Area income limits for this program can be viewed here. All USDA Guaranteed Loans carry 30 year terms and are at a fixed rate.
USDA Direct Rural Housing Loans:
These are less common than USDA Guaranteed and are only available for low and very low income households to obtain home ownership, as defined by the USDA. Very low income is defined as below 50 percent of the area median (AMI); low income is between 50 and 80 percent of AMI; moderate income is 80 to 100 percent of AMI.
Changes
Guarantee Fee Changes went into effect on October 1, 2011. An annual fee of .30% of the outstanding principal balance was implemented, to allow the Agency to reduce the up-front guarantee fee. As of October 1, 2012, the annual fee is now .40%
Therefore, beginning on October 1, 2011 the up-front guarantee fee for purchase transactions now are decreased from 3.5 percent to 2 percent for purchase loan transactions. The up-front guaranteed fee for refinance loan transactions increased to 1.5% beginning October 1, 2012.
New Pilot States Added & Effective 2/25/2013: AK, AR, CO, ID, KS, MO, MT, ND, OK, SD, TX, UT, WA, WV, WI
USDA EDGE Fixed Product:
Fixed Rate Mortgage insured by the United States Department of Agriculture
USDA Fixed Rate

Fully Amortizing Mortgage

30 Year Term

No Money Down

No Mortgage Insurance – See Guarantee and Annual fee below

No First-Time Homebuyer Requirement
Below is a Snapshot of details, eligibility, restrictions, and other information for USDA Edge Fixed Product. New Eligible States have been added and are effective starting 2/25/2013.
Can't see Flash PDF? View it here: USDA EDGE FIXED PRODUCT