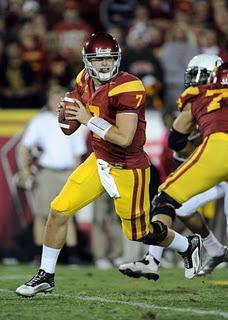 Photo: Getty Images, Harry How
- Troy Ballard
At the conclusion of Matt Barkley's junior season at USC he was often regarded as one of the top three quarterbacks who could declare for the NFL Draft, but instead of taking an opportunity at a professional level, he announced a return to the Trojans for his senior year.
The Trojans and Barkley, who have been locked in a two-year postseason ban for recruiting violations, have their sights locked in on a 2013 National Championship in the school's first season back with eligibility. Many have USC in the conversation as one of the best and most developed teams going into next year, and the return of Barkley at quarterback could make them the most talented team in the country.
With Barkley staying for his senior season, the 2012 NFL Draft will be flipped upside down, with the quarterback talent dropping immensely. Andrew Luck, from Stanford, is a sure-fire first-overall pick, but behind him is a total question mark. With the amount of quarterback-needy teams in the NFL, there will likely be several draft day trades in an effort to select one of the remaining talents in the first-round.
Many draft experts expected Barkley to leave with fellow Trojan offensive lineman Matt Kalil, another first-round lock, as part of a package deal. But while Kalil is leaving for the NFL before his senior season, Barkley remained faithful to USC and is returning for one last run at a National Championship.
Given the recent additions to the Pac-12 Conference, Barkley and USC will be faced with several roadblocks in their way to a BCS Championship next season. Despite having an immensely talented team, the Trojans can't overlook teams like Notre Dame and Oregon, who is another National Championship favorite in 2012.
Given that Barkley led USC to a (10-2) record in 2011, with a much younger team, with the only two losses coming to the Luck-led Stanford Cardinal and to an up-and-coming Arizona State team. But the most impressive win of last season, and quite possible Barkley's entire career, was against the heavily favorited highly-ranked Oregon Ducks.
Barkley may be criticized, much like Jake Locker was, for returning his senior year when his draft value is so high, but he has secured his spot in USC history regardless of the outcome of next season. There are few college players that would choose their school and fans over high-paying and lavish lifestyle that the NFL brings.
For all those USC fans, Fight On.
Be sure to follow Beard and Stache on Twitter @BeardAndStache, and also Troy @TroyBallards, Like our Facebook page HERE!