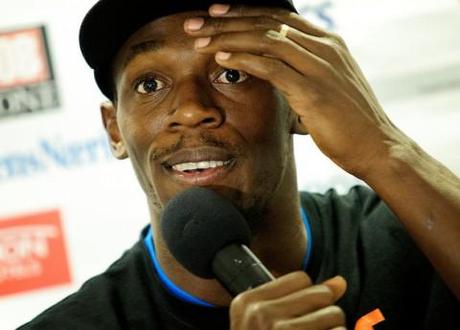 Usain Bolt, the world's fastest man. Photo credit: aktiviosio http://flic.kr/p/bV7qWv
The background
Jamaican sprinter Usain Bolt won the London 2012 100 meter final on Sunday night to defend his Olympic title and confirm his status as both the world's fastest man and the world's number one track and field star.
Despite pre-race whispers that Bolt was not quite at full fitness, he triumphed in some style; he set a new Olympic record of 9.63, not far off his blistering world record time of 9.58.
Bolt needed to be at his best – training partner and fellow countryman Yohan Blake won silver with a personal best of 9.75 and American bronze medallist Justin Gatlin also recorded a personal best (9.79). Seven of the eight finalists ran under 10 seconds and Asafa Powell almost definitely would have done had he not pulled up mid-way through the sprint with an injury.
"I'm not concerned by what people have said. I've said it from the start: people can talk. All they can do is talk. When it comes to the championships, it's all about business to me — and I brought it home," Bolt told the BBC.
The fastest race of all time
At The Guardian, Andy Bull underlined just how classy the 100m field was. He reminded that it was the first time in the modern Olympic era – since electronic timing was introduced in 1968 – that all four of the fastest men in history at that moment were on the start line for the 100m final. Bull argued that Bolt was forced to got up a gear by the sheer class of his competitors: "Every Ali has his Frazier, every Coe his Ovett, every Senna his Prost. Bolt had three men aiming at the target on his back. Each of them peaked in the Olympic final. Gatlin set a personal best while Blake equalled his. (Tyson) Gay produced his quickest run of the season. As an athlete you are not just defined by the times you set, but by the competitors you beat, and Bolt has just beaten the very best his sport has seen."
The legendary race was somewhat marred by a drunken spectator throwing a plastic water bottle onto the track just before the gun went off. Thankfully, a Dutch bronze-medal judoka was in the stands and on hand to collar the offender, who was later arrested.
Rivals still some way off catching Lightning Bolt
"The fastest gun in the world is still beautifully oiled, still consummately able to shoot down anyone who might doubt him," purred James Lawton at The Independent, who said that Bolt was "masterly" and "thrilling in the ostensibly nonchalant way he re-conquered his world. Of course he wasn't nonchalant, he wasn't playing the clown. He is about the vocation of his life. He was about the serious business of being the fastest man the world has even known. It is title that for some time is unlikely to feel the breath of a threat."
Imagine if Bolt actually bothered to knuckle down!
At The Daily Mail, Jonathan McEvoy said that Bolt's victory "was precisely the result that athletics needed. He is the star turn, the cavorting highwire act who reaches out to all ages and colours." The writer wondered just how fast Bolt could run if he really put his mind to it. "If only he could start. If only he did not party until 5am. If only he was not 95 per cent fit. If only he did not guzzle chicken nuggets. Just think how good Usain Bolt could be," sighed McEvoy.
Marina Hyde of The Guardian posed the question, "in that presumably supra-orgasmic moment when he crosses a finish line, don't we all just yearn to be Usain Bolt?
We all want to be Bolt
Bolt's "effortless cool makes us all yearn to be like him," insisted Marian Hyde at The Guardian, who said the champion "has endeared himself to Britain by maintaining the illusion of a man making minimal effort." "He may run in Jamaican colours, but it should be perfectly obvious that Usain Bolt is One of Ours," joked Hyde, who reminded that the Brits "have always adored people who appear not to be trying, and there is simply no top athlete alive, not even Lionel Messi, who appears to try as little Bolt. It is the source of his galaxy-class charm. The fastest man on the planet disports himself like a gentleman amateur. When his career comes to an end, they will retire the adjective 'effortless.'"
More on Olympics

Olympics badminton row: Can the players be blamed for just trying to win?
Bert Le Clos is the world's proudest parent 
Best of the weird and wacky London 2012 Olympic Games news