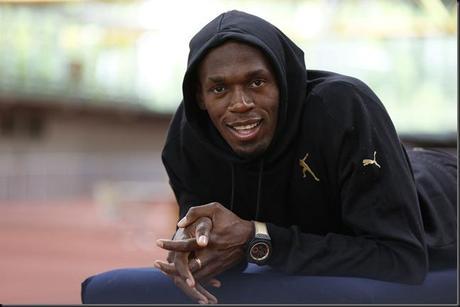 With the Olympic Games very much in our thoughts here in the UK, I thought it time to have a look at the biggest star due to fly to London to compete, the phenomenal sprinter and current 100m champion Usain Bolt. it is interesting that recently he has not been his normal unbeatable self, and lost to his compatriot Yohan Blake twice recently. Looking at his stars, it is easy to see why he has not been on form and he arrives in London under a cloud of uncertainty.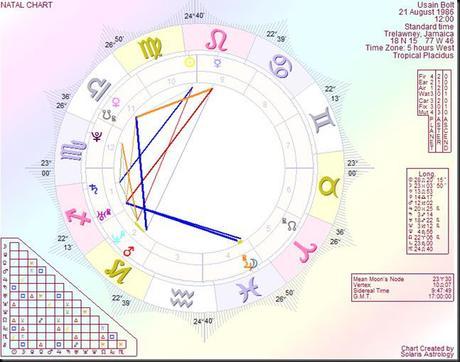 Usain was born in Trelawney, Jamaica on 21st August 1986 (no birth time known). He is a Sun sign Leo with a Pisces Moon which is a really soft hearted and loyal combination. The Pisces Moon is very sympathetic and kind and the Leo Sun is proud and individual. We have a great creative spirit here, probably a love of music, a need for personal recognition and a very generous nature, enhanced by the Moon's conjunction to Jupiter.
That Moon Jupiter conjunction is hugely forgiving and really lovely in Pisces, Usain will have the biggest heart going and I think he is a real softie, very friendly and a true humanitarian. This conjunction is square to Uranus which is very optimistic as well as impulsive and excitable. Uranus in Sagittarius is in an incredibly enterprising position, he was never going to remain in his homeland on the island of Jamaica, this is one guy who was always destined to travel and explore far and wide.
The reason Usain has captured the world's attention is not just that he is the fastest human ever (I will explain why later), it is because he has great charisma explained by Mars being conjunct to Neptune which is very imaginative and has a great sense of drama about it. The Mars/Neptune conjunction squares to Venus in it's own sign of Libra, a most sociable place for Venus to be. That charisma is directed in a very easy going way, Venus in Libra is very Caribbean in nature, he will be popular and have an almost lazy charm about him.
Behind this all of course there is a serious athlete too, with Mars in Capricorn very goal orientated and serious about doing well and being successful and first in all one's endeavours.  Uranus trine to Mercury in Leo is a fire trine which shows he has quick reactions and thrives in a fast paced environment, his brain is very sharp too and Usain will speak his mind, although he is prone to exaggeration in order to get his point of view across.
Amazingly with all this positivity, Usain does have an achilles heel, personal self doubt that can wrack his nerves when that Leo Sun and his ability is tested. Saturn is square to his Leo Sun so you will have two sides to Usain. When he is confident, he can and will conquer the world but when he is tested he can be plagued by inadequacy and inhibition.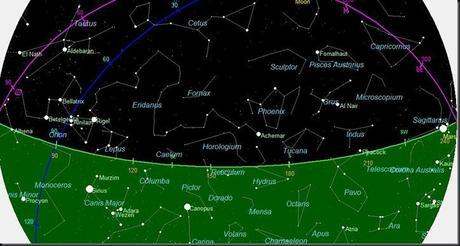 So why is Usain so fast and so good? To find out, we have to look at his fixed stars. First and foremost, his North Node his destiny is in Aries, the sign of the athlete ruled by Mars and it was rising as the star Spica, the star that sits in the wheat sheaf in the hand in the Virgin in Virgo. Spica adds brilliance and special talent to whatever it touches, and that athletic North Node is enhanced by the connection. Mars (above right), Aries' ruler was setting on the horizon on the day of Usain's birth as fixed star Alhena (above left) was rising. Alhena sits in the foot of one of the twins in Gemini and is known as "The one who marches". Mars here doesn't just march, it runs, very, very fast. This connection shows someone who lead by example, his actions speak louder than any words, and watching Usain run, you have little if any time to speak. This correlation between the North Node and Mars, with the brilliance gifted by Spica to the ability to run shown by Alhena, and I think it explains why Usain has been blessed with such speed.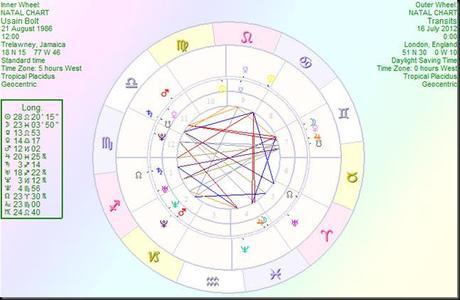 Unfortunately that speed has been missing recently leading to a couple of unexpected defeats. Why? Saturn which natally squares his Sun has for the past month or two been sitting on his 23 Libra South Node, a place of detriment on his chart and it will be still closely conjunct to it on the day of the 100 metres final at the Olympics.  One thing in his favour right now is that the transiting North Node will have moved to conjunct his natal Saturn which traditionally brings fortune and luck. One gets a reward when this connection is made, but I fear by the day of the final, the Node will have passed Saturn by a couple of degrees and on balance, I feel that that transiting Saturn will hold sway this time. Maybe the reward is getting over a hamstring strain that has allegedly been troubling him allowing him to compete, those medical problems can be seen by transiting Neptune which has been exactly square to his natal Saturn. Now I know that Usain is hugely talented and fast even when he is not at his best and as talented as Usain is, I do not think that London will be a successful games for him, and I feel he may be defeated this time.