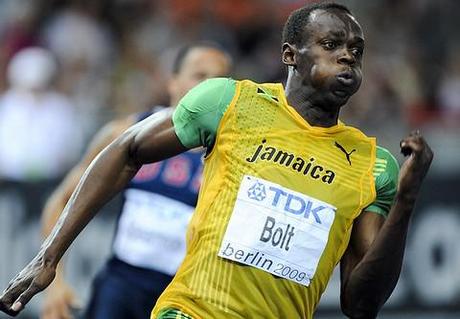 Usain Bolt in full flow. Photo credit: Jose Goulao http://flic.kr/p/6RxNuq
The background
The 100 metres final is the most keenly eagerly anticipated event of any Olympic Games and the Sunday 5 August final at London 2012 promises to be especially exciting. That's because it pits flamboyant Olympic gold medal and world record holder Usain Bolt against Yohan Blake, his training partner and compatriot. Blake is in the form of his life and recently beat Bolt over both 100 and 200 metres at the Jamaican trials.
No man has ever successfully defended his 100 metres Olympic and 200 metres titles on the track. Bolt will be aiming to do that and claim his 4x100m relay gold for a second successive time. It is quite an ask but if anyone can do it, it is Bolt.
Both Bolt and Blake failed to show on Tuesday morning for a training session open to the public at Munrow Sports Centre track at the University of Birmingham.
Bolt is focused and ready to make history
Global superstar Bolt is not known for his shyness and, in an exclusive interview with The Guardian, he told people to expect big things from him in London. "Legends have come before me, but this is my time," boomed Bolt, who added, "this will be the moment, and this will be the year, when I set myself apart from other athletes in the world." The Guardian's Donald McRae, who interviewed Bolt, insisted the fighting talk was a "dramatic statement of intent" rather "arrogance … Bolt knows that if he can overcome all his new challenges, and disappointments over the last year, he can join sport's most exalted pantheon." McRae rejected the "mistaken assumption" that Bolt "simply needed to turn up, mug for the camera with some dance-hall steppin', and then run and win," but reported that he "carries the conviction of a man ready to run into the stunned embrace of history"
"If Bolt replicates his feats from the Beijing Olympics, where he won three gold medals with blistering speed and irresistible panache, his name will echo alongside near mythic sporting figures like Jesse Owens, Muhammad Ali, Pele and Michael Phelps," insisted Donald McRae on The Guardian.
Blake is on fire, could burn Bolt
Simon Turnbull of The Independent argued that Blake has a real shot at the gold medal: "For the time being, Blake can claim to be the best sprinter not just in Jamaica but in the world. He has struck down the Lightning Bolt twice in 48 hours. He has shown that his victory in the World Championship 100m final in Daegu last year, when Bolt was disqualified for a false start, was far from hollow. He has demonstrated that his 19.26sec clocking for 200m in Brussels at the end of last summer was no fluke indication of his potential over the longer distance." Blake's scintillating form "sets the scene for a mouth-watering double head-to-head at the London Olympics. Think Ovett v Coe, but with a Jamaican high-speed twist."
"When you guys are sleeping at night, I am out there working. That's why they call me the Beast. I work twice as hard as everybody else," Yohan Blake told The Independent.
Bolt vs Blake is the greatest sprinting rivalry since 1988
Bolt versus Blake is "the biggest rivalry on the track since Carl Lewis and Ben Johnson," purred Owen Slot on The Times (£), who argued that London will be better than Beijing because the two "king-of-the-world superstars" – Bolt and swimmer Michael Phelps – will be "pushed to the limit by the pretenders to their crowns." Slot said that, in Beijing, "Bolt gave us entertainment, yes. But will-he-win, will-he-lose drama? Never."
Leave Bolt and Blake alone
The Jamaican Gleaner celebrated that the small Caribbean nation presently boasts four of the five fastest men in history and rejected "silly chatter" that Bolt and Blake should no longer train under the same coach (Glen Mills)  – "Instead of trying to rip them apart we should be doing everything possible to keep them together in the same environment that spawned their success." Turning to the big race, The Gleaner said that Bolt "will be hoping to exact revenge on Blake during the Olympics but he knows that Blake will not be a pushover. Bolt will know he has to run close to 9.60 or break his own world record of 9.58 to keep Blake at bay. Similarly, Blake knows what it will take to beat Bolt. He knows that he will have to be on top of his game if he is to prevent his friend and in many ways, mentor, from becoming the first man to defend his 100-metre title on the track at the Olympics."