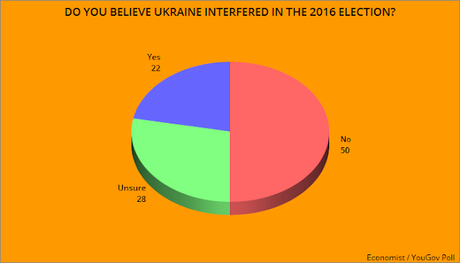 These charts reflect the results of the new Economist / YouGov Poll -- done between December 1st and 3rd of a national sample of 1,200 registered voters, with a 2.9 point margin of error.
In an effort to justify his election and obfuscate Russian involvement in the 2016 election on his behalf, Donald Trump is still trying to float the lie that it was Ukraine, not Russia, that interfered in the election.
And in an effort to cover for Trump's criminal conduct and prevent his impeachment, Republican members of Congress are spreading that same lie. They know it's not true, and don't seem to care that it's Russian propaganda to cover their own criminal involvement in the 2016 election. They also don't seem to care that the Russian propaganda has been debunked by all of our intelligence agencies (and an investigation by the Senate Intelligence Committee).
Fortunately, American voters are not buying the Trump/Republican lies. Note that only 22% of registered voters think Ukraine interfered in the 2016 election, while 50% say that did not happen (see the chart above).
Americans do think a foreign power did interfere in the 2016 election. About 60% of registered voters say Russia interfered, while only 25% say they did not (see chart below).
The congressional Republicans are just destroying their own credibility with the voters.