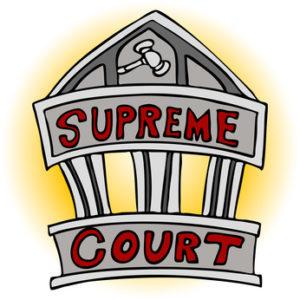 On August 22, Brazil's Federal Supreme Court received United States Supreme Court Clerk Scott Harris, who gave a speech about how the US Supreme Court works. He also highlighted some key differences between the US and Brazilian Supreme Court systems.
Brazil's Supreme Court is presided over by a chief justice (currently Cármen Lúcia) and ten justices appointed by the president and approved by the Senate. This system is similar to the US Supreme Court, which has a chief justice (currently John Roberts) and eight associate justices, all appointed by the president and confirmed by the Senate.
But there are also some important differences. The Economist wrote an article on the Brazilian Supreme Court in 2009, calling it "the most overburdened court in the world, thanks to a plethora of rights and privileges entrenched in the country's 1988 constitution." Unlike the US Supreme Court, every justice on the Brazilian Supreme Court writes his or her own opinion in each case. The result: an overburdened system. Last year alone the Brazilian Supreme Court received 100,781 cases.
While public opinion of the Brazilian Supreme Court has risen in light of its handling of the Lava Jato cases, the system itself still has its administrative flaws. Just imagine - each justice has 7,000-10,000 pending cases. In comparison, the United States Supreme Court tries only a few dozen cases a year. That is because the US Supreme Court has the right to decide which cases it hears. About 150 petitions are filed per week, but only 1% of these cases are actually chosen.
Another major difference is that while Brazilian Supreme Court appointees have a mandatory retirement age of 75, American appointees hold the position for life. As Clerk Harris pointed out, this makes their appointment an even more serious matter. "The nominees will be there for 20 or 30 years, and there is no way to predict the issues that will reach the court so far in advance. When most of the current members were nominated, that theme [same-sex marriage] was not even on the radar yet."
Harris cited some cases on the US Supreme Court calendar for this year that reflect themes of social impact. One such case has to do with President Donald Trump's "Muslim travel ban". Another case has to do with a bakery in Colorado whose owners refused to make a wedding cake for a homosexual couple. In Brazil, all eyes are on the Supreme Court for a different reason: to hear its decisions about political and anti-corruption cases.