Hope they catch the cowards.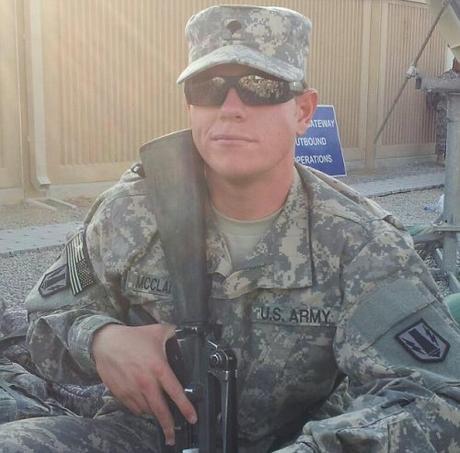 Specialist Korry McClanahan
From KIRO TV: He doesn't look like my son right now," said Lisa Senecal while in tears from her son's bedside.  Specialist Korry McClanahan, 25, is motionless in bed, his head wrapped in gauze. Until late Friday night, he spent almost every day working out. Now his family doesn't know if he'll ever move again.
McClanahan got to Joint Base Lewis-McChord from Fort Hood, Texas, a few weeks ago. On Friday he and another soldier went to Steel Creek American Whiskey Co. in downtown Tacoma to play pool. At about midnight they went outside to smoke.
The other soldier says a group of six men, speaking in Russian, approached them and started picking a fight. The soldier says he and McClanahan wanted no part of it and tried to walk away.
The group followed and "bum rushed" them.  He says McClanahan was punched in the face. He was knocked out. When he fell, his head slammed into the ground.  
The soldier says the men piled into a black Infiniti G35, model year 2005 or 2006. They sped off. He called 911. And McClanahan has not spoken since.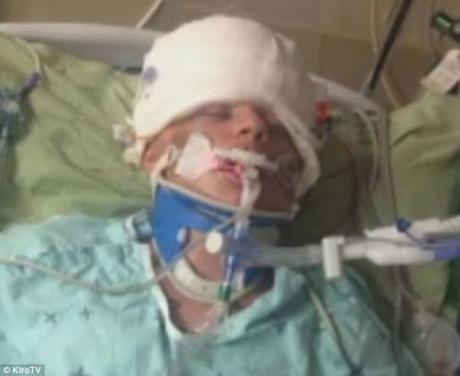 "They don't know what the long term affect is going to be," said his mother. She says her son has not responded to any commands. He has opened his eyes but does not seem to comprehend or react to anything.   
She's been whispering to him, telling him she loves him and he needs to get better for his own 4-year-old son.
She's barely slept; worried she'll miss some movement or communication from her son. Exhausted and in tears, she said she still wanted to talk to KIRO 7 because "no mother, no father, no family should have to go through what our family is going through." She broke down, and barely managed to say, "They need to be caught."
Tacoma police say an investigator has just gotten the case. They would not disclose any other information.  
KIRO 7 went to Still Creek Grill and saw surveillance cameras inside the restaurant. Employees made it clear that the attack happened off their property and would not say whether the cameras had gotten images of the suspects inside the restaurant before the attack. An employee did say they were cooperating with police.
Senecal has no doubt that someone out there knows who put her son in the hospital. "They need to come forward because these men that did this need to be caught. If they aren't caught they'll just do this to someone else."
DCG