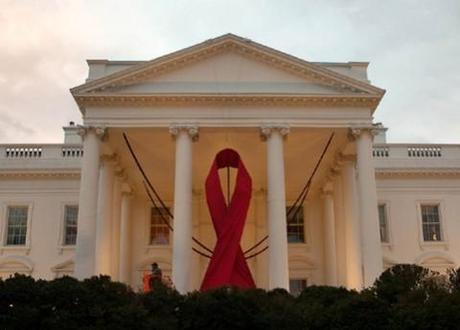 The White House adorned with a Red Ribbon, the symbol of the fight against AIDS, for World AIDS Day. Photo credit: Official White House photo, Chuck Kennedy
AIDS has killed more than 27 million people since its discovery in the 1980s, making it one of the deadliest pandemics humanity has ever encountered. According to the latest UN figures, 34 million people were infected with HIV/AIDS in 2010 and though antiretroviral treatment has managed to suppress the virus, there is no cure.
Thursday is 24th anniversary of World AIDS Day – but as world leaders and celebrities use the day to call attention to the epidemic that is still killing more than a million men, women and children each year, AIDS campaigners warn that funding to fight the disease is running out.
AIDS groups face funding cuts. John-Manuel Andriote, a veteran HIV/AIDS reporter, reported in The Atlantic that AIDS service organizations – groups that offer counseling and care to individuals suffer from HIV/AIDS in America – are facing an uncertain future as "as the federal government, the biggest funder of HIV services, is now defining HIV care and prevention in narrow medical terms." Funding of HIV/AIDS services comes largely from the 1990 Ryan White CARE Act, a comprehensive legislation that provides billions of dollars in support and that Congress has re-approved four times. But the legislation is up for renewal in 2012 and, given the current acrimonious climate in Washington, AIDS service advocates worry that it may become a victim of the budget battle. Survival depends, he wrote, on these groups consolidating.
George W. Bush: Don't cut AIDS funding. Former President George W. Bush offered a rousing defence of HIV/AIDS funding in an op-ed for the Wall Street Journal, pointing to the great strides being made in Africa in treatment and prevention of HIV/AIDS. Noting that America and Europe are facing increasing fiscal restraints, as the global financial system teeters on the brink of oblivion, Bush wrote, "During moments of economic hardship, there is a temptation for Americans to disengage from the world. But isolationism is always shortsighted and too often leads to greater hardship and despair in places that need our help…. In lean budget times, the U.S. and the developing world must prioritize. But there can be no higher priority than saving lives."
Obama declares $50 million to boost HIV/AIDS funding. In the face of those worries, President Barack Obama announced $50 million to fight the epidemic in America on Thursday, during a gathering to mark the day that featured speeches from former presidents George W. Bush and Bill Clinton, as well as an appearance by Bono. These new funds will come from existing resources, the White House said, and will not require Congressional approval; a good thing, since Obama is embroiled in a bitter fight with Republican lawmakers over how to spend America's money. Obama also announced new goals for PEPFAR, the President's Emergency Plan for AIDS Relief established by Bush, including reaching more HIV-positive pregnant women in the hopes of eliminating pediatric HIV; pushing voluntary male circumcision, on the evidence that it helps reduce HIV transmission rates; and offering an additional two million people antiretroviral treatment.
Six HIV patients die after evangelical church tells them they were healed by God and to stop taking their medications.
AIDS and corruption in Ukraine; AIDS epidemic in Washington. But even as world leaders pledge to fight the good fight, several in the media are pointing out that there's still much work to do. The Economist, for example, highlighted the "dreadful" situation in eastern Europe and central Asia: In Ukraine, for example, fewer than one-fifth of HIV patients receive antiretroviral treatment – even Botswana and Rwanda manage 80 percent. "In both Russia and Ukraine [which account for 90 percent of the region's HIV cases] the epidemic is driven by intravenous drug use, with addicts accounting for around half of all cases. Yet the Ukrainian government seems uninterested in prevention programmes," wrote The Economist. Sheila Johnson at The Huffington Post, meanwhile, pointed out that even as the White House rolls out the red ribbon for World AIDS Day, Washington, DC has the highest rate of HIV/AIDS in the nation, making it the epicenter of the AIDS crisis in America. The disease affects black men and women disproportionately, both in DC and nationwide – black women in DC, for example, are 14 times more likely to be living with HIV/AIDS than white women. Johnson called on public health officials to "make public health a public priority, and end this crisis once and for all."