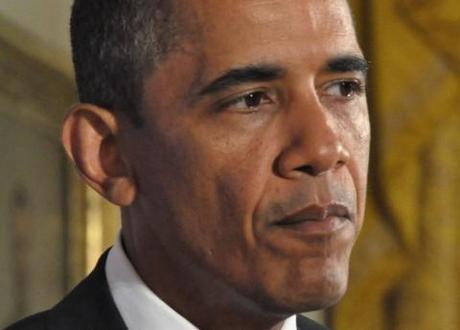 President Barack Obama, July 2011. Photo credit: Geoff Livingston
President Obama's approval ratings have dipped to a record low since his inauguration, according to a Washington Post-ABC News poll. The poll, which shows Obama's overall approval rating is down 11 percentage points from the start of the year, makes uncomfortable reading for Obama and his Democrat party in the run-up to the 2012 US presidential election. And it has even some left-leaning political commentators wondering if the president can even be taken seriously for his remaining 14 months in office let alone win reelection.
More than 60 percent of those surveyed said they disapproved of the way the president is handling the economy and the stagnant jobs situation, reported Jon Cohen and Dan Balz of The Washington Post. Just 43 percent approved of the job he is doing overall, a new career low; 53 percent disapproved, a new high. On Thursday, Obama is set to make a speech to a joint session of Congress in which he will unveil new job creation proposals. A strong performance by Obama is being talked of as key to his political future.
'Current trends' are bleak for Obama. "The urgency" for Obama to act is driven not just by the most recent unemployment report, which on Friday showedno job growth in August and the unemployment rate stuck at 9.1 percent, but also by "the depth of the political hole in which the president finds himself,"said Cohen and Balz, who noted that, "even more than two-thirds of those who voted for Obama say things are badly off course. By this time in their presidencies, approval ratings for both Ronald Reagan and Bill Clinton — who also suffered serious midterm setbacks during their first term — had settled safely above the 50 percent mark." The Washington Post argued, "current trends are highly unfavorable for the president. By 2 to 1, more Americans now say the administration's economic policies are making the economy worse rather than better. The number who say those policies have helped has been chopped in half since the start of the year."
Time to flex presidential authority. Writing at The New York Times, Stanley Fish mulled what Obama should say to Congress on Thursday and came up with some advice for the president: "After all the boiler-plate points have been made, and the array of policy suggestions has been presented, and the ritual blaming of everyone under the sun has been performed, do something immediate and peremptory. At the end of the speech, in the context of the obligatory call to action, act. Don't just recommend initiatives, perform a few, right there and then." Fish insisted that it is time for Obama to "display leadership by taking unilateral action, by delivering a succession of sentences that begin, 'I hereby … .' Whatever the content of those sentences and however effective or ineffective the initiatives they at once announce and perform, the mere fact that they have been spoken on a national stage will do considerable work, including the work of reminding Americans — and perhaps Obama himself — what presidential authority looks like."
A president adrift. Writing at The Daily Beast, Michael Tomasky suggested that Obama "will soon pass the point where he can be taken seriously as a leader." Tomasky lamented that "it's getting to the point where it's hard to imagine people taking him seriously for the remaining 14 months of his current term" let alone getting hard to imagine him winning reelection. Tomasky said that "up until now, I've thought that running a strong presidential campaign is a sign that one can probably govern fairly well too. But there appears to be little correlation between the two." He urged senior Democrats to "pierce the armour" of Obama's inner circle "and tell him he needs to start doing business in a different way … before it becomes too late to turn things around."