The U.S. Conference of Catholic Bishops (USCCB) describes itself as "an assembly of the hierarchy of the United States and the U.S. Virgin Islands who jointly exercise certain pastoral functions on behalf of the [Catholic] Christian faithful of the United States."
Wikipedia describes the USCCB as "the episcopal conference of the Catholic Church in the United States. Founded in 1966 . . . it is composed of all active and retired members of the Catholic hierarchy (i.e., diocesan, coadjutor, and auxiliary bishops and the ordinary of the Personal Ordinariate of the Chair of Saint Peter) in the United States and the Territory of the U.S. Virgin Islands."
Below is an excerpt from an official statement by the president of USCCB, November 2015.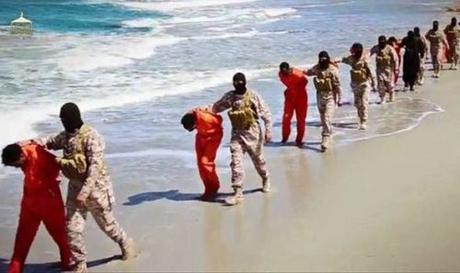 "Lord Jesus Christ."

These three whispered words rose above the sound of the surf to overcome death, as 21 Coptic Christians – brothers as dear to us as our own family – knelt in the sand before the executioner's sword. The body and blood of Christ were offered on the Mediterranean shore that all too recent February day. Our body and blood were offered, for as St. Paul teaches us, we are one body in Christ and "if one suffers, all the parts suffer with it" (1 Cor 12:26).

The words of our Lord Jesus Christ are alive and with us now. "If they persecuted me, they will persecute you as well" (Jn 15:20). Places of worship that have stood for centuries in the very cradle of Christianity are being destroyed. Families are fleeing from beheadings, sexual slavery and even crucifixion. In places such as Mosul, [Iraq] Christmas bells that have heralded the birth of our Savior uninterrupted for nearly two thousand years have fallen silent as our brothers and sisters in the faith have been scattered. It is nothing short of genocide.
Archbishop Kurtz calls on us to help our persecuted and martyred fellow Christians by (1) praying for them; and (2) witnessing for them: "We cannot be hesitant to speak their name, make their cause our own and ensure they are never forgotten by the powerful in a position to protect them."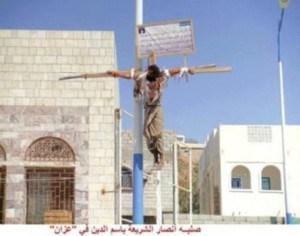 A crucifixion in Yemen, by the jihadist group Ansar al-Shariah
See also:
Attacked by Muslims, Christianity is going extinct in the Middle East

Europe's 'refugee' crisis and the Kalergi plan for white genocide

Oregon shooter singled out Christians for slaughter

Tennessee Lt. Gov. Ron Ramsey urges Christians to arm ourselves

Christian student punished for disagreeing with militant atheist professor
~Eowyn