Potato/urulaikizhangu-Tamil,Aloo-Hindi is one vegetable or tuber should I say that is loved alike by most across the globe.Store a batch of potatoes in your veggie basket and you will never run short of good food/ideas :),seriously I may sound exaggerated but I am not.Every nation,every region and every home has its own favorite recipe with potato and I bet all of those tastes good,for a person like me who would live on potatoes.Being a tuber,it may cause gastric problems to few that is also only when it is fried,when boiled with some salt potatoes do not tend to cause gastric problems,once I heard this from a doctor.Potato is an excellent source of nutrition for growing children and we feed growing toddlers with one boiled mashed potato daily. With all these nutritional benefits discussed we should not get too serious and forget the taste of potatoes right,now tell me who does not love potato :) Today I am presenting a very famous snack with potato that is loved across India with different names and slight variation is making.The one I am blogging today is the very popular bonda-a deep fried dumpling ,where potato and gram flour are the star ingredients.This is a traditional dish which is mostly served during Tambaram marriages, without onions of course and tastes great with coconut chutney.Very easy to make, quick recipe that tastes good with coffee,here you go :)
Potato bonda recipe
Star ingredients:Potato
Time:40 minutes
Yield:15
Ingredients:
For the outer cover
1/2 cup gram flour
1/2 cup roasted gram flour
1/2 cup rice flour
1 teaspoon chilli powder
1 teaspoon turmeric powder
1/2 teaspoon asafoetida
2 teaspoons hot oil
Oil for deep frying
Salt
For stuffing
6 large potatoes
2 onions,chopped fine
4 green chillies chopped very fine
1/2 teaspoon turmeric powder
10-12 curry leaves
1 teaspoon channa dal
1 teaspoon urad dal
1 teaspoon crushed ginger
1 teaspoon mustard seeds
Salt
Oil to temper
Method:
For the batter
1.Mix all the ingredients mentioned for the outer cover and mix with your fingers.
2.Now slowly add water and whisk with out lumps.Add 1/2 cup water and make a thick batter.
3.The batter should be thick so that the stuffing should get completely coated.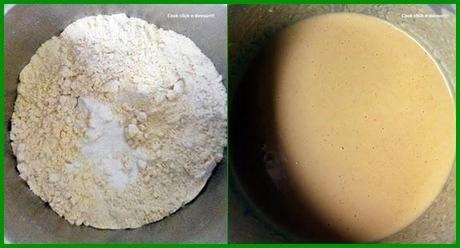 For stuffing
1.Boil,peel and mash the potatoes very well.While mashing squeeze out as much water as possible.Set aside.
2.Heat a kadai and add 3 teaspoons oil.Add mustard,once it splutters,add urad and channa dal.Saute for few seconds.
3.Now add ginger,curry leaves and green chillies.Saute for a minute.Add onions and saute till translucent.
4.Add the mashed potatoes,salt and turmeric powder.Mix well and cook for 7-10 minutes.Allow to cool



5.Once cooled,make 15 equal sized balls from the stuffing.Heat oil for deep frying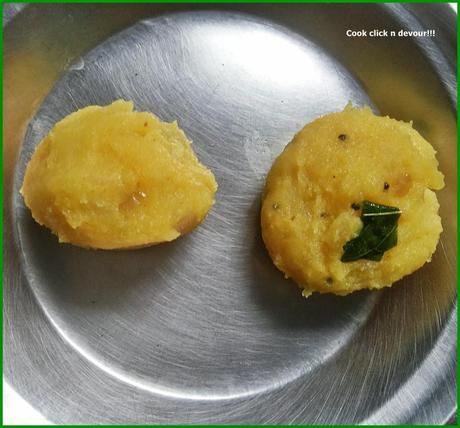 6.Dip each ball in the prepared batter such that it gets completely coated,drop in the hot oil and deep fry till golden from both sides.Do the deep frying in medium flame.
7.Drain in a kitchen towel and serve hot.
Notes:
1.Generally only gram flour and rice flour is used in this batter,we have added roasted gram flour as it makes the batter very light and crunchy.You can use 1 cup of gram flour too.
2.You can skip onions and add asafoetida in stuffing.
3.If the batter is very thin then adjust by adding gram flour and adjust salt.