In our village,  during Diwali times, we will exchange the sweets and snacks made in our houses, with our neighbourhood. In each n every plate (received from neighbour) there will be some vada's, some bajji's, some sweets and murukku. That too bajji is always banana bajji (plantain bajji).
                        And so, in my neighbourhood everybody will be waiting our plate (from my house), because my amma (mother) will feast with different recipes. Bajji's will also fall under the category. She will make these urulaikizhangu bajji, onion bajji, cauliflower bajji and so on. That too while sharing with our neighbours she will make vadas and bajjis-piping hot. Happy Memories.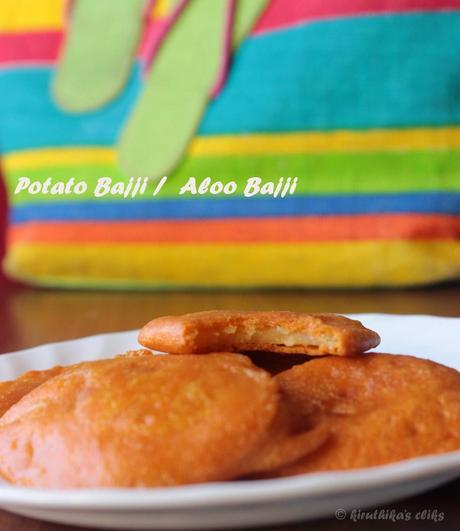 "
                                       Potatoes!!! If you find anyone saying "I don't like potatoes", then please do ping me and say I found a person. Yes, I haven't seen a single one saying no to potatoes (unless some sick reasons). The simple bajji recipe is for you.

Prep Time 10 mins
Cooking Time

 10 mins
Ingredients



1 cup

 Besan / Gram Flour/ Kadalai Maavu
2 nos
Potatoes
2-3 tsp
 Chilly Powder
1 tbsp

 Rice Flour
1 tsp
 Rava/ Sooji
2 pinch
Asafoetida
As per taste

Salt
As needed

 Water
As needed
Oil ( For Frying)

Procedure1) In a wide bowl put all the above ingredients and mix with water to make a batter. The batter should not be too watery, it should be in idli batter consistency.In another side, peel off the onion and make thin slices out of it.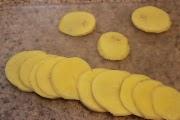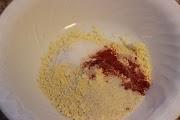 2) Now dip the sliced potatoes, in the batter and deep fry in the oil.



Note:
Keep the flame in medium high positions, while making the bajji. Simmer position will tend to consume more oil.

I usually avoid adding cooking soda, as it is not good for health. But if u wish to add you can.

Rice flour and sooji will result in more crispy outputs.

While making pakora's, add some cumin seeds and coriander leaves.