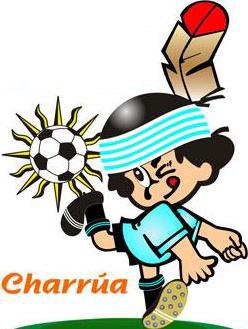 Garra Charrúa.
Throughout South America and in many parts of the world it was not just a term to describe the way Uruguayans played. It was the manner in which they would give life and limb for the preservation of a triumph. It was an incantation and a battle cry where no man was safe.
Of course I am not going to make them sound like they have always been gung-ho. They have also been a nation that revolutionized the game back in the 1920′s and made the River Plate the Mecca of the football world. The ghosts of the past lurked but there successes were all in black and white.
For well over three decades Uruguayan football was in darkness.  Of course there have been some moments of brilliance.  The 1987  and 1995 Copa America titles.  Peñarol and Nacional's successes in the Copa Libertadores in the 1980′s.   The national team qualifying to the World Cups in on a rather consistent basis. That was a far cry from the glory years that are ancient mythology now.  The days where they alongside Argentina were the cradle of football are long gone.
Click here to view the embedded video.
There currently are generations of Uruguayans that have not seen a trophy raised. There are kids that did not see the penalty kick shootout against Brazil at the Estadio Centenario back in 1995. Nope. Just heartache and pain. Forget Copa Lib triumphs or even Maracanazos.
I remember interviewing Uruguayan football legend Fernando Morena and he would tell me that the day the national team got their act together at the administrative level, things would begin to improve.  That is exactly what happened.
Now were are seeing that country take off again.  Albeit there have been some sputters the kinks have been taken out.  It is safe to say that the entire program with the Uruguayan Football Association (AUF) is going rather smooth.  Part of the condition that promoted Oscar Washington Tabárez to stay on as coach was to see the direction that federation president Sebastián Bauzá wants to take the program.
Although there is very little money in the Uruguayan coffers, there is little debt.  The moneys from South Africa were all used to pay credits, pay player awards, and look to invest in projects.
In his case, Bauza put the money where his mouth is as he brought in the Institituto Nacional de Carnes (INAC) on board as one of the main sponsors of the national team.  This was one of the biggest moves off the pitch as their association with the nation's authority on meat exports.  The revenue from this partnership with Uruguay's largest and oldest industry promised an estimated US$2.4 million per year.
Ok, maybe I am not blowing your mind away with staggering profit margins, but I can tell you that they are one of the only federations that do not find themselves muddled in significant debt.
There are also several friendly matches that are currently in the works to have La Celeste play some of the best national teams in the world in the coming months.
The work that has been put in the past few years is beginning to bear fruit now. After the harsh lessons of losing to Australia in penalties, thus having to sit at home and watch the World Cup in Germany there were some big strides made.
Uruguay has now become solid once again at the youth levels and these players are now beginning to emerge at the senior level. That began to be seen with the 2007 U-20 World Cup team. That team was arguably the best that nation ever assembled. Names like Cavani, Suárez, Cáceres shone in Canada. There were others like Vonder Putten, Cardaccio, among others that have had decent careers in lower leagues in Europe as well as South America.
That team would be overshadowed by their 2009 counterparts who would make a repeat appearance with players like Nico Lodeiro, Jonathan Urretaviscaya, Santiago García, Matías Aguirrearay, Matías Mirabaje, and Sebastian Coates.
The senior side came out of nowhere to become the surprise team of the tournament and end up in fourth place. Now their U-17 ended up in a final for the first time in any international competition at any level since the 1997 U-20 World Cup final in Malaysia.
Now with the senior side being considered a bonafide contender and the U-20 side looking like a major player at the end of this month in Colombia, Uruguay's program has really take off in a significant manner.
Add this to the recent successes of Peñarol, Nacional, River Plate, and Defensor Sporting and the future seems bright for a nation that has a proud footballing history.
Click here to view the embedded video.
What Morena also did tell me was that as soon as Uruguayans begin playing again and not solely depending on "hand-to-hand combat" then the teams will begin to flourish.  I guess based on the recent track record- he's right on the ball.
Marketing
The Uruguayan national team has become one of the fastest-rising stars in the marketing game in this past year.  The success in South Africa as well as the individual performances of Diego Forlan, Luis Suárez, and even Edinson Cavani have raised eyebrows.
Even players like Catania's Diego Pérez have had their profiles expanded with his appearances on commercials such as the one for Uruguayan soft drink Paso De Los Toros. The brand, now part of Coca Cola has long been the tough guy's drink. They have also been the sponsor of both the Argentine and Uruguayan national rugby teams.
Even Sebastian Abreu was part of one of the award-winning, anti-racism promos at Cannes.
Overall, Uruguay are becoming a rather popular team to root for. Their merchandising outside of their own borders has not taken off yet, but they continue to gather support from all walks of life. Ok, maybe not everywhere.
It is that Rocky Balboa type mentality that Uruguayan culture has that enamors neutrals and garners the respect of foes.  This they have been able to do with their combative spirit, but in a focused manner, combined with actual skill that have allowed for this resurgence to prevail.
That plus, their penchant to suffer always make them a gut-wrenching, religious experience for anyone watching.  Their susceptibility towards making things difficult always makes them a guilty pleasure and addicting from a football, thrill-seeking perspective.
Uruguay are the prize fighter that can never get the knockout punch in and have to hold on for dear life.  It's not perfect football, but it is intriguing to say the least.   Now to see that prize fighter turn into a contender, that is what endears them to people… or at least warm up to them.
This is why it is now en vogue in Uruguay to support the national team when just a few short years ago Brazil, Argentina, and even Italy were the national jerseys of choice. The support for the side has been unconditional. Also their love for La Celeste has many optimists looking at the long-term effects of this at the local game. Hopefully there is a correlation there that is direly needed as many clubs in Uruguay are in dire need of some of that "love".
A definite case of success breeding success.