By Susan Duclos, via
All News PipeLine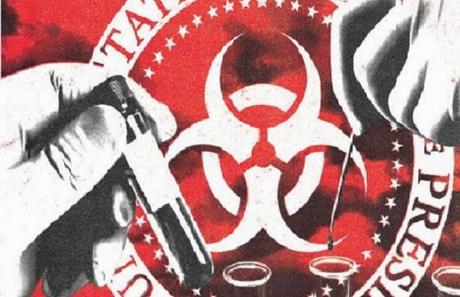 While the US government continues to lie to it's citizens about the dangers of an attack from ISIS using Ebola as a bio-weapon, Spain's state secretary for security, Francisco Martinez, is
issuing a dire warning to America
after seeing online terrorist chat logs "that show the use of biological warfare against the West is being discussed among supporters of the Islamic State."
Francisco Martinez, Spain's state secretary for security, said he has seen online terrorist chat logs that show the use of biological warfare against the West is being discussed among supporters of the Islamic State, also known as ISIS or ISIL, the U.K.'s Mirror newspaper reported Friday.
The terrorists could do anything to kill people in the West, including stabbing people with needles poisoned with the virus, Martinez told the Spanish parliament.
According to the same report, US officials are denying that there is any "credible intelligence," showing ISIS is "attempting to use any sort of disease or virus to attack our homeland."
That is patently untrue, an outright lie, as evidenced below.
In late August, as reported by a variety of news outlets, an ISIS laptop was recovered which contained information "about the use of biological weaponry, in preparation for a potential attack that would have shocked the world."
The information on the laptop makes clear that its owner is a Tunisian national named Muhammed S. who joined ISIS in Syria and who studied chemistry and physics at two universities in Tunisia's northeast. Even more disturbing is how he planned to use that education: The ISIS laptop contains a 19-page document in Arabic on how to develop biological weapons and how to weaponize the bubonic plague from infected animals.
In early August,
reported here at ANP
from 
Guineeinformation
, that terror groups such as AQIM and Boko Haram were actively "in search of bodies and clothes of the victims of the Ebola virus Guinea to replace suicide bombers." Also in that same report, we see that a respected biological anthropologist from Cambridge University, Dr. Peter Walsh, warned of terror groups and the "serious risk" of creating "Ebola bombs."
In
mid-September it was reported
that Boko Haram has "deepened ties" with ISIS and "leaders Abu Bakr al-Baghdadi of ISIS and Abubakar Shakau of Boko Haram "have been sharing military strategy and other information back and forth."
Furthermore, in what some believe was a "dry run" to do exactly as the Spanish state secretary or security is warning us of, it was reported in early September that a
US Marshal was attacked with a syringe and injected with an unknown substance
, which later was determined
to not have been Ebola or any other type of life threatening virus or disease
, but which proved conclusively how easy it would be to introduce this current strain of Ebola, which many argue is a man-made bio-weapon to begin with, all across America.
Not only is the statement of not having credible intelligence a direct lie being told by US officials, but refusing to suspend Visa's from Ebola sticken nations
as Canada has
, or implement travel bans, or tighter the US borders,
or adequately train and protect border agents against Ebola
, provides fuel to the fire of claims that Ebola is deliberately being allowed into America to further an agenda.
Recent Related Ebola Headlines