Every September The Philosophy Festival happens in Modena, known as FestivalFilosofia.  I mentioned a few days ago that the city chooses a theme every year, and this year's theme was Gloria, Glory.  If you are planning a trip to the Emilia Romagna region of Italy in September I HIGHLY RECOMMEND that you try to visit the FestivalFilosofia, many of the speakers are English (they do onsite subtitles, or overdubs live), the events and lectures are world class and almost everything is FREE.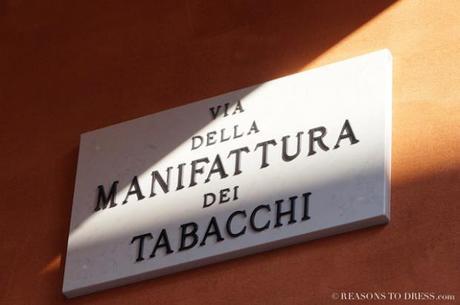 The FestivalFilosofia with Kids
Before Zeno was born, Marco and I were actually able to attend the free lectures held in the Piazza.    It is a magical and slightly surreal moment, to have one of the World's most prominent thinkers speak while you and your fellow citizens listen in the hundreds in SILENCE.
But alas, with a two and a half year old in tow, our days of hour long lectures are OVER!  Thankfully, there is always a lot of children's programming available, from workshops to puppet shows and even roller skating!   To read about what we did last year I wrote a few posts about it here and here.
This year we headed to the Manifattura Tabacchi, where Oplà, an indoor Children's playground had set up some play areas!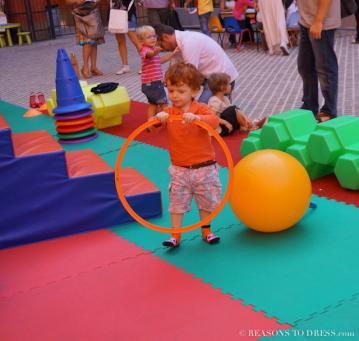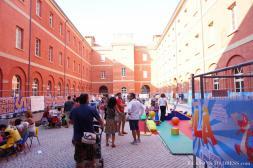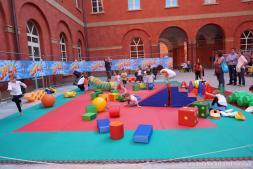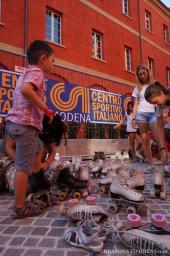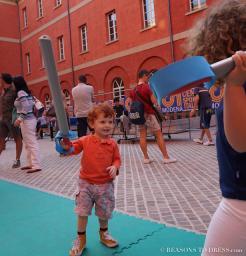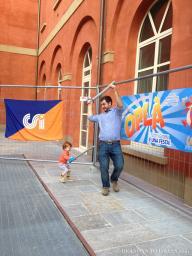 My favourite part of the day was obviously when I convinced my husband that we should fence…..Gloria INDEED!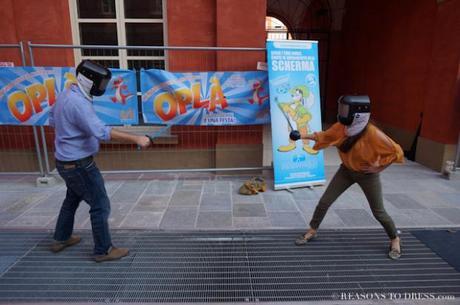 Manifattura Tabacchi
Perhaps it wasn't the most "cultural" of days, but we had a great time with our friends and their daughter and at least we felt as though, somehow, we were participating in the Festival.
Actually, the real reason I REALLY wanted to attend this event was because it was held at the Manifattura Tabacchi.  i remember a few years ago when the city of Modena was covered in publicity for this new urban regeneration project.
The Torontonian in me LOVES the words "urban", "renewal", "regeneration, "manufacturing", "lofts", "reclaimed"….what can I say I hail from a city of hipsters.  When they launched this project the idea was to create mixed-use luxury commercial and living spaces in the rather stunning, antique cigarette and tabacco factory.
Just look at these cool "urban features", perfect for your city living needs: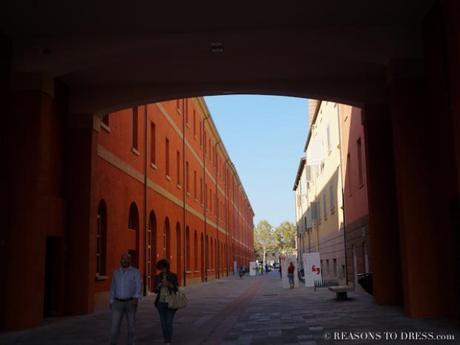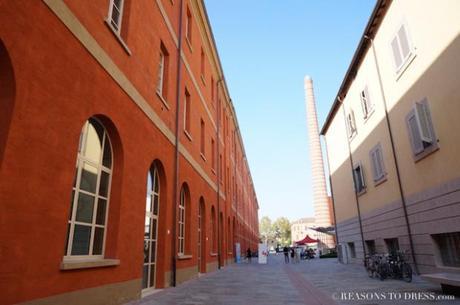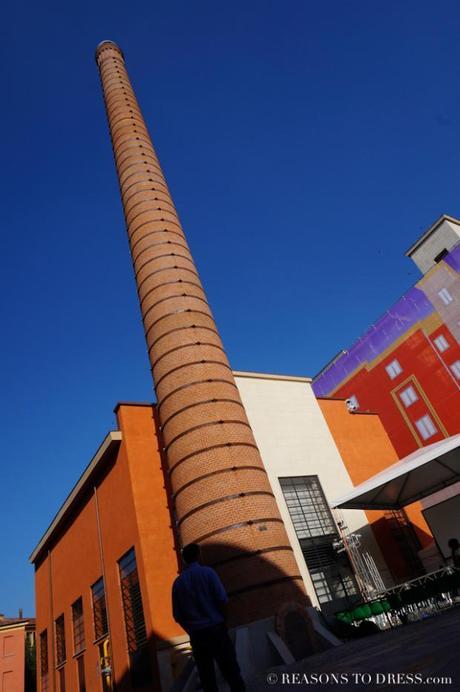 Or Not.
One of the things that has shocked me the most about Italian mentality, is how different it is, in general, from the North Amerian mentality.  THis space has been on the market for YEARS and they cannot seem to fill the office, leave the stores or sell the "lofts" and apartments.
The so-called "luxury" atmosphere was never bought into, and this project is now being seen as a flop.  In a way, the fact that Oplà held a kid's event here for families, just goes to show that they can't think of what else they should do with the space.
Technically the Manifattura Tabacchi is in the CENTRE of the city, however, it is on the outside edge of the centre.  It only takes 15 minutes to walk here from Modena's Piazza, but that is already seen as being a little too far!
So what's the issue? Why can't they sell this urban regeneration project? Well, interestingly enough, all of the reasons that make Italians avoid this place are the same reason Torontonians would be all over it!
It is close to the train station
And by close I mean an 8 minute walk.  Not close enough to be bothered by the trains, but according to the Italians I spoke with, the train station is filled with "malavita", which literally translates into bad life aka shady characters.
In Toronto, almost everywhere you go there's a bit of "malavita", but hey at least your morning commute is nice and short if you're near the station!
Apartments on the Ground Floor
Yes, this is totally a thing in Italy.  Unless you have a house out in the countryside , on a beautifully manicured piece of land you DO NOT want to be living on the ground floor.  Living on the ground floor, is like practically asking to be robbed.  You have to get bars on the windows, your view sucks, "dust" may enter from the windows (seriously this is how Italians think), and there is no privacy.
In Toronto this would be a plus.  Condo fees are lower, you don't need to wait for the elevator, you feel "connected" to the city, and will purposely leave your curtains open in the evening so people can walk by and see the organic dinner party you're hosting on you recuperated driftwood table.
There are no balconies
I get this.  Even in Toronto I have always avoided apartments with no balconies.
Balconies to a population that still hangs their clothes out to dry, smokes without the slightest care for personal health or social norms, and firmly beleives in airing out every single piece of linen WEEKLY over the balcony rail or else your house may smell of "chiuso" closed, are a necessity NOT a luxury!
The Price
Is it just me or has Toronto gotten ridiculous?  Like all North American urban centres, the price for a "room plus closet" has gotten OUT OF HAND.  People are paying good money to live like mice. It is like the Manhattan prices are something to strive for instead of something to avoid.  People are proud of how much they paid for the smallest sized home possible.
In Italy this just doesn't fly.  Even though the apartments at the Manifattura Tabacchi are considerably larger by Italian standards the prices are just ridiculous.  600,000 Euro which is $760,000 USD or $850,000 CAD is a lot of money for a two bedroom!  After all, with that kind of money you could buy yourself your private Villa in the Italian countryside!
And so the store fronts, apartments and offices  remain empty and the space, for now, is used for random events like the FestivalFilosofia.  Fine by me! We had a great time and the surroundings were just beautiful…but, I  wouldn't want to live there!
I've gone ahead and filed this under "Differences Between North America and Italy", if you want to hear more about these thoughts feel free to browse the archive.
Did you know that I'm hosting a giveaway  right now for a $600 custom sized, Italian leather belt.  It is hand coloured, hand braided and 100% made in Italy by the world's foremost belt artisans. Check out the giveaway, entry is easy!
Happy Friday and I'd love to hear about any urban regeneration that just didn't fly in your area.  I live for this stuff