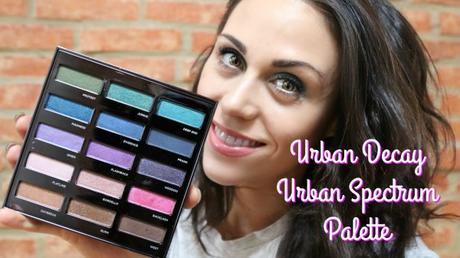 Hey guys! So, today I have something that I find ULTRA exciting. It's the new Urban Decay Urban Spectrum Palette, and I've got a full review AND swatches! I created a video as well, which you can check out here:

But being as that it was amateur hour, apparently, my swatches on film were ultra fuzzy. No focus at all... #Fail. My lighting also wasn't all that, so I decided to hop on here, give a more comprehensive review and of course, some awesome swatches!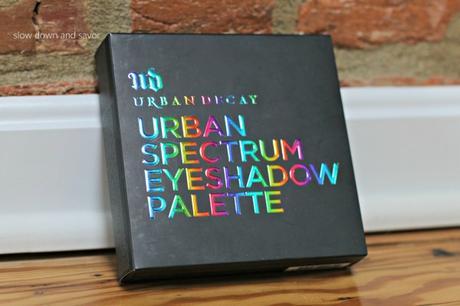 So let's dive right in. Urban Decay just released another brand new, limited edition eye shadow palette, and this one is nuts. It's a glorious spectrum of 15 shades of their iconic eyeshadows.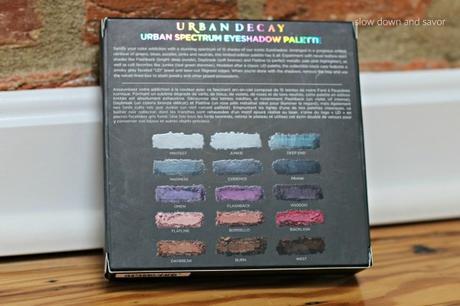 According to Sephora.com, "[the palette] features bestselling and never-before-seen hues. With a gorgeous ombré rainbow of greens, blues, purples, pinks, and neutrals, this limited-edition palette is the perfect gift for the beauty guru.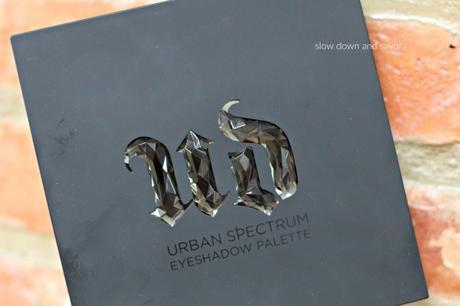 This palette has five just-released shades, four top-selling shades from their current collection, and six returning favorites from past palettes (including the original Book of Shadows, The Vice Palette, and Vice 2). Each shade is infused with the Pigment Infusion System™, Urban Decay's proprietary blend of ingredients gives every color its velvety texture, rich color, serious staying power, and blendability. "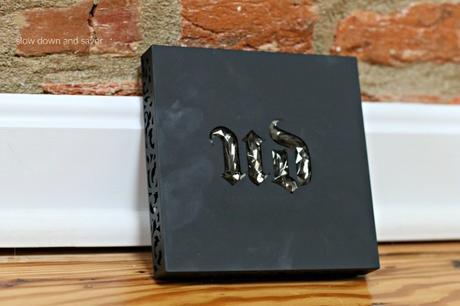 The palette comes in a stunning, collectible black case with a smoky gray, faceted "UD" jewel and laser-cut, filigreed edges. The detachable lid houses a full-size mirror and stands up on its own-perfect for on-the-go touchups. Once you're done with the shadows, remove the tray and use the velvet-lined box to stash jewelry and other mementos. Cool, right?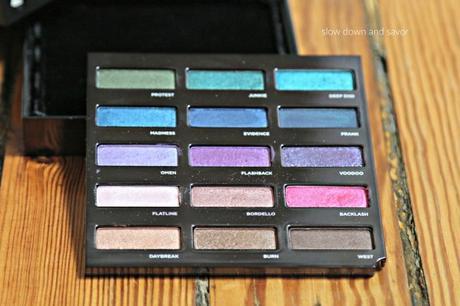 Here's the most impressive part of this palette. As I mentioned, it comes with 15 shadows, but what I didn't say was that they're 0.05 oz, THE SAME AMOUNT AS FULL SIZED UD SHADOW. Did you get that? Did you CATCH that??? The singles sell for $19 each, so this palette is $285 worth of shadows, and only goes for $55. Player...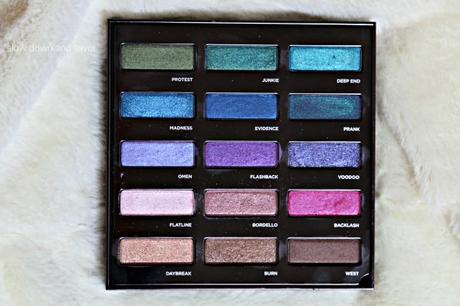 Each shadow is incredibly pigmented. So much so that you don't need a drop of fix+ or any other wetting agent to make the shimmers shimmer or the full intensity of the colors pop. They're just sensational from the start.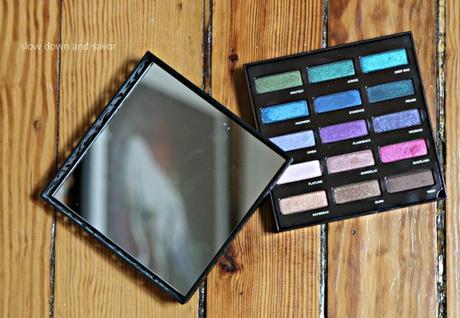 The palette has both bold colors and more neutrals. There are NO matte shades, so this would not ever be considered a stand-alone palette. Unless of course you're going for an over-the-top look of pure metallic and shimmery shades. I mean, go for it, but for a more every day look, you'd need to pull from other palettes or shadows you have for the transition, crease and brow bone highlights.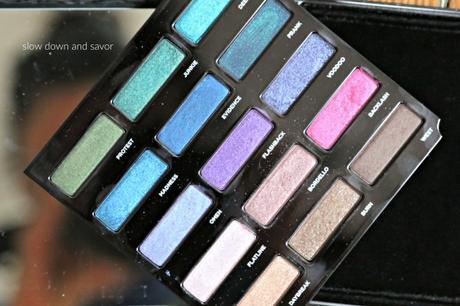 The colors are GORGEOUS and they LAST. I'm talking all day lasting power. I have used the palette two times now, and both times I wore my makeup for 7+ hours, and both times the shadows held up beautifully. I'm really impressed. They're super blendable, and definitely easily layered. Customize your look by mixing some of the colors, or layering one on top of another.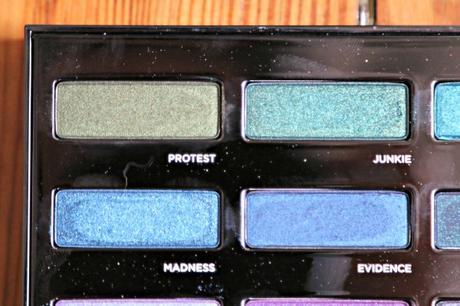 Let's get to the swatches, shall we?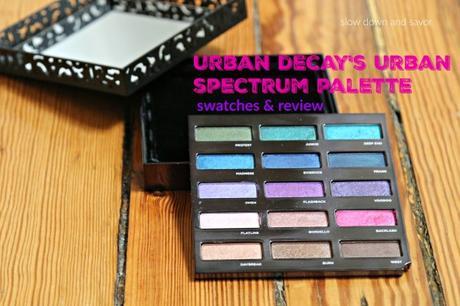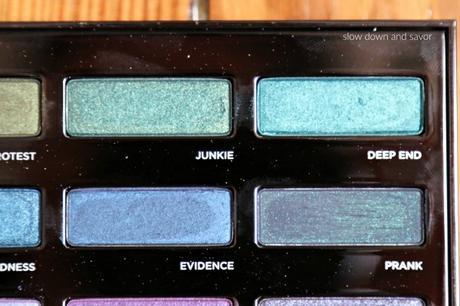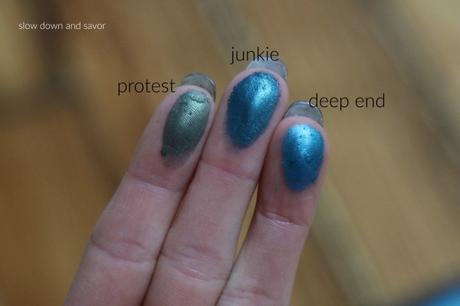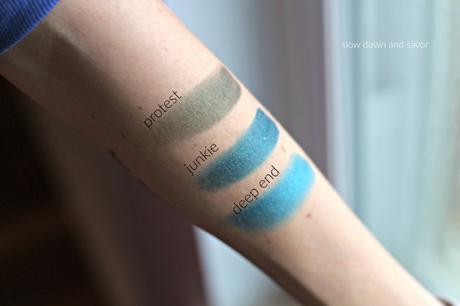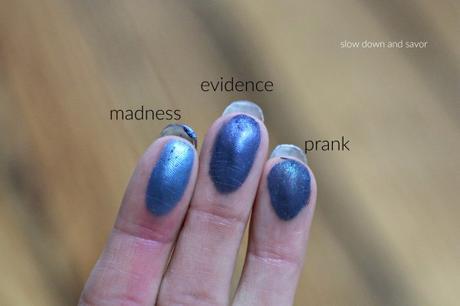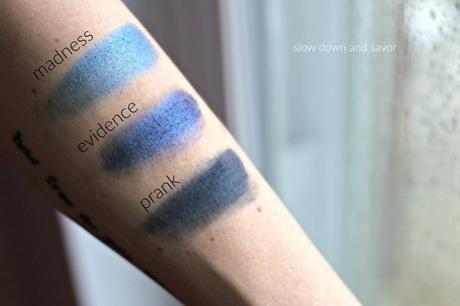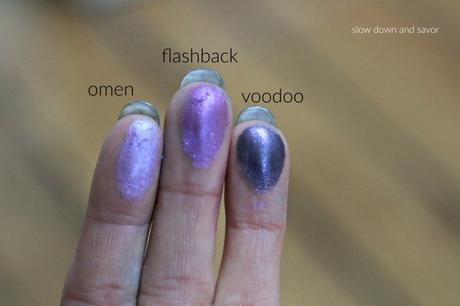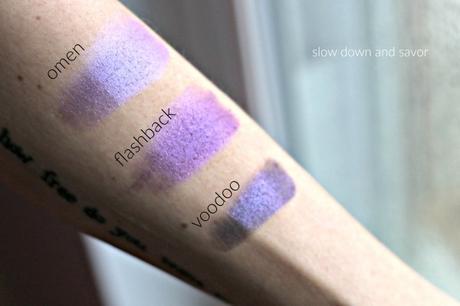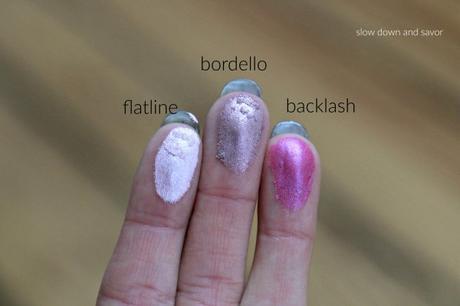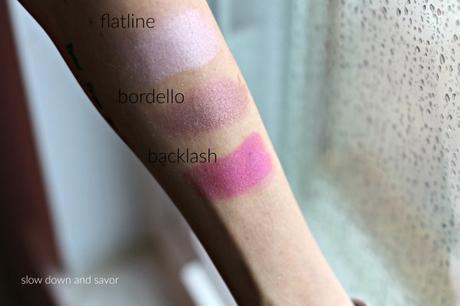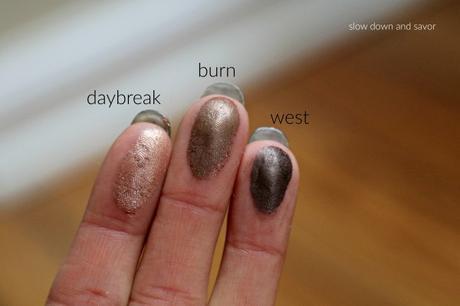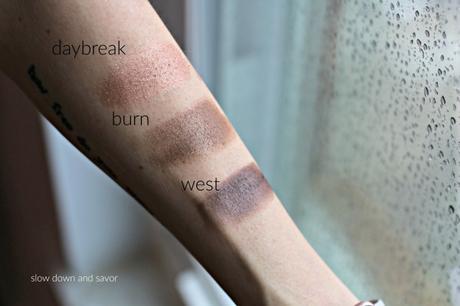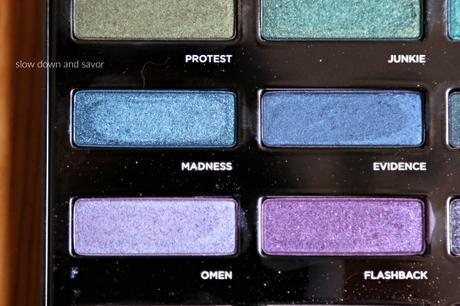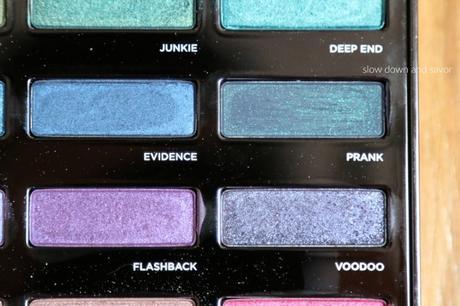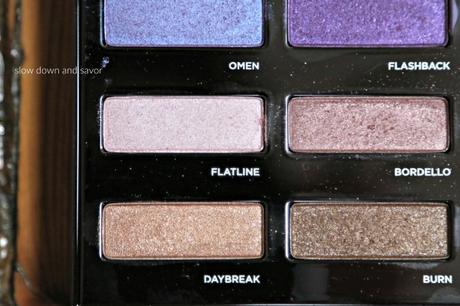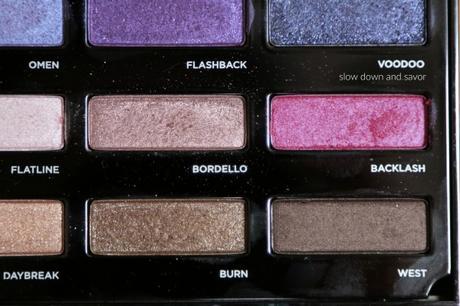 Protest (golden forest green shimmer), Junkie (green teal shimmer), Deep End (bright teal shimmer)
Madness (bright metallic blue shimmer with micro-glitter), Evidence (deep navy blue shimmer), Prank (deep navy matte with turquoise pearl)
Omen (bright metallic purple with blue shift), Flashback (bright deep purple with pink sparkle), Voodoo (metallic purple shimmer with micro-glitter)
Flatline (metallic pale pink), Bordello (pale mauve shimmer with micro-glitter), Backlash (bright pink with orange pearl)
Daybreak (soft bronze with silver glitter), Burn (medium golden brown shimmer), West (medium golden brown shimmer)
All in all, this palette is more than worth it. I am in love. You can get it at Sephora online or in store for $55 while it's still here! Do you have this palette? What do YOU think?