Hey everyone! I hope you all have an AMAZING New Year's celebration! I can't believe how fast time flies. Honestly, 2014 has passed by for us at the speed of light, and what a year it was.
This year was a year of excitement, starting with revamping Slow Down and Savor back in February, squealing, crying and praising God when we found out we were going to have a beautiful baby boy, planning for our little bundle of joy, and then all those amazing adventures we went on across the country, I'd say it's safe to say that we had QUITE the year!
Though I'm sad to see it go, I can't wait for 2015!!! We've got a LOT going on, and there will be some exciting announcements being made towards the middle or end of January that I CANNOT wait to share. Lots of newness is a-brewing.
Anyway, I hope everyone has a fun and safe New Year's celebration tonight as you say goodbye to 2014 and hello to what's to come!
So here on SD&S, I wanted to close the year out with a fun, different kind of post. I received such outstanding feedback from my Sephora Favorites Superstars 2014 box review, which also happened to be my first, and until today, only beauty post. It sort of blew up and surpassed all expectations, which was really fun. So I wanted to end 2014 here with another fun beauty post!
So without further ado, let me introduce you to Urban Decay's latest creation, The Urban Decay Naked On the Run Palette. OoOoOoo… Shiny!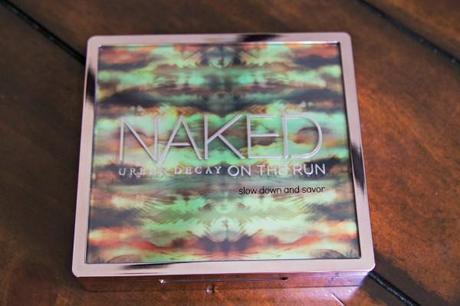 According to the Urban Decay official site, this palette is the ONE thing you need to easily create a complete Naked look on the run. (And let's not forget that every single shade inside is new!) We obsessed over the lineup until it was just right, carefully crafting the perfect mix of neutrals for day and night. Each shade in Naked on the Run is designed to work perfectly together and makes it easy to create a range of looks—from simple and Naked to sultry Naked. Selling for $54 at both Sephora and Ulta, as well as the Urban Decay site, this palette is a new, limited edition all in sort of deal that brings together six brand spankin' new, never before seen shades of Urban Decay eye shadow along with other makeup essentials.
First of all, I love the packaging. It's got a beautiful rose gold metal finish, with the modern acrylic overlay, which sets the name of the palette out from the design in the background. It's sturdy, and feels substantial in your hands.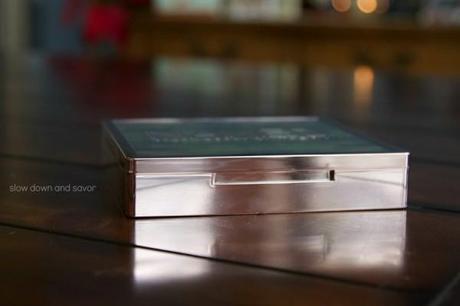 On the back of the package, they have the 6 different eye shadows labeled, which I think is a nice little touch. It's kind of like getting a big box of chocolates and not knowing what each flavor is until you find that slip of paper that has each variety nicely labeled for your choosy pleasure.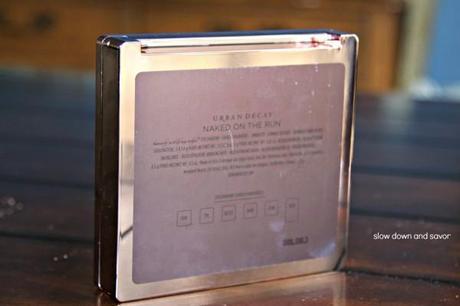 So on opening the package, my first impression was WOW. I fell in love with the eye shadows on first glance. There are two matte shades, and 3 shimmers, and OH how I love my Urban Decay shimmers. I also loved how there were cute little compartments for the deluxe sample size of their Perversion mascara, 24/7 Glide-On Eye Pencil in Stag, and the full sized Lip Gloss in the color Sesso.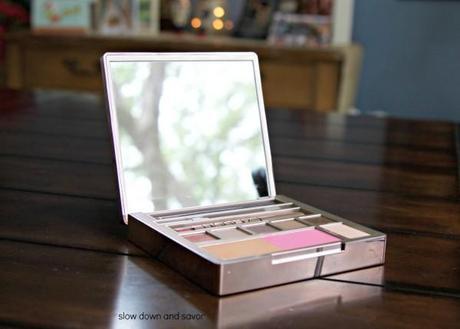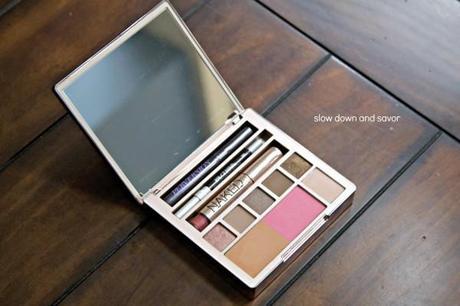 The mirror is also super impressive in size and clarity. It's HUGE… And just SO CLEAR! It's like the mirror in the Vice 3 palette, which also blows my mind.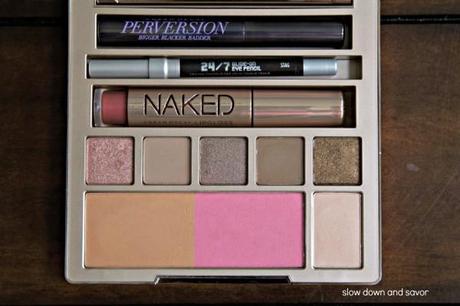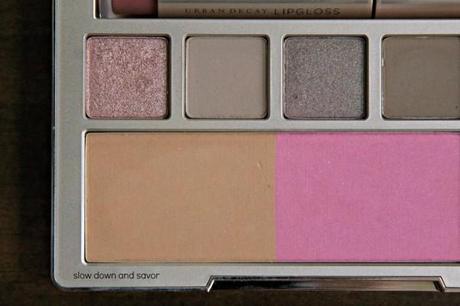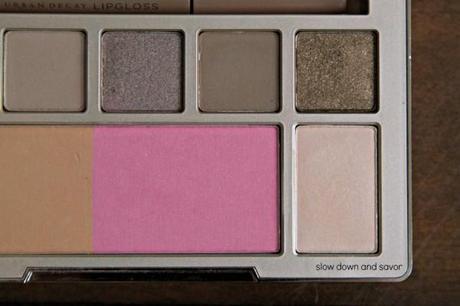 Anyway, let's get to the swatches!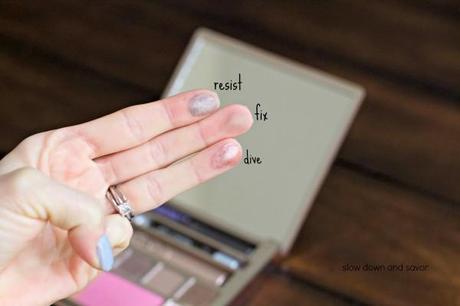 Going from left to right, Dive is a sparkly, medium-dark, rosy copper, or rose gold, with golden micro-glitter. Like other UD shadows, the pigmentation was really nice, and went on super smooth. There was a little bit of fall out, but just tap your brush before applying and you should be good. This goes for the rest of the shimmer shadows in this palette, and in most every other palette in life as well.
Fix is the first of two mattes we meet in this palette, and is a soft taupe, warm-toned brown. It's super blendable, and is pretty longwearing. I love this color for my crease/transition shade.
Resist is a warm shimmery taupe with a metallic sheen. It's soft and smooth on application, and wears really nicely all day. It's a gorgeous all over lid color, or great for darkening that outer V area.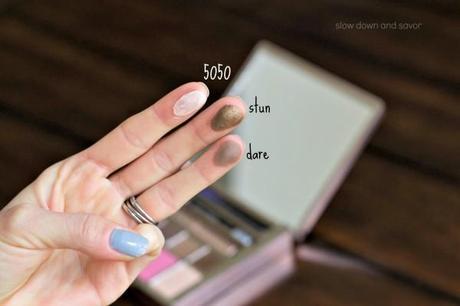 Dare is the second of two mattes in the palette, and is a medium-dark taupe-ish brown color. It's subtle and warm, and I dig it. I dig it a bunch. It's soft and silky and not at all powdery. Once again, it is another shadow that lasted for 8+ hours on my eyes.
Stun is more on the rich side of browns. It is chocolaty brown and it's much warmer than the other browns. This glitter is a bit chunkier with the micro-glitter inside, and has a beautiful sparkle. I love this one so much, and it has amazing pigmentation and color payoff.
5050 is a light, beautiful shimmer with delicate bisque sheen. I actually thought 5050 was a cheek/face highlight until I started reading other reviews and watching some vlogs. The pan is larger than the others, and I mean, you can't fault me for thinking this. It WORKS as a beautiful highlight, that's for sure! It is the one shade in the palette that seems a bit more prone to fade throughout the day, but it's also a lot lighter so, who knows. It's beautiful.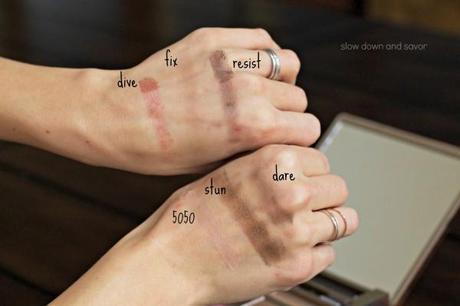 The bronzer is a medium bronze matte, a touch too orange for my skin tone, but I wear it anyway. YOLO. Is it still OK to say YOLO? Whatever. YOLO to that too… In your face! Um… yes. ANYWAY!
The blush is a beautiful vibrant pink with a light shimmer to it. It looks a bit intimidating in the pan, but when it's on your skin it gives a nice "glowing from within" radiance, like you were just outside and got a bit flushed. I'd say this color would be more suited to a more summery or even a fresh spring look, but when used with a deft touch, this blush is perfect for these cooler wintery months. So I guess what I'm trying to say is, it's great all year… I just use so many words.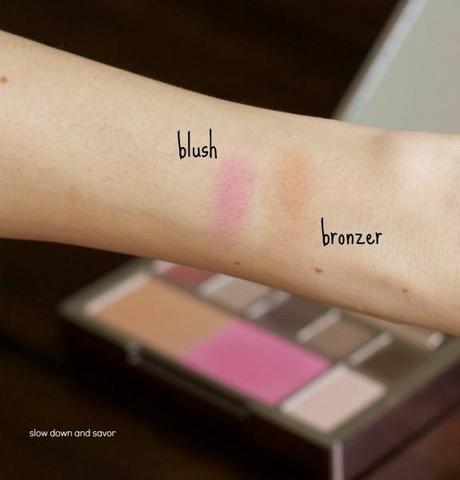 The Perversion Mascara is interesting. I say interesting because I really want to like it, but part of me is like, nah, this mascara isn't really all that and a bag of chips. It's super black, and beautifully glossy, and the brush is big and fluffy. But with a description like this: "Get bigger, blacker, badder lashes with our ultra-creamy, lengthening and volumizing mascara. So intense you might need a safe word, Perversion glides on and gets you sexy in one stroke. (Yet it won't quit until you say when.) It's insane how black it is…the purest, deepest, most intense black color imaginable," one would expect something CRAAAAZYYY from this mascara. I mean, am I wrong? Wouldn't YOU expect one coat to nuts-lashes?
Well, I didn't get that. While it's a good mascara, and I like it, I don't think it's the best I've had and I truly do not need a safe word…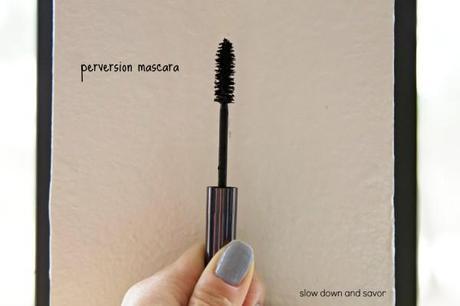 The 24/7 Glide-On Eye Pencil in Stag is really smooth and creamy on application, and perfect for a smoky look, that's for sure. It's a super dark brown, bordering on black, but not quite there, which I really like. While it's not waterproof, it does last quite a long time.
The full-sized Lip Gloss in Sesso is one of my favorite things about this palette. The gloss is so smooth, beautifully shiny, sheer and rosey pink with a slight shimmer. AHHH! It's gorgeous you guys, and I'm kind of sad that it's limited edition to this palette. At least, that's what I understand. If anyone knows if you can grab one of these individually, please let me know so I can breathe a bit better. The color is perfect by itself, or layered over your favorite lipstick/lip liner paring.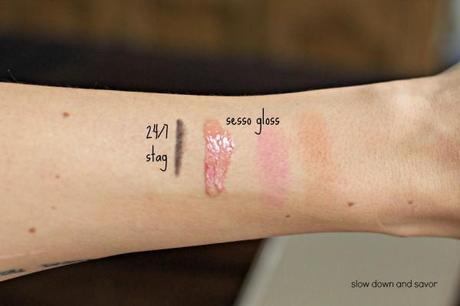 Basically, this palette is wonderful in terms of quality, quantity, and in diversity. I do wish there were a one slightly darker shade, but the buildability of the darkest shade is impressive.
Now, here's the deal: It's amazing, but it's not really a practical "on the run" palette. One of my favorite elements of this palette, the lip gloss, is also part of the biggest downfall of this palette's transportability. The full sized gloss makes for a boxy, heavy and a touch clunky package. It fits fine in my bag, but it's just a lot. I am comfortable using this baby at home, but to take it "on the run" seems a bit far-fetched for my taste. But who knows. We'll see what happens.
Have you tried Naked On The Run? What do you think?