I was being such a lazy bunnie last weekend so no post up, but here's a treat for all you ladies... a review on the Urban Decay NAKED Basics. I haven't really seen a lot of reviews on this one, perhaps also due to my absence in the beauty blogging, but here's my take on it.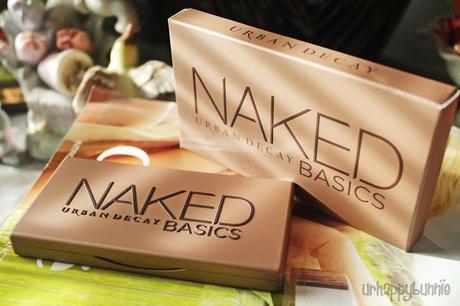 The Urban Decay Naked Basics Palette is a handy palette for your makeup bag and is great for traveling. The case is rubberized similar to that of the NARS packaging, though the UD Naked Basics, in my opinion, better because makeup doesn't adhere to it as much as the NARS packaging does. 
The palette comes with 6 eyeshadow, 5 of them matte and one, Venus, has a satin finish. Foxy, a matte highlight with a yellow undertone, is present in this palette. For those who have the NAKED2, this is a familiar shadow. W.O.S. (Walk of Shame) is another nice matte highlight/neutral shade which suits my own skin tone. Naked 2, a similar shade of neutral as to the Naked shadow is a great blending color. Faint is a lovely medium brown shade and Crave is a black with brown undertones... which makes it just a tad lighter than Blackout which is also in the NAKED2 palette.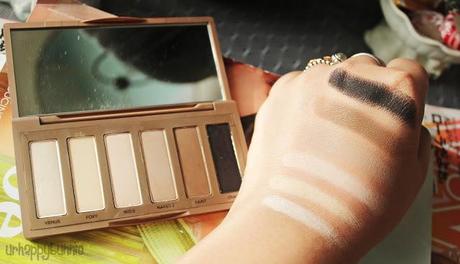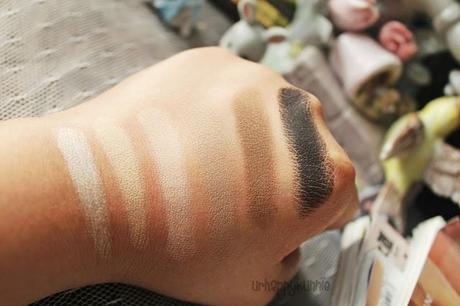 Venus, Foxy, W.O.S, Naked 2, Faint, Crave
Urban Decay has been my favorite eyeshadow brand since I started using makeup and it's the only brand I really splurge on when it comes to eyeshadows. The pigmentation is great and they are so buttery smooth. Application and blending is very easy when it comes to these shadows. 
This is really a great palette for those ladies who are just starting to learn how to put on makeup since this is really a very basic palette. I would also recommend this to ladies who likes wearing neutral makeup. This palette is wonderful in creating light, everyday makeup that you can build up to a nice smokey eye. 
The only downside I see in this palette is the shadow Foxy since I was never really a fan of that shadow in NAKED2 - it's too yellow for my complexion.
This palette retails for $27 with 6 full sized shadows and a mirror. A single, full sized eyeshadow from UD retails for $18 so this is a bargain.  
I just love this palette since it is so handy that I can just throw it in my makeup bag and it has all the neutral shadows I need for a great everyday or smokey eye. I can already tell that I would hit pan on Walk of Shame faster than the other shadows in the palette since it is similar to Naked which I love as a blending color.
This a great addition to the Urban Decay Naked line, though I wish that they would name other shadows creatively rather than name them Naked and Naked2 since it  can easily be confused as the palette and not the eyeshadow itself. 
So what do you ladies think about this palette from UD?