Yesterday, my erstwhile friend MB and I went NGS garden visiting.  It was a miserable, cold and windy Sunday, so we wrapped up warm and headed off to Upwaltham Barns.  Note the fact I didn't say wet.  We are still waiting for a good drenching rainfall.  However, it would have made walking around gardens not so enjoyable, so this time I was glad it remained dry.
Set in the heart of the Sussex Downs between Chichester and Petworth, close to the Goodwood Estate, Upwaltham Barns are a series of  17th Century Sussex Flint barns which have been restored and are now used as a wedding venue.  There is a series of gardens planted with a cottage garden theme, together with a good sized vegetable garden.
As you will see from these photos, the sky was grey and the lighting was not brilliant, so the colours are not as vibrant as they would have been on a sunny day.
On either side of the entrance there was a deep border packed with all types of country garden perennials including Roses, Nepeta,  and Poppies.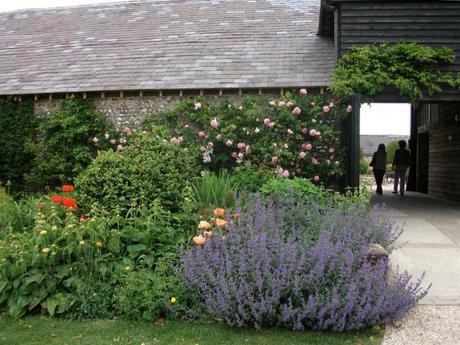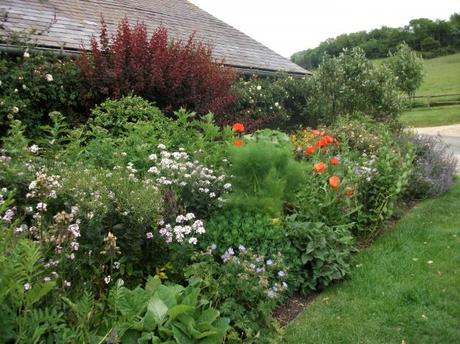 We were directed through a long narrow barn, which was being used as the tearoom.  Some delicious looking cakes adourned the tables, and after our walk we did return and I had a slice of lemon cake and MB had his usual choice of chocolate cake, together with large cups of tea to warm up.  Anyway, on with the garden. The cottage that faced us, had a glorious Delphinium border and I loved the pots on the steps going up to the front door.  As we left this part of the garden, I had to take a photo of the awesome Peonies.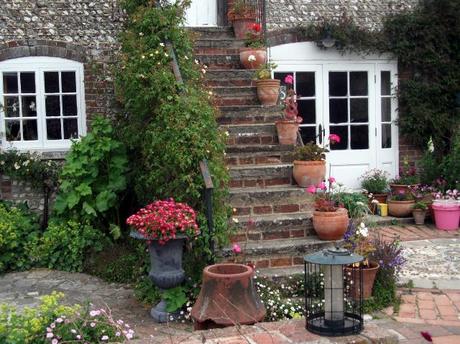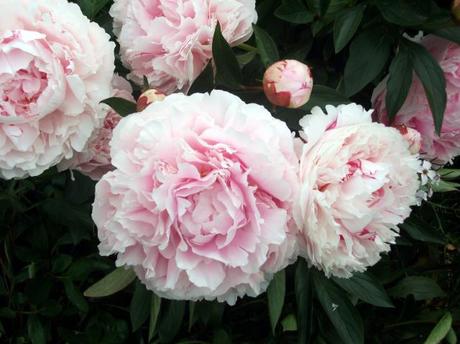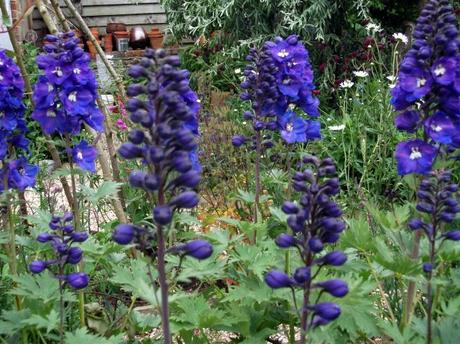 We wandered around the little side garden of the cottage, muttering that we were not at all impressed, although quiet pretty.  As we left that garden and saw the large NGS yellow arrow.  Whoops! We realised this was a private garden, although there was no sign to say so.
The Walled Garden borders were packed with purple Alliums, Aquilegia and Clematis. Everything was in a purple to pink colour theme.  The planting was either over or nearly over and I wondered what was going to take its place in June and July when most gardens are at their peak of colour.  Looking at what was growing, I suspect that the colour scheme will be yellow and orange.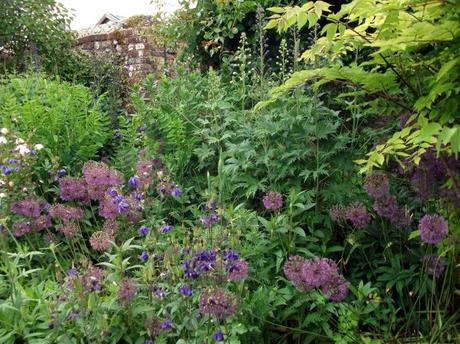 Turning to look down the garden, there was a 'room' with planting edged in Box, and beyond  was a path lined either side with trees and lavender beds to the side of them.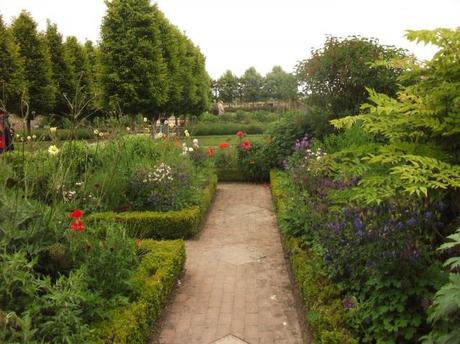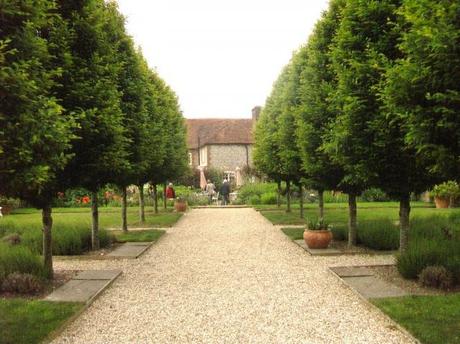 The gravel path lead us on to the vegetable garden, which was filled with every type of vegetable and fruit.   We did notice that it was desperately in need of weeding in some parts but with so much garden to care for, you can't expect perfection.   This was a working garden, not a show garden.   With a marvelous view of the South Downs, and despite being in a very open and windswept position, it would make gardening there great anytime.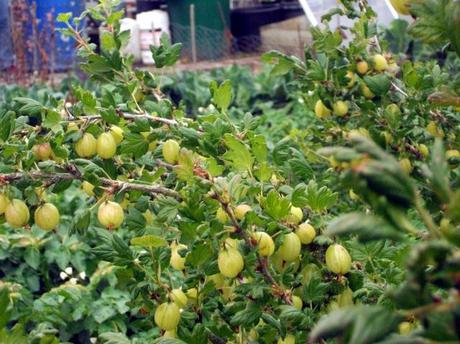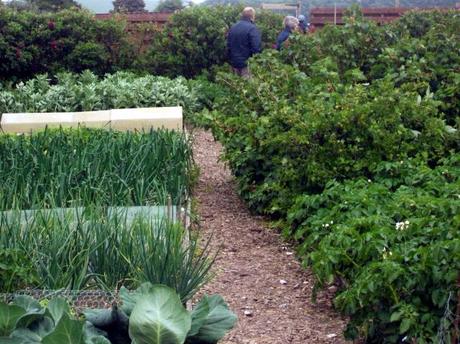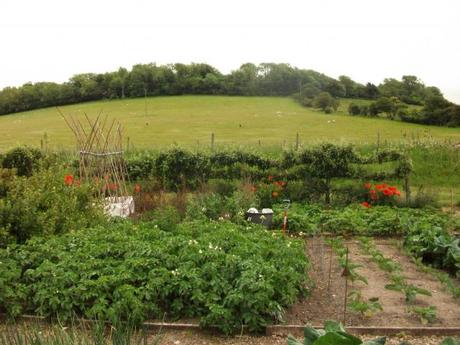 Now thoroughly chilled we headed back towards the tearoom for cake and hot drinks.  The last part of the garden, which is a work in progress, had a splendid display of Patty Plum poppies and a very colourful circular bed, looking slightly out of place at the moment,  in the middle of what I assume eventually will be a lawn.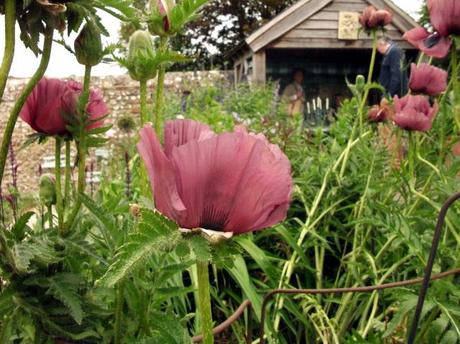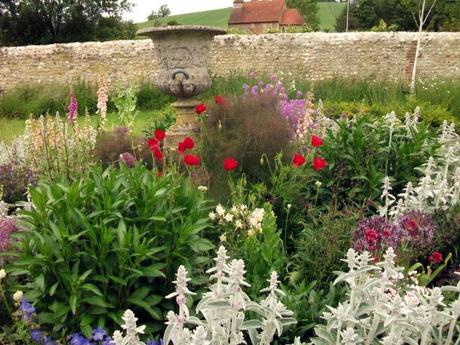 Maybe it was because it was cold and windy and things were just going over, at the time we were not overly excited about the garden, it had something missing, but we couldn't quite pin it down, something to do with the feel of it.  Now I have written this post, and viewed the photos, I think I may have changed my opinion.  It really is very nice and full of well known popular plants, the kind any one of us would have in our gardens.  Like most things,  they tend to look better when the sun shines. A lot of work has gone into this garden and it deserves recognition.