Do you want the freshest milk you can taste delivered straight to your doorstep?
 Are you one of those who wants a healthier milk alternative than what is available in the supermarkets?
If you live in the uptown subdivisions of Cagayan de Oro (Xavier Estates, Pueblo de Oro, etc.)  then you're in luck.  
UPTOWN COW now delivers fresh milk to uptown CDO residents!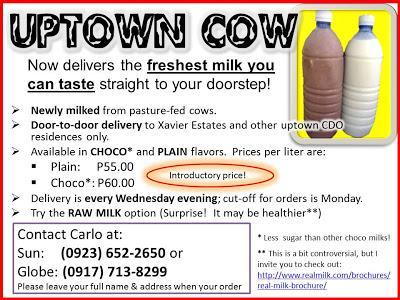 If you live in uptown CDO, you'll probably see this flyer soon (but in black and white)
As you would surmise from the flyer, the milk that UPTOWN COW would distribute will give CDO uptown homeowners a product that is far superior than what is offered in supermarkets.
 It is fresher (the cows are milked just one day before delivery);
the cows are raised on a pasture instead of commercially raised
(not cramped and disease-laden, virtually eliminating the need for the cows to take antibiotics, etc.);
the choco milk has less sugar than what you get elsewhere
; and there's a
raw milk option to increase the health benefits even more.
Simply put, if you buy milk from commercially raised cows (like from the big companies), where they live cramped, diseased-laden lives, raised on commercial feeds instead of grass, then
you may run the risk of getting a whole lot of chemicals in your milk
(see
Who Knew this Cocktail of up to 20 Chemicals Was in Your Glass of Milk?
)
It's far better to get your milk from pasture-raised cows like the source of
UPTOWN COW
's milk, a dairy farm located in nearby Alae.  But then, as the flyer also advertises,
I'd like you to try the raw milk option.
Yes, raw milk.  
UPTOWN COW
is, to my knowledge, the only supplier to offer raw, unpasteurized milk as an option.  I've been a believer for a long time now that raw milk is the healthier option.  This viewpoint is a bit controversial, so I'd like to invite you to make a decision for yourself…and for the raw milk viewpoint, visit
http://www.realmilk.com/brochures/real-milk-brochure
/
You can also check out the article
Why You Don't Want to Drink Pasteurized Milk
for a strongly worded opinion on the subject.
Anyway, no matter what side of the fence you're on,
UPTOWN COW delivers to your door both raw and pasteurized milk at competitive prices and in plain or choco flavors.
 Well, if you live in uptown CDO, that is.
Just call the numbers on the flyer and leave your name, address, and phone number.  Calling the Sun number is preferred if you have a Sun phone.  
(This blog site, Lessons Of A Dad is mostly about parenting, marriage, and other topics aimed to develop the reader's mind, body, and soul.  I'd consider it an honor if you'd follow or subscribe to this site.  You can also go to my Facebook page here, and I'm also on Twitter at @lessonsofadad)