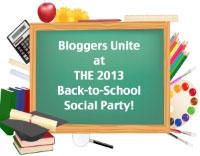 Welcome to my page!  Thank you for stopping by Uplifting Families.  I wanted to take the time and thank all of those people that have made Uplifting Families successful.  Without your love and support, my blog wouldn't be where it is today.  I started blogging in November of 2011, shortly after my youngest son was born, because I wanted to help other mother's realize that they could continue breastfeeding their relationship once they returned to work.  In October of 2012, I decided to expand my horizons and after hours of brainstorming with my husband we finally decided on the name Uplifting Families.
Uplifting Families gave me the opportunity to blog about a wider range of topics and to help more families.  You can find the following topics on my blog: pregnancy, breastfeeding, parenting, reviews, and all things family related.  I enjoy helping other families and sharing my knowledge with others.
If you would have asked me a few years ago, I would have told you that I never had a passion for writing because it wasn't my strong suit.  I also never imagined sharing my own thoughts and opinions with others.  In 2009, I started my very first blog and it was a total flop.  I picked a niche that I wasn't comfortable writing about and it was very difficult to find my writing voice.  In November of 2011, I decided to give it another shot and create a blog that I was passionate about.  I am very thankful that I didn't give up blogging when my first blog didn't turn out the way that I had planned.  As a blogger, I feel as if I finally found my voice and passion for writing.  I am the first to admit that my writing skills may not be perfect.  I have noticed that the more I write that my writing skills over the past year and a half have continually improved.
I started blogging full time when I was laid off from my job in July of 2012 due to my own medical issues.  I wanted something to keep me busy and take some of the focus off of my own problems.  I suffer from chronic low back pain and it prevents me from working a regular job with set hours.  Blogging gives me the flexibility and an opportunity that the corporate world doesn't.
My blog is PR friendly and I am always seeking guest posters who are willing to share their knowledge with others.  I love connecting with other bloggers and building relationships on social media.
My name is Christy Garrett, I have been married to my husband for 5 years.  I am a mother of three and enjoy spending time with my family when I am not busy working.  We are a blended family and I am thankful that my husband who loves my two older children, from a previous marriage, as his own.  As a family, we are very involved in church and we rely on God to give us the wisdom to raise our family.  My husband and I try to be good role models for our children.  We are fairly strict when it comes to the things that my children watch on tv, the video games that they play, and the music they listen too because we are a firm believer that what you put in is what you get out of your child.  We aren't perfect and we do make mistakes just like other families.
To get weekly updates to Uplifting Families, please subscribe to my newsletter or join in the conversation with me on Twitter, Facebook, Pinterest, and G+.
Uplifting Families Mission Statement
"Helping One Family at a Time"
Christy Garrett