We recently bought the "latest and greatest" television for our living room – 65 nice big inches – right in time for football season AND the for the return of all of our favorite action-packed fall shows! Since we also bought the television, we went ahead and got rid of the big old entertainment center and instead bought a nice sleek television stand with a built in fireplace (because you know we will use that at least twice during the winter here in Florida)!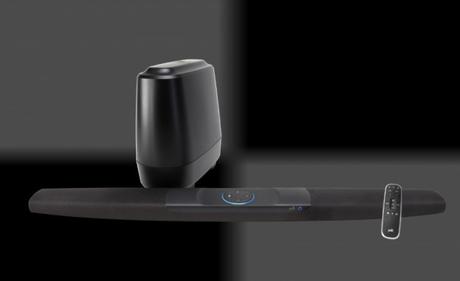 Next was sound. While our new television does have an amazingly, beautiful picture that is crisp, bright and clear, one thing it did lack was great sound.  We wanted to upgrade our home theater sound so we began to shop it out and checked the reviews and ratings. Ultimately, we went with the Polk Command Bar found at Best Buy. Scroll down to see why!!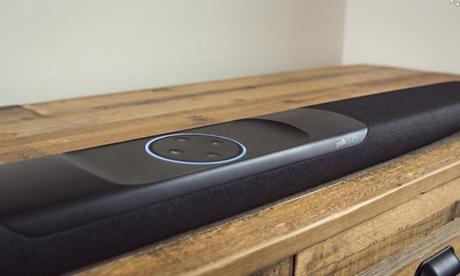 The Polk Audio – 2.1-Channel Soundbar System with built-in Amazon Alexa Voice Assistant has a sleek and streamlined look so it can fit right in without making a visual nuisance of itself.  It comes equipped with loads of helpful technology too.  The integrated far-field microphones provide the ability to control it using your voice via Amazon Alexa.
We were really happy to learn that Polk has long been a trusted name in home audio since 1972 and it gave us confidence knowing the product would last. It is compatible with most televisions too because it has a vast array of cable ports, including HDMI and optical cables.
The Polk Command Soundbar features a 43″ soundbar containing two 3″ full range speakers and two 1″ tweeters, and it is paired with a wireless 6.5″ subwoofer. 260 watts of audio power provides a full spectrum of sound, deep bass you can feel through the floor, expansive mid-range, and clean, shrill highs are all effortlessly showcased without the mix being muddied by competing frequencies.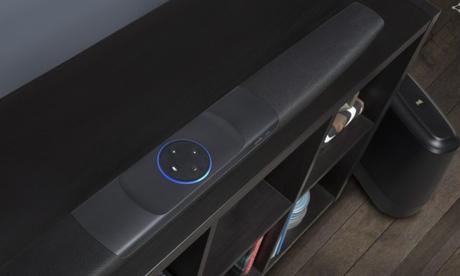 And onto the best part – the built-in Alexa — You might already have an Echo Dot or the original Alexa, and if you do, I can bet that the sound on that item is mediocre unless you have some kind of whole home smart sound system.  The built-in Alexa on the Polk Command Bar is very versatile and allows me to voice over commands and instruct the soundbar to turn up the volume, or switch HDMI ports, turn on Netflix, and the like.  If you like the level the volume is set at, but you want more bass, no problem. If you have other smart devices – for us its our Nest theremostat – we can use the on-board Alexa to control it. 
There are two HDMI ports that allow us to connect our Blu-Ray player and our gaming system, and it was super easy.  Although we haven't gotten one yet but will be soon, the Command Bar has a recessed HDMI port specifically designed to house an Amazon Fire Stick or Amazon Fire TV so we are really looking forward to that.  
With an MSRP of $299.99 the Polk Command Bar has everything we need and more, and I'm certain everything you'll need to keep your home theater sound at its top performance. 
---
The reviewer has been compensated in the form of a Best Buy Gift Card and/or received the product/service at a reduced price or for free.
~ ~ ~ ~ ~ ~ ~ ~ ~ ~ ~ ~ ~ ~ ~ ~ ~ ~

It would be great if you would stay connected with me!! You can follow me on Twitter @DebiL1611, like me on Facebook at 2014 and Beyond, circle me on Google+, follow me on Tumblr, Instagram and Bloglovin', subscribe on YouTube, or connect with me on LinkedIn and Pinterest.

Please make sure to visit my homepage and subscribe to my blog for more great posts on running, fitness and lifestyle topics as well as food, product, music and book reviews, and more!