Sexually-motivated double homicide of two teenage girls, one 13 and the other 14. For some background on this heartbreaking case, see here.
This is an update of the case as of March 5, 2017. There's not a lot of new information here, but there is a new photo. Any new information is in bold. Also I listed sources for each bit of information because I am getting tired of people asking me this stuff.
How Do I Know All This Stuff?
First: How do I know all this stuff?
Question: "Robert, How Do You Know So Much about Serial Killers, Pedophiles, Hebephiles and Sexual Sadists?"
I have done a lot of research on this case including released information, rumors and borderline areas such as cryptic statements by LE. I have also spoken to people close to the case, including those close to the search party and law enforcement investigation of this case. I also spoke to other sleuthers and people interested in the case. Some were associated with missing persons groups. I have pretty good sleuthing skills involving research. This includes digging through background information databases online and other sorts of web research.
This is the source of some of my material.
I also worked a bit with Indiana State Police and the FBI, sharing my POI's and tips with them. It is not an astounding statement. Please realize that a lot of people are working with LE in trying to solve this case. However, LE did not reveal much information to me other than some cleared suspects. Other information is derived from my own theorizing about the case. This includes offender profiling. And I believe I have some mild psi skills.
So there's the source of all of the information.
My Musings on This Case
Libby was killed on 2-13, possibly pretty quickly, and Abby died or 2-14. The published obits state those dates. This has been confirmed to me by sources close to law enforcement. There is a rumor that the families chose those dates as death dates, but that would apply only to funerals, not obits. Obit info would come straight from coroner report. Therefore, the coroner report had to state different death dates. See below for more evidence that the girls died on different days. Sources: People close to LE, obituaries, and funeral notices.
This was not a crime of opportunity. He planned this very well. He plans his crimes with the utmost meticulousness. That is why he is armed with the gun and disguising himself. Source: My speculation based on the nature of the offense and the obvious skill involved.
These girls may have been catfished, possibly via Libby's Instagram page, although this is not proven yet. That is, the girls may have thought they were going there to meet a teenage boy, but instead they met the killer. The killer would have pretended to be a teenage boy in  order to lure the girls. Sources: Cryptic comments from LE, suggestive remarks from Libby's friends about odd activity on her Instagram account.
Unsub is approximately 5'10, 180 pounds with a bit of a middle aged man's stomach paunch. Source: Expert on CNN, paunch obvious in photo.
Unsub's age is probably 50-60. t the very least, that style of pants is outdated and nowadays is only worn by men over 40 in that area. Presence of fanny pack also indicates an older man. I still use a fanny pack as they were popular in the late 1980's,  but I am told that hardly anyone else does. Sources: Estimates from me and others looking at the photos. Info on fanny packs and jeans style for people looking at the photos.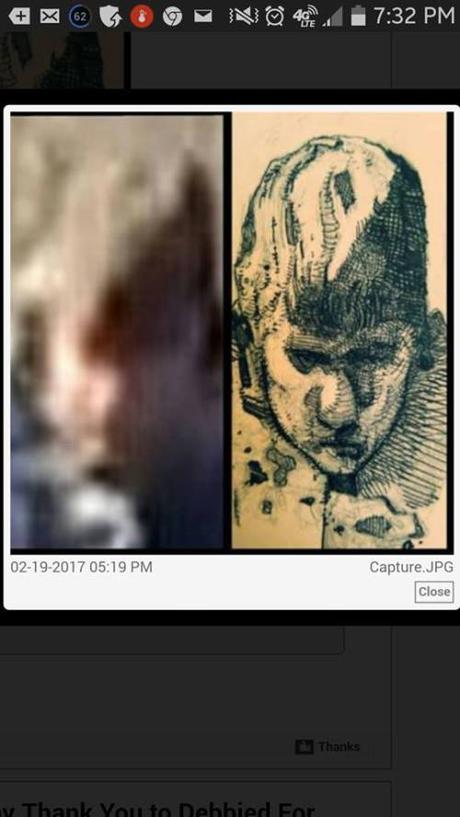 Excellent new drawing of Unsub from an LE artist.
LE believes that Unsub came from out of state to do this crime. Source: Recent remark by Indiana State Police quoted in media.
Clearly Unsub has a pistol, a .45 or 911. The pistol was holstered to his right side, which means he is left-handed. The outline of the pistol can clearly be seen in the photo released of the man. A photo exists showing the pistol outlined with graphic software. Assuming that is a pistol, and it is, then Unsub is left-handed. He is either left-handed or pretending to be left-handed. Pretending to be left-handed makes no sense in a case like this as it would be hard to draw with his fake left. This would result in a clumsy draw resulting in possible dropping or fumbling with the weapon. Therefore, Unsub is left-handed. Source: Gun is obviously visible in photograph. Left-handedness concluded from the holstered gun pointing backwards on the right side.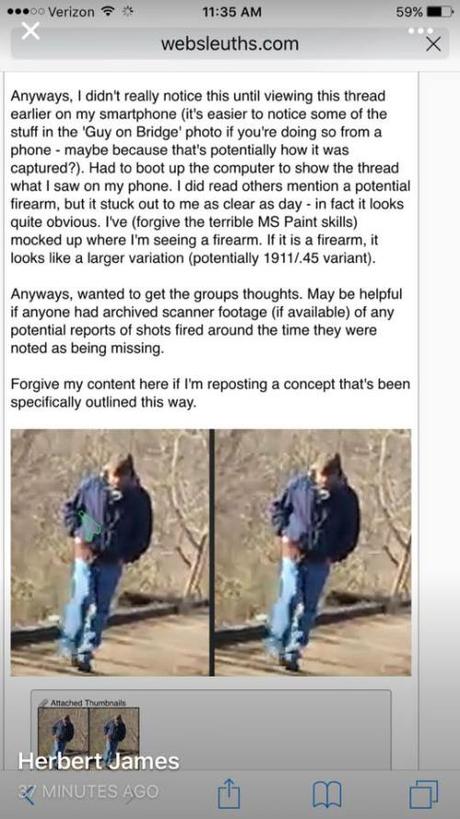 Photo clearly shows a semiautomatic .911 or 45 mm handgun holstered on his right, which means he is lefthanded. That's either a gun or I'm a monkey's uncle. I can't believe so many people are saying that is not a gun. It's as clear as air.
Unsub may be trying to disguise himself in the photos by using a hat and a scarf. Source: LE statement released to the media.
Unsub is wearing a hat, a jacket with a hoodie and blue jeans in the photo. In my opinion, the hat is a camouflage hunting cap with padded ear muffs. Unsub is overdressed for the weather, but February in Indiana is pretty cold. He seems to have layers of clothing on. He has almost his entire body covered with clothing. Part of this is to disguise himself but another reason is so he will have few exposed areas of his body if the girls fight back hard. The layers of clothing will prevent them from leaving scratch marks on his body, although they still could scratch up his face pretty good. Source: LE statements about clothing. Statement about type of cap is my conjecture from the photo. Reason for being heavily dressed is common sense for an offender preparing to commit rape and murder.
Unsub has a fanny pack. This is probably where he kept his murder kit. Sources: LE statement quoted in the media. Murder kit is my conjecture. What else is in there?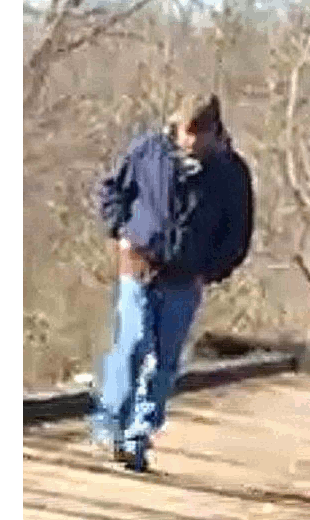 GIF image of Unsub photos run together.
Talk of backpacks and duffel bags makes no sense to me. I do not believe that Unsub had a backpack or a duffel bag, but perhaps he did. At any rate, there was a man dressed in all black seen at the time also. This man definitely had a backpack. Witnesses included a woman hiker and some teenage girls about the same age as the victims. The girls reported that the man was walking the other direction from them on the trail. As he came near them, the girls said hello, but he did not respond. The girls regarded this as creepy. Sources: LE statements and statements from girls hiking in the same area at the same time and a woman hiker.
I believe that this man – Man in Black – participated in the murders with Unsub. In other words, there were two killers. Sources: See below.
There were apparently two killers in this case. This can be gleaned from cryptic LE statements. Very quickly, with the release of the photo, LE described Unsub as the man who "participated" in the killings. However, if you study this sort of thing, LE never uses the word participated when describing a crime with a single killer. That verb is only used when there is more than one killer. I kept wondering why they always used the word participated. Source: Common sense conclusion from LE statements.
At the large video press conference, we got more evidence. At ~3 minute mark, the officer says, "And I especially want to thank the person whose information will lead to the arrest of the murderers of these girls." I have listened to that part of the tape over and over, and he clearly said murderers. He did not misspeak. He said that intentionally. Source: LE statement. Common sense that this was not a slip of the tongue.
Later in the conference, after a cryptic statement by an officer, someone in the audience jumped up and asked, "Wait a minute! Do you think there were two killers?" The officer then said, "Look, this is one of the strangest,  oddest, most confusing and  convoluted cases I have ever worked on, ok? So just keep that in mind." With that statement, it's pretty clear that he is cryptically stating that there were two killers. Source: LE statement. Common sense concludes that he was obliquely saying that there were two killers.
As far as how LE came to state that there were two killers by using the word "participated," I believe that they came to that conclusion by gleaning four sets of DNA from the crime scene: Two sets were Libby and Abbie, and the third was Unsub. But if a fourth DNA sample was found at the site, that can only mean two killers. LE's official statement right now is that they do not know whether there were one or two killers involved. I believe that the evidence revealed so far is sufficient to conclude that there were indeed two killers. Source: Very early LE statement that there may be two killers must have come from DNA gathering.
Abbie's body was still warm when found, and the medical examiner concluded that she survived the attack but died later of hypothermia. If the body was warm, this means that Abbie died of hypothermia no earlier than 9:30 AM, as the bodies were discovered at 12:30 PM, and bodies only stay warm for 2-3 hours after death. This means that Abbie was certainly still alive when the search started at 9:30 AM. Source: People close to LE.
The search party in the Delphi case confirmed that the bodies were moved in the course of this crime. They stated that the girls had to have been moved, taken away and then returned to be dumped because the search parties covered the same ground in both searches. The locale where they were found on 2-14 had previously been searched on 2-13. The 2-13 search began at 5:30 PM, and by that time, the girls had been moved out of the area. The attack began at ~2:15 PM, so the girls were moved out of the area sometime between 2:30-5:30 PM. Source: People close to the search party.
Unsub must have put the girls in his vehicle and transported them somewhere where he assaulted them either in his vehicle or at a residence, either his own residence, an associate's residence, an abandoned residence, or a residence that he had use of. Unsub was certainly not in the area from 5:30 PM on 2-13 until 2:30 AM on 2-14 and from 9:30 AM-12:30 PM on 2-14. Therefore, the girls were returned to the site on 2-14 between 2:30 PM-9:30 AM on the morning of 2-14. Unsub has a seven hour window on 2-14 in which to return the girls to the site. Source: Common sense. If the girls were removed from the site for 11-16 hours and then returned, obviously they were taken away in a vehicle.
Unsub probably parked his vehicle on the road next to the cemetery. Police vehicles were seen in the area, but they were not searching the cemetery. Instead there was a long line of them parked on the road next to the cemetery. Therefore, Unsub may have parked his vehicle on the road next to the cemetery. Source: Logical conclusion from 10 police cars parked on that stretch of the road.
Libby's grandfather who raised her made an odd statement, "I know Libby. She put up one Hell of a fight." The grandfather has been cleared. However, he is correct that Libby put up a strong battle. The reason that the grandfather said she put up a wild fight is probably because that is what it says in the medical report. If she fought hard, there will be talk of defensive wounds and maybe DNA under her nails. The condition of her body at the funeral adds weight to the notion that she fought back very hard and sustained many defensive wounds. In that case, Unsub may have scratch marks. Source: Media reports and statements from people at the funeral. Common sense that the only way the grandfather would have said that is if he saw the coroners' report.
I do not believe that LE has any particular POI at this moment. They are far away from solving this case. Source: My conjecture from being close to the case and those working on it.
I believe the gun obviously holstered on the right under the jacket of Unsub was used to control the girls. He also got them to keep quiet, probably with the gun. However, I do not believe the gun was used to kill the girls. It would have made too much noise. Rumors that this was not a gun crime are probably correct. Source: Common sense that the gun would be the best way to control the girls.
Sources people close to law enforcement confirmed that both girls had their throats slit. Funerals were open casket, and both girls had scarves covering their necks, more to cover something up than as clothing. This adds weight to the theory that their throats were slit. One of the girls was nearly decapitated in the attack. This must have been Libby because Abbie's wound was mild enough that she survived for some time after the attack. No one can survive a near-decapitation. Sources: Very first reports of the crime from family members. Later confirmation from people close to LE. Statements by people at the funeral.
This is obviously a sexually motivated offense. Initial reports said both girls were raped. Rape was involved in this case, and Abbie was definitely raped. Whether Libby got raped is not known, and there are problems with the theory. There are different reports about the state of the bodies. There are rumors that both girls were nude. But others say that Abbie was nude while Libby was clothed. It is difficult to reconcile Libby being raped with her being found fully clothed. Sources: Very first reports of the crime from family members and people close to LE.
At least one of the girls' clothing was found in the creek. Common sense indicates that this was Abbie's as we know she was found nude. Whether Libby was found clothed or nude is somewhat up in the air right now, and if she was clothed, that conflicts with other stated evidence, such as that she got raped. So at the very least, Abbie's clothes were found in the creek. This was no doubt an attempt to destroy any DNA evidence. Source: Statements from people watching media video of police at the crime scene. Common sense indicates that this was an attempt to destroy DNA in the case.
Prepubertal girls have no sex drive, and they have no sexual interest in boys. If these were prepubertal girls, we could rule out their meeting a boy via social media, as girls that age are not interested in boys sexually. At female sexarche, usually age 13, the female sex drive comes on strongly, and many girls become very sexually interested in boys and even men. Both girls had surely passed sexarche. Therefore, it makes perfect sense that they could have been there to meet a boy their age. Source: Common sense based on my scientific knowledge of the sexual development stages of 13 and 14 year old teenage girls in 21st Century America.
Ron Logan, the property owner where the girls were found, was in Lafayette, Indiana on 2-13, and Unsub may have known he would not be there, but there is no proof of this. How he may have known this, I have no idea. Source: Media.
Two other posts in this series:
Updated February 28: Portrait for the Delphi-Evansdale Serial Killer
If you think this website is valuable to you, please consider a contribution to support the continuation of the site. Donations are the only thing that keep the site operating.