Huge update with major changes in my analysis of the case.
Sexually-motivated double homicide of two teenage girls, one 13 and the other 14. For some background on this heartbreaking case, see here.
This is an update of the case as of March 14, 2017. There's not a lot of new information here, but there is a new photo. Any new information is in bold. Also I listed sources for each bit of information because I am getting tired of people asking me this stuff.
How Do I Know All This Stuff?
First: How do I know all this stuff?
Question: "Robert, How Do You Know So Much about Serial Killers, Pedophiles, Hebephiles and Sexual Sadists?"
I have done a lot of research on this case including released information, rumors and borderline areas such as cryptic statements by LE. I have also spoken to people close to the case, including those close to the search party and law enforcement investigation of this case. I also spoke to other sleuthers and people interested in the case. Some were associated with missing persons groups. I have pretty good sleuthing skills involving research. This includes digging through background information databases online and other sorts of web research.
This is the source of some of my material.
I also worked a bit with Indiana State Police and the FBI, sharing my POI's and tips with them. It is not an astounding statement. Please realize that a lot of people are working with LE in trying to solve this case. However, LE did not reveal much information to me other than some cleared suspects. Other information is derived from my own theorizing about the case. This includes offender profiling.
So there's the source of all of the information.
For the first three weeks of this case, I was as pessimistic as everyone else. But in the past week, I feel much better about this and I am now cautiously optimistic about this case. I cannot tell you why I feel this way. This optimism may not last though. If you are feeling dead pessimistic about this crime, perhaps you should re-evaluate that.
My Musings on This Case
Rumors state that Libby was killed on 2-13, possibly pretty quickly, and Abby died or 2-14. Although this is still somewhat up in the air, I believe this is correct. The published obits state those dates. This has been confirmed to me by sources close to law enforcement. There is a rumor that the families chose those dates as death dates, but that would apply only to funerals, not obits. Obit info would come straight from coroner's report. Therefore, the coroner's report had to state different death dates. See below for more evidence that the girls died on different days. Sources: People close to LE, obituaries, and funeral notices.
This was not a crime of opportunity. He planned this very well. He plans his crimes with the utmost meticulousness. That is why he is armed with the gun and disguising himself. Source: My speculation based on the nature of the offense and the obvious skill involved.
As of yet, there is no good evidence to suggest that the girls may have been catfished from social media. Original rumor relied upon an odd statement by LE very early ion the case, "Parents need to be very careful of what their kids are doing on social media." Adding to that were suggestive remarks from Libby's friends about odd activities on her Instagram page. Bottom line is there is just no good evidence for this at the moment. Sources: Cryptic comments from LE, suggestive remarks from Libby's friends about odd activity on her Instagram account.
Unsub is 5'10, 180 pounds with a bit of a middle aged man's stomach paunch. Source: Expert on CNN, paunch obvious in photo.
Unsub's age is ~60. At the very least, that style of pants is outdated and nowadays is only worn by men over 40 in that area. Presence of fanny pack also indicates an older man. They were popular in the late 1980's, but I am told that hardly anyone wears them anymore except for some idiotic older guys like me. And Unsub. Well, we two have something in common anyway. Curiously, my age is almost exactly the same as his. Sources: LE stated that he had a fanny pack. My estimate on age. Info on fanny packs and jeans style by people looking at the photos.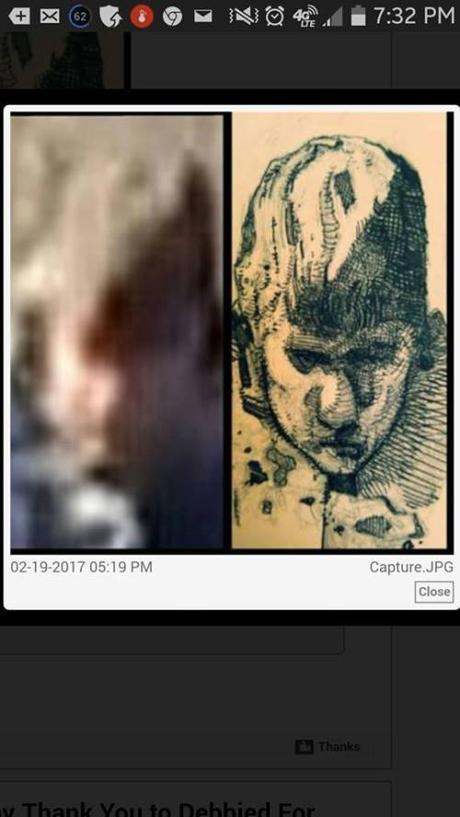 Excellent new drawing of Unsub from an LE artist.
LE believes that Unsub came from out of state to do this crime. This is my theory also based on my POI. I believe that Unsub drove 350 miles over 5 1/2 hours to do this crime. I believe this is in part why he has not been caught yet. He doesn't even live in the same state! Source: Recent remark by Indiana State Police quoted in media, my theory based on my favorite POI.
Clearly Unsub has a pistol, a .45 or 911. The pistol was holstered to his right side, which means he is left-handed. The outline of the pistol can clearly be seen in the photo released of the man. A photo exists showing the pistol outlined with graphic software. Assuming that is a pistol, and it is, then Unsub is left-handed. Source: Gun is obviously visible in photograph. Left-handedness concluded from the holstered gun pointing backwards on the right side.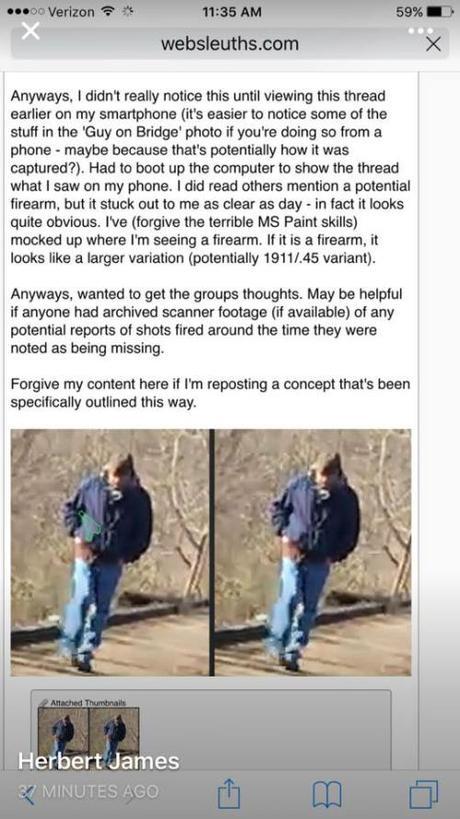 Photo clearly shows a semiautomatic .911 or 45 mm handgun holstered on his right, which means he is lefthanded. That's either a gun, or I'm a monkey's uncle. I can't believe so many people are saying that is not a gun. It's as clear as air.
Unsub may be trying to disguise himself in the photos by using a hat and a scarf. Source: LE statement.
Unsub is wearing a hat, a jacket with a hoodie and blue jeans in the photo. In my opinion, the hat is a camouflage hunting cap with padded ear muffs. Unsub is overdressed for the weather. He seems to have layers of clothing on. He has almost his entire body covered with clothing. Part of this is no doubt to disguise himself, but another reason is so he will have few exposed areas of his body where the girls could leave scratch marks if the girls fight back hard, although they still could scratch up his face pretty well. Source: LE statements about clothing. Statement about type of cap is my conjecture from the photo. Reason for being heavily dressed is common sense for an offender preparing to commit rape and murder.
Fanny pack probably where he kept his murder kit. Sources: LE statement quoted in the media. Murder kit is my conjecture. What else is in there? A first aid kit? Come on.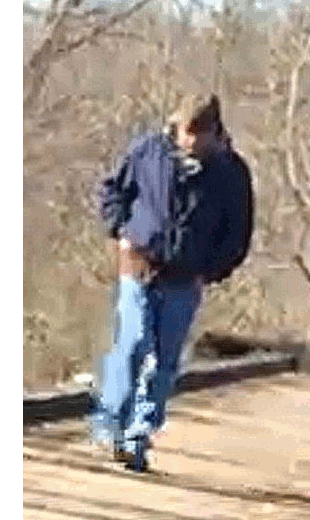 GIF image of Unsub photos run together.
There has been much talk about whether or not there were two murderers or one. It is not yet proven that there were two killers, and LE is leaning towards the theory that there was one killer. However, even LE themselves described the perpetrators of this crime as "the murderers." And from the very start, they referred to Unsub as a participant instead of a suspect. Participant is almost never used unless LE thinks there is more than one killer.
Police are now walking this back by saying that it's standard procedure to assume maybe more than one killer, but they're lying. It isn't. There was some specific reason why they thought there were two killers in this case, and we do not know what that reason was. At any rate, they seem to be walking the two killers theory back too, and they are leaning towards one killer. Source: Very strange LE statements.
There are different stories about when the girls died. Libby seems to have died very quickly on the afternoon of 2-13. Abbie may have died at this time too as per a family statement. This is a weak rumor. Yet from the very start there were rumors about Abbie lingering on. The first said that Abbie was still alive when found and died on the way to the hospital. Another said that she was still alive when found and died on the scene. These two are also weak rumors.
A third and stronger rumor said that Abbie's body was still warm when found and that the medical examiner concluded that she survived the attack but died later of hypothermia. Making this odd is new evidence that the entire crime occurred on the afternoon of 2-13 and it was all over in an hour or two. If this is true then somehow, Abbie lingered on and stayed alive for ~20 hours after a homicidal attack on her. It's hard to believe and devastatingly sad if true that she lingered this long, but perhaps it is testimony to some special spirit the girl had to maintain life at all costs.
Who knows. If the body was warm, this means that Abbie died of hypothermia no earlier than 9:30 AM, as the bodies were discovered at 12:30 PM, and bodies only stay warm for 2-3 hours after death. This means that Abbie was certainly still alive when the search started at 9:30 AM. This third stronger rumor seems to be the best analysis right now. I know this sounds awful, but to me this is the saddest and cruelest part of this whole mad crime. That girl lingering for 20 hours. Good God.  Source: Family members, people close to LE.
There are rumors that the search party stated the bodies were moved in the course of this crime. The searchers stated that the girls had to have been moved, taken away and then returned to be dumped because the search party covered the same ground in both searches. The locale where they were found on 2-14 had previously been searched on 2-13. The problem with this story is that it appears to be incorrect. That side of the creek was not even searched on 2-13 because they had not yet had permission from the landowner. That area was only searched the morning of 2-14. Also these poor girls were covered with leaves, which makes Abbie's heroic quest to live an even more remarkable testament to her profound spirit.
The best analysis now seems to be that the murders and rapes happened soon after the girls were abducted, not long after Unsub ordered them "Go down the hill." The entire south side of the creek was roped off as a crime scene, so no doubt this was where the girls were raped and murdered sometime after 3 PM 2-13. So why no noise? No one heard? How do you rape and murder two girls in broad daylight without anyone hearing? Anyway, after the girls were raped and homicidally attacked, apparently the bodies were somehow moved across the stream, once again without anyone seeing, to the north side of the creek where the bodies were dumped. Source: People close to the search party, people close to the case. Common sense from LE talk implying that the murders occurred very soon after Unsub's voice recording.
There is indeed a voice recording of Unsub saying, "Go down the hill." This was recorded heroically by Libby by turning on the recorder on her phone as the girls were being abducted.
The sound recording of the crime is said to be much longer than what was released. It has also been implied, terrifyingly, that the sound recording is actually the recording of the rapes and murders. That probably makes it one of the worst sound recordings made in a crime case in some time.
The last one coming close to this would have to be the recordings from the Tool Box Murders in 1979. I lived in LA at that time, and those killings gripped us. Bittaker and Norris recorded the sounds of their torturings, attacks and murders with audiotape, presumably for their own enjoyment as they relaxed at home after a hard day murdering and raping.
There has been a lot of talk that these recordings were released, but I have never seen a copy of the audio. I had a girlfriend around that time who was a very morbid goth who was obsessed with death. She had wanted to obtain that tape and put drums and guitars in the background. One time on a double date, we saw a crash on the freeway. She said, "I hope someone died." I think I am glad that this relationship ended. The tape has never been released, but a transcript of it is here. It's as bad as it gets. Don't say I didn't warn you.
Anyway, I can now reveal part of what is on the unreleased portion of the tape. After Unsub says, "Go down the hill," at some point later, the next thing we hear is both girls screaming. Good Lord. It's no wonder LE doesn't want to release that tape. Source: People close to the case.
The place where the girls were found was described as pristine by members of the search party. The site of a recent homicide, especially a bloody and brutal one, never looks pristine. Just forget it. So we must conclude that the site where the girls were found was a body dump site and they were murdered on the other side of the creek. Sources: People close to the search party.
A prior theory of mine that was adopted by many others was based upon the insistence of search party members that the girls had to have been moved because the place where they were found on 2-14 was already searched on 2-13. First, even if it were true, the girls were covered with leaves so they could have easily been overlooked in the dark.
This theory was quite complex and involved the girls surviving the initial abduction despite LE statements implying that they did not. Problem one. It also needed the girls to have been placed in a vehicle and taken somewhere to some structure where the killer(s) did their deeds. What structure? Where? How were they not seen? Problem two. And it implied killers idiotically and implausibly returning to the scene of the abduction to dump the bodies, possibly on 2-14. And those bodies would have had to have been dumped right under the nose of Jim Logan as he resided on his property. Problem three. Worst of all, it seemed to have needed the search area to be kept under surveillance  from 3 PM 2-13 until 2-14 AM. How did this happen? Who was the lookout? Problem four.
This washed-out theory had so many bizarre problems with it that I am glad we have the new theory of the killings and dumpings both occurring on the afternoon of 2-13 soon after the abductions. This ties it all together so much better. Not to mention Occam's Razor of course. Source: People close to the case, my own theorizing.
There is talk of a Ford Mustang that can be barely seen in  lower left of the photo of Abbie on the bridge below the bridge. It is very hard to make out, but it could well be a vehicle. How it was determined to be a Ford Mustang and a white one at that is not known. It is not yet known how this vehicle was involved in the case. The best analyses are that the girls were not placed in this car but instead that this car was either simply in the area for some innocuous reason or that the car was involved in the crime but in some other way than placement or transporting of the girls. Perhaps that is Unsub's vehicle. Who knows?
The road that it is parked on  is a very little used road that almost no one has even heard of. It appears to have been a road used by workers to maintain  the bridge. Access to it is quite difficult and involves some convoluted twists and turns of road, not to mention that part of the access is via a private driveway. It does seem very odd to me that that car is in that location right before the girls got abducted. I am thinking that that car does not belong there at all and that it is significant to the case in some unknown way. Source: Sleuths analyzing the photo of Libby on the bridge, people close to the case.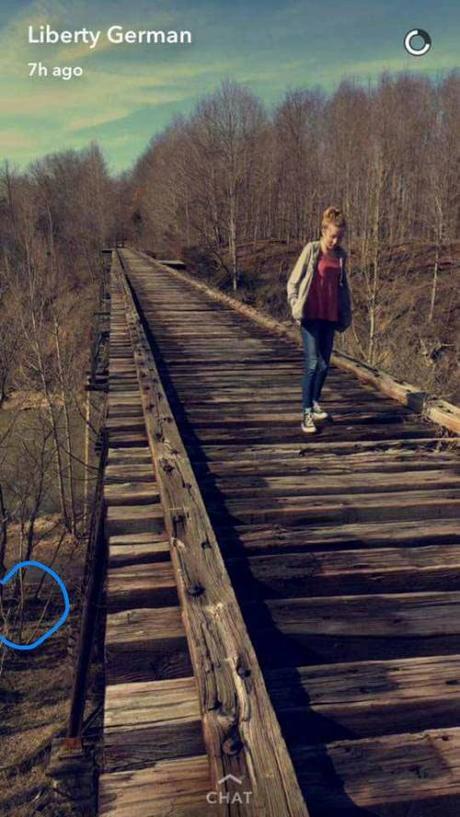 The vehicle can barely be seen circled in blue, or maybe you can't make it out at all. This photo has now been enhanced.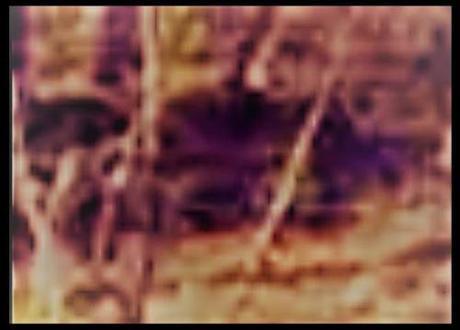 The vehicle is still hard to make out in this enhanced photo, but if you look very carefully, you might be able to see a car. Or maybe you won't. Squint and try your luck.
Libby's grandfather who raised her made an odd statement, "I know Libby. She put up one Hell of a fight." The grandfather has been cleared. However, he is correct that Libby put up a strong battle. The reason that the grandfather said she put up a wild fight is probably because that is what it says in the medical report. If she fought hard, there will be talk of defensive wounds and maybe DNA under her nails. The condition of her body at the funeral adds weight to the notion that she fought back very hard and sustained many defensive wounds because she had many small wounds on her body and face. In that case, Unsub may have scratch marks. Source: Media reports and statements from people at the funeral. Common sense that the only way the grandfather would known that she fought hard was if he saw the coroners' report.
I believe the gun obviously holstered on the right under the jacket of Unsub was probably used to control the girls. He also got them to keep quiet, probably with the gun. However, I do not believe the gun was used to kill the girls. It would have made too much noise. Rumors that this was not a gun crime are correct. Source: Common sense that the gun would be the best way to control the girls and common sense that a gun crime would have involved audible gunshots. No gunshots were heard, so doubtless there was no gun fired in this crime.
There is a rumor that both girls had their throats slit. This is a strong rumor. Funerals were open casket, and both girls had scarves covering their necks, more to cover something up than as clothing. This adds weight to the theory that their throats were slit. There are two rumors about the knife attack on one of the girls. A weak rumor says she was decapitated. The strong rumor says she was nearly decapitated. A decapitation would have been hard for a funeral director to hide and both girls had their heads on at the funeral. Of the two rumors, the strong one looks better, but we don't even know if the girl's wound was that grievous.
The girl who suffered this grievous wound must have been poor Libby because Abbie's wound was apparently mild enough to survive for 20 hours after the attack. No one can survive a near-decapitation. Even the incredibly determined Abbie, who I am starting to think is Supergirl, could not have survived that. Sources: Rumors, very first reports of the crime from family members. Later confirmation from people close to LE. Statements by people at the funeral.
And now I have some even worse news to report. A new rumor says that both girls were beaten so badly in their faces that they were nearly unrecognizable. This rumor may well be true, but at least Abbie was fixed up pretty good in her face for the funeral, so one wonders how a funeral director could have covered up such devastating wounds.
I honestly cannot understand why any man on Earth would do such a thing. This is something I will never understand. I work in mental health, and I've been studying psychopaths for ~15 years now (I have even worked with psychopathic clients), and they still don't make sense to me. Probably the only to make sense of a psychopath would be to be one. This rumor may be true, but it has logical problems. Source: An apparently knowledgeable and trustworthy female commenter from Delphi on a website.
This offense was clearly sexually motivated and it seems quite clear that sexual assault occurred in the course of the crime. About this, there are two rumors. A weak rumor said that Libby was found clothed and Abbie was nude. This rumor has logical problems as it is generally assumed that both girls were raped. So Unsub raped her, killed her, and then thoughtfully put her clothes back on? Come on. The second rumor that both girls were found nude and raped is stronger and seems to be better.  Sources: Very first reports of the crime from family members and later confirmation from people close to LE, general rumors.
The girls' clothing was found in the creek. This was no doubt an attempt by Unsub to destroy any DNA evidence. Source: Statements from reporter at the scene. Common sense indicates that this was an attempt to destroy DNA in the case.
Ron Logan, the property owner where the girls were found, was in Lafayette, Indiana on 2-13, and Unsub may have known he would not be there, but there is no proof of this. How he may have known this, I have no idea. Source: Media.
There is now a lot of talk that Ron Logan or perhaps his son were involved in this crime. This always struck me as unlikely, and Logan was quickly cleared. Now sometimes cleared suspects are later re-evaluated, accused of being culpable and arrested. But that's pretty rare. And some of the people who cleared him were the FBI, making a false clearance even less likely.
Jim Logan was detained last weekend on a probation violation stemming from a drunk driving arrest earlier. The 77 year old Mr. Logan reportedly has a drinking problem. This arrest has sparked wild rumors that Logan was the killer of those girls. He never struck me as the type and he's a bit old for a murdering rapist. Logan's son is also being accused, but I am not impressed by the  weak evidence against him. Neither man strikes me as a likely POI. Source: Rumors, sleuths, media interviews, news reports, my own analytical skills.
There has been much talk of Jimmy Duvall possibly being Unsub. Duvall committed a serious crime against an 11 year old girl quite some time ago when he was 23. A month before, he had committed a similar offense. The judge said he had a character disorder. This typically means a personality disorder and used in a case like this, means that he no doubt has Antisocial Personality Disorder. In other words, Duvall is a sociopath or a psychopath. He served a good ~25 years for this crime and was released ~8 years ago.
He has apparently not offended since he has been released. Mr. Duvall was taken in for questioning early in this case and was asked to give a DNA sample. He then returned to his job at the auto plant. Rumors say that Duvall took 2-13 off as the first day off work in years and has since disappeared. Neither rumor is correct. Yes, Duvall took 2-13. After all, it was his day off, why wouldn't he? And he has not actually disappeared. My understanding is that he is at home taking a sick leave.
His creepy Facebook page was the subject of much discussion. It portrayed a man obsessed with evil, death, the Devil, murder and other pleasant themes. He also seemed to be a man struggling very had against his antisocial urges. No doubt he has a paraphilia and of course he is sociopathic. But he's paid his debt to society and he's been a good boy since he was released.
Having worked with such people clinically, keep in mind that these folks are not exactly right in the head and they avoiding offending, which pedophiles are certainly capable of, often requires enormous willpower. The urges are very strong and it takes a strong person to avoid offending. Those of you who scoff at this would not want to be saddled with such urges and burdened by the strong will needed to control them. You might have a hard time controlling yourself were you in one of these people's shoes.
I appreciate Mr. Duvall's efforts to control his antisocial urges, and I am happy he has not offended since release. I'm not going to beat him up over the past. He has done a commendable job so far and I hope that Mr. Duvall will continue his good behavior and become a decent and law-abiding member of society. Perhaps community members can help him to stay on the straight and narrow. If that's what is needed to prevent terrible crimes, maybe it's worth it to help criminals stay straight.
And the best analysis is that LE has cleared Duvall of participation in this crime. So it might be nice to leave this tormented fellow alone and stop accusing him of this crime. Sources: Rumors, court cases, sex offender files, Facebook pages.
Two other posts in this series:
Updated March 9: Profile of the Evansdale-Delphi Serial Killer
The Case for Unsub Involvement in Both the Delphi and Evansdale Double Murders
The Case for Linking the Delphi Murders with the Evansdale Murders
If you enjoy the hard work that goes into this website, please consider a contribution to support the continuation of the site. Donations are the only thing that keep the site operating.