by Nina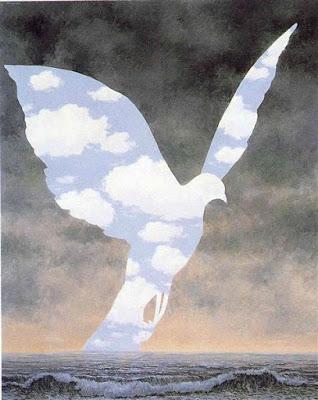 The Big Family by Rene Magritte
I confess that making the decision whether to come back and revive the Yoga for Healthy Aging blog or to instead become the Editor in Chief of and contributor to the Accessible Yoga blog has been a very difficult one for me. But conversations with both Brad Gibson and Ram Rao, as well as others, convinced me that it was time for me to move on to other things.
I'm now officially the Editor in Chief of the Accessible Yoga blog and I've also started writing posts there in the last couple of months (see 6 Ways to Customize a Yoga Pose, The Big Wheel Keeps On Turning: How We Live With Change,  The Royal Road: Gandhi, Social Activism, and Yoga, and Arjuna is Us: Staying Strong When You Stand Up for What's Right and others). Although I strongly believe in the mission of this organization, which is to spread the message that everyone deserves yoga, I wondered how well I'd fit in there. But Jivana Heyman assured me I could write about anything I wanted to. And later on a reader on Facebook had this advice to me about my role on the blog: "You be you, Nina Zolotow." So, I thought to myself, yes, I will do that! Of course, Jivana also writes for Accessible Yoga (he's the founder of the organization) and I, uh, brought some two other YFHA writers there along with me, Ram Rao and Beth Gibbs, who have been writing regularly there for some time now. If you want to follow us all there, you can subscribe to Accessible Yoga blog by email.
So now I'm officially announcing that although the Yoga for Healthy Aging blog will continue to stay online, with all the existing material easily available to you—over 7 years worth of articles by a wide-range of people, which add up to 1769 posts— there will be no new posts here in the foreseeable future. I will, however, keep the Yoga for Healthy Aging Facebook page active, posting links to interesting articles from the archives and relevant links to new articles of interest I notice, and Baxter will continue to share his videos of the week there. For ideas on how to search through the Yoga for Healthy Aging archives to find articles of interest, see How to Search.
Since we've all been busy with various activities during the blog's sabbatical, I thought end by updating you on what we've been up to. After all, Timothy, Jivana, Victor, and Shelly all have new books out! Here's everyone in alphabetical order:
Baxter Bell is enjoying his involvement in the evolving field of Yoga Therapy, as a board member for the International Association of Yoga Therapy and as a visiting faculty member for yoga therapy trainings in Marin, CA and at the Kripalu Center in westernMassachusetts. He and Melina Meza continue to offer 30-hour Yoga for Healthy Aging Intensives around the USA, including Arlington, VA and Clemmons, NC in 2020. They are looking for hosts for their 2021 intensives.
Victor Dubin just released his first book, Ignite Your Creativity and Stoke Your Compassion, which is available on Amazon! In addition to continuing to teach at and run Nourish, in Santa Cruz, California, he also started an organization that produces comedy benefit shows, StandUp (Comedy) For Something.
Beth Gibbs has a new website: Flourish From the Ground Up! Her blog, EnlightenUp!, focuses on self-awareness and healthy living. Her newsletter, which she sends out six times per year, features informative and entertaining tips for finding clarity, contentment, and resilience in a complicated world (for more information and to sign up for the newsletter go to bethgibbs.com).
Jivana Heyman released his book Accessible Yoga this year and is writing regularly for the Accessible Yoga blog. He also continues teaching his Accessible Yoga workshops and trainings around the world (see accessibleyogatraining.com.)
Timothy McCall released his latest book Saving My Neck: A Doctor's East/West Journey through Cancer this year and has a new YouTube channel Ask The Yoga Doctor, where he answers your questions about yoga. He also continues to teach his Yoga As Medicine workshops throughout the USA (see DrMcCall.com).
Shelly Prosko continues advocating for the integration of yoga therapy into healthcare, primarily in the areas of chronic/persistent pain, compassion in pain care, pelvic floor health, and professional burnout, and co-edited/authored the recently released textbook Yoga and Science in Pain Care. She also offers onsite and online courses, webinar presentations, and online video practices, presents at medical and yoga conferences and on a variety of podcasts, writes for various publications, and still conducts W.O.W.Chats! with people she admires and respects. 
Ram Rao is, in addition to his research and teaching in neuroscience, continuing to teach Ayurveda and Yoga at the California College of Ayurveda. He is also one of the contributing writers for the Accessible Yoga blog and is busy writing a book pertaining to Health and Wellness. 
Jill Satterfield is mentoring small groups and individuals interested in the intersection of embodied mindfulness, somatic psychology, and Buddhism. She leads groups of mental health clinicians in the East Bay and online, and a group of women in Berkeley. For more information, see jillsatterfield.org. 
Shari Ser continues to teach yoga in the East Bay (see shariseryogaclasses.com for information on her classes). And after an arduous journey with a lot of introspection, she has just passed her level 1-2 assessment and is now a certified Iyengar Yoga teacher! 
Nina Zolotow is now the Editor in Chief of and a regular contributor to the Accessible Yoga blog and she continues to post about Yoga for Healthy Aging on Facebook. Because she may be writing a new book on Yoga for Adapting To and Accepting Change, she's looking for people who have good stories about how yoga has helped them with physical changes (temporary or permanent), life changes that led to emotional challenges, or even losses. If you have a good one and are open to sharing it, please write to her at [email protected]
° To order Yoga for Healthy Aging: A Guide to Lifelong Well-Being, go to Amazon, Shambhala, Indie Bound or your local bookstore.