Since this was lax gun regulation state Florida, I'm betting that this was one of those licensed legal gun owners who should never have been approved for a firearm in the first place (contrary to the assertions about licensed gun owners not committing crimes). 
It is events like this which make the argument that anyone who wants to own a gun should have to pass a mental health evaluation first.  Not because this man was necessarily mentally ill, but rather to detect triggering emotions for this kind of behavior, and dangerously aggressive personalities.  Previously I have suggested a psychology profile along the lines of the Minnesota Multiphasic Personality Inventory might serve this purpose.
From  
MSNBC.com
:
Fla. pastor returns to pulpit after gunman attacks church
Angels 'were faster than a bullet,' religious leader tells congregation
msnbc.com staff and news service reports
updated 9/26/2011 1:08:50 PM ET
2011-09-26T17:08:50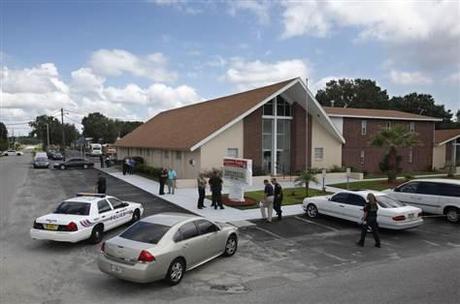 Pierre Ducharme

 / 

AP
Lakeland Police and Polk County Sheriff's Deputies converged on Greater Faith Christian Center Church after the shootings.
LAKELAND, Fla.

 —
A Florida pastor has returned to the pulpit one week after he and another minister were critically wounded when a gunman burst into the church and began shooting. Pastor William Boss was met with cheers Sunday when he took the microphone and told the congregation it was a "miracle" he was standing before them."Ain't no doubt heaven opened up," he said, according to
The Ledger of Lakeland
website. "It was some angels that were faster than a bullet."A large bandage covered the back of his head where the bullet grazed his skull, the paper reported. Boss' wife gave a sermon in his place, after he told his congregation that he was still in pain from the shooting.
Story: Records: Shooting suspect killed previous wife
Assistant pastor Carl Stewart remains in intensive care at a hospital, according to the paper.
Jeremiah Fogle, 57, is accused of killing his wife
, Theresa Fogle, in their home on Sept. 18 before heading to the Greater Faith Christian Center Church and shooting Boss and Stewart, Polk County Sheriff's officials said.Fogle is being held without bond on murder and attempted murder charges.