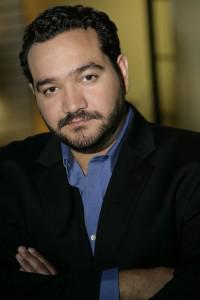 Bel canto tenor René Barbera, 2011 Operalia triple-prize-winner
On July 24, 2011, two days after his mother's birthday, American tenor René Barbera made Operalia history in Moscow, becoming the first male performer to win three prizes in the world's most prestigious competition for young opera singers. What an extraordinary achievement!
(What a fabulous birthday present for any mom, anywhere in the world!)
After all the prizes had been distributed, René had won first in opera, first in zarzuela, and first in the audience prize. He's still getting used to the feel of a Rolex on his wrist. (That's the audience prize by the way–a shiny new Rolex watch.)
If you've seen the YouTube video of the Operalia Awards ceremony, René looks unbelievably calm and collected, like he was born to compete internationally. The real story is that he was having a hard time understanding who'd won what–because the winners were announced so quickly and in multiple languages. When no one else stepped  forward, he realized he'd won, he explained in a recent phone interview.
Quite an accomplishment for someone just 27-years-old and a serious student of opera for only five years.
As a third-year member of Lyric Opera of Chicago's Ryan Opera Center, he is swiftly establishing himself as a young artist on the rise. He triumphed as Tonio in The Daughter . . . of the Regiment for Opera Theatre of St. Louis.
"Tenor René Barbera…has a thrilling voice…His account of 'Ah! mes amis' the one with the famous nine high Cs, was tossed off with such apparent ease that some might wonder what all the fuss is about."–St. Louis Post-Dispatch
He is a 2008 winner of the Metropolitan Opera National Council Auditions and was a member of the San Francisco Opera's prestigious Merola Opera Program that same year. He studied at the North Carolina School of the Arts from 2004 – 2008 and further studies include the the American Institute of Vocal Arts in Graz, Austria, and the Vocal Arts Symposium of Colorado Springs.
Welcome to Operatoonity, René!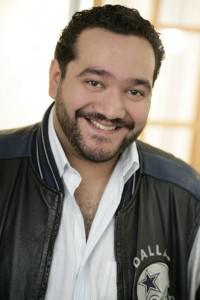 René, wearing a logo jacket of his favorite team, the Dallas Cowboys
Can you tell me a little about your childhood (did you grow up in San Antonio?), how you grew up, and how it affected your decision to become a classically trained singer?
I was born in Laredo, Texas.  I lived there for nine years where I took piano lessons for a good bit of time.  I moved to San Antonio at 9 and my third grade teacher attached a sticky note telling the music teacher of my next school to get me into choir because she thought I had a pretty singing voice.  (We used to sing the national anthem daily if I recall correctly).  I grew up with one brother who was 10 years older than me.
My parents were both teachers and were always very supportive of any decisions I made.  I remember being told at a very early age that they will love me no matter what I decide to do with my life and will support me as long as it makes me happy.
When I auditioned for the University of Texas at San Antonio (UTSA) I had planned on majoring in education as I wanted to be a high school choir director.  My choir director in high school, Gordon Ivers, was a great influence.  He pushed me to keep singing and never told me to hold back. always wanted me to sing more and sing out.  I've found that to be pretty uncommon among choral directors.  He has always been and remains a very supportive friend.  After my audition at UTSA some of the voice faculty suggested I change my major to performance . . .  I thought to myself, "Why not . . . let's see what this is all about?"  Turned out to be  Opera. Who knew!
After struggling to wrap my head around the idea, I dropped out of UTSA and moved to Colorado to live with my brother and find work while I figured out what to do with my life.  Eventually I ended up at the North Carolina School of the Arts (again largely because of how supportive my family was and continues to be) where I studied for 4 years before starting my career as a young artist.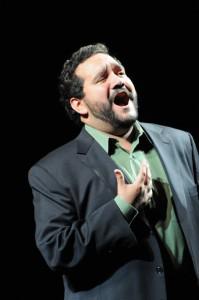 René Barbera, competing at Operalia, from the Operalia FB page
You were invited to compete in Plácido Domingo's Operalia in 2011, representing the US. How did that invitation come about?
The application process is fairly simple.  I sent an application form along with a CD with 2 recordings (if I remember correctly) and waited.  I received the email on April 1st letting me know that I was officially invited to participate in Operalia 2011
How was your Operalia experience—the first ever winner of opera, zarzuela and audience prize? All high points? Any low points (nerves, catering, whatever)?
I had a great time at Operalia. I made some great friends and some excellent connections.  Being the first ever winner of all three prizes was pretty spectacular and VERY unexpected!  Mostly high points. I was disappointed with my semi-final round performance . . . I didn't feel that I sang my best and, as a result, felt that I wouldn't be going on to the finals.
Your impressions of Moscow? Of Plácido Domingo? Of the competition?
Moscow is a lovely city with some seemingly nice people.  I don't speak the language but never ran into trouble with people being frustrated or impatient with me.  Domingo is truly a great man who has done and is still doing so much for the opera world.  He is truly trying to help the young singers of the world in any way he can and I am thrilled to have made a connection with him.  The competition itself is incredible.  The level of talent this year was unbelievable. The prizes truly could have gone to any one of the singers that were there!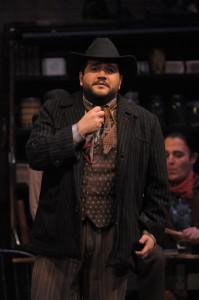 René Barbera, The Girl of the Golden West, Chicago Lyric Opera c. Dan Rest
You've just won Operalia. What are you going to do next?
I'm going to Disneyland!  Okay . . . kidding.  I'm going to finish up my final year with the Ryan Opera Center at the Lyric Opera of Chicago, and then I'm off to the races with some outside gigs.  Starting with Barber of Seville in Vancouver and Gianni Schicchi in Toronto.  After that… we'll see!
What has been the greatest thrill in your career thus far? Greatest challenge?
Operalia is certainly way up there.  I don't know that I can choose one thing . . . singing Nemorino for the student matinees at the Lyric Opera was incredible and getting to sing my first leading role ever (Tonio in Daughter of the Regiment) at Opera Theater of St. Louis was definitely up there.  Greatest challenge has to be the distance from my friends and family back home and dealing with how little I get to see them.  Also missing being the best man at my best friend's wedding a few years back and missing my grandfather's funeral.  We have to sacrifice a lot in this business.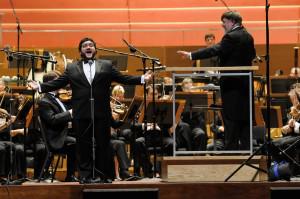 Singing in Millennium Park 2009 / c. Robert Kusel
Do you have any favorites? Composer? Opera? Role? Venue?
I'm quite fond of Donizetti and lately have found myself really liking Rossini! Favorite Opera though . . .  really is anything I'm currently doing!  (might be strange to say that)  I LOVE Nemorino . . . such a great character.  The Lyric Opera of Chicago has to be my favorite venue . . . it is home to me after all of this time.
What is something most people don't know about you, something not on your professional bio?
People who know me know this but I am a motorcycle rider.  I've been riding for a year now and really enjoy it!
Where can we see you in 2011-12? (A few gigs)
I will be singing Arturo in Lucia and Brighella in Ariadne auf Naxos at the Lyric followed by Barber of Seville in Vancouver and Gianni Schicchi  with the Canadian Opera Company Toronto.
* * *
You can learn more about René at his website. You can also "like" him on his Facebook page. Here is the link to his winning performance in Operalia.