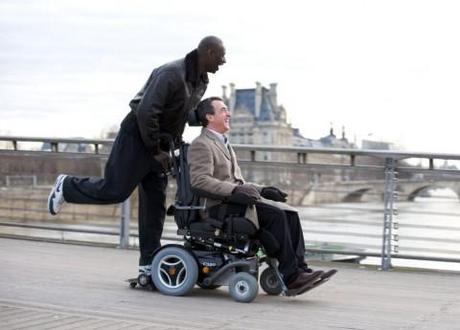 French smash hit Untouchable. Photo Credit: Flickr.
The background
Last year, French film The Artist stormed the Oscars, and the Golden Globes, and Cannes and pretty much anywhere they were handing out shiny prizes. This year, France's submission for Best Foreign Language Oscar, the smash hit Untouchable (also called The Intouchables), looks set to do the same. But is this true story of an unlikely friendship between a quadriplegic aristocrat and a young urban street kid really worth the hype?
Overly saccharine Oscar fodder
Critics are unsurprised that Untouchable has been submitted for an Oscar. The Telegraph's Robbie Collin noted: "Untouchable wears its award-winning aspirations on its sleeve, and all of the necessary boxes — boundary-crossing friendship, hard-hitting themes, warm comedy — are ticked with a fluorescent pink marker." Its status as pure Oscar fodder has proved a source of contention for many critics, many viewing it as overwhelmingly saccharine. The Metro calls the film "solid, formulaic crowd-pleaser" with a "one-dimensional" story. Empire concurred by noting that "it's undemanding, heart-warming fodder with mass appeal." Indeed, Colin at The Telegraph observed of the film's Oscar chances: "It's just corny enough to win."
Offensive stereotypes?
 Whilst some have found Untouchable too cheesy and predictable, some have gone so far as to find its one-dimensional portrayals offensive. Variety's Jay Weissberg charged that the film "flings about the kind of Uncle Tom racism one hopes has permanently exited American screens." The Independent compared it to the similar subject matter of Driving Miss Daisy, but noted: "That was set in the segregationist America of the 1940s. What's this film's excuse?" The Telegraph, however, observed that Untouchable "is not really a film about race, or disability, or anything other than friendship."
Believe the hype
But The Guardian found Untouchable worthy of its box office success and media frenzy: "For once, the hype is justified. This is a charming, uplifting French drama – an irreverent, humorous take on disability, closely drawn from real-life." Universal praise has been levied at star Omar Sy, who beat The Artist's Jean Dejardin to the Best Actor César this year. The Metro called him "a one-man charisma tsunami" and "a big blast of fresh air to what's otherwise an over-familiar scenario." The Telegraph neatly concluded what is perhaps the collective view of Untouchable, and the reason behind its success: "This is not a film that will change the whole world, but one that just might charm it."
More in film

What to watch this autumn
Compliance: Is it the most disturbing film ever?
Dredd 3D, a deliciously dark Dredd adaptation
True stories, literary adaptations, and dognapping at the Toronto Film Festival