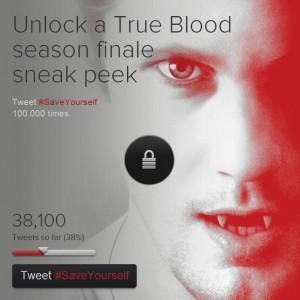 HBO promises us an extended look at a scene from Sunday's True Blood Season 5 finale if the Truebies manage to tweet the hashtag #SaveYourself 100,000 times.
With 38,100 tweets up till now, we have reached 38%. So get busy Truebies and get tweeting #SaveYourself. I don't know about you, but I would love to see that sneak peek because the suspense is killing me!
This is a pic from the scene that we can unlock. Looks like Eric, Nora, Jason and Tara are teaming up together.