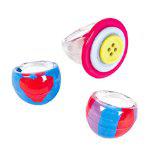 People craft for all sorts of reasons—recreation, income, and even mood therapy.  The act of creating is also a form of self-expression that can be applied to many aspects of life—even our fashion sense.  A fun new craft has been introduced to fashion and jewelry lovers; acrylic ring craft is not only a delightful way to craft your own fashion style, but it's as simple as tapping your own sense of artistry.  Once you get the hang of working with this medium along with glass markers or acrylic paints, you'll discover all sorts of outlets for this fashion-friendly pastime.
Rings for Fashion Style
The great thing about designing acrylic rings is that you can style them to go with your own wardrobe.  Whatever your taste—from leopard skin to Victorian—you can individualize color and pattern to suit your fashion needs.  If you want some bling, simply add some sparkle paint in silver, gold, or bronze.  The glass markers work great on the acrylic as well; try using them to create a floral or ethnic motif.
Rings for Party Fun
Acrylic rings make great party favors; moreover, designing them is a great party activity that suits a very wide age range.  Teens love to stylize their rings with their graduation year or with motifs like peace signs, zodiac signs, or school colors.  There is little mess involved in creating these rings and they are perfect to work on along with a group of friends.
Rings for Sale
Intricately designed acrylic rings are popping up at the mall and even craft fairs.  If you develop a knack for creating one-of-a-kind designs, consider setting up a jewelry booth at a summer market or craft show.  Buying supplies of rings and design materials is less expensive than many crafts and you can price them however you like or according to the sale venue.  Be sure to include designs in a variety of ring sizes so you can sell for both kids and adults.
Rings for Gifts
These acrylic rings make personalized gifting easy.  If you're giving someone an outfit, you can design a ring to go with it.  Although the rings are a small medium to work with, you can patiently stylize them to fit any occasion.  Easy shapes to draw as miniatures might include cherries, dragonflies, poppies, and stripes.  Draw an apple ring for your child's teacher or a cupcake ring for your favorite baker.  These are just a few ideas—the design possibilities are endless!
Rings for Holidays
Holiday jewelry can be quite collectible.  Many women boast fabulous holiday collections that include a wide array of crafted pieces.  Christmas, Easter, Valentine's Day, and Halloween rings would make great gifts for friends, but these designs are also likely to become hot sellers at your craft stall.  They are also the perfect size to hide as surprises in stockings and Easter baskets.  Simply browse through some holiday clip art for design ideas and get ready to create rings for every holiday.
Supplies of rings are easy to find online and many craft stores now stock them along with all the art supplies you'll need to design them.  The rings are comfortable to wear and are sure to garner comments like "where did you get that ring?"  You'll love designing these great items, but you'll also enjoy wearing them!
Guest post contributed by Marissa Harper, for Yellowmoon.co.uk –  Craft Supplies and party bag ideas.