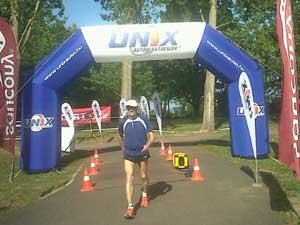 Wolfgang Schwerk wins Unix 6 Day race - Photo by Alan Young
The Unixsport 48 Hour/6 Day International Ultramarathon Challenge in Balatonfüred, Hungary ended today.
Wolfgang Schwerk maintained his lead and set a new course record surpassing William Sichel's benchmark set in 2011. Schwerk ran an average of 145.8 km (90 m) a day to finish with with 874.864 (543.6 miles)
Martin Fryer in second place set a new Australian 48 hour record on his way to recording 815 km for 6 days and third placed Italian Andrea Accorsi also set a 48 hour National age group record.
Italy's Monica Barchetti after running neck and neck with Hungarian Krisztina Nagyné for a long time finally pulled away on the final day to finish with a total of 723 km, good enough for eighth place overall. Third place was Barbara Becker from Germany with 513.075.
1 Wolfgang Schwerk GER 874.864
2 Martin Fryer AUS 815.76
3 Andrea Accorsi ITA 777.621
1 Monica Barchetti HUN 723.227
2 Nagyné Bakucz Krisztina ITA 712.171
3 Barbara Becker GER 513.075
Thanks to Alan Young for updates and photos.
Website: UNIX 6 Day/48 Hour Race
Live webcam on the site plus a live updated scoreboard