I'm no celebrity nor am I rock star, so I was exceedingly ecstatic when I received my invite for the pre-opening party of Uniqlo Philippines at the SM Mall of Asia. The Japanese-style event gathered an A-list crowd who were just as excited for the clothing brand. Read more…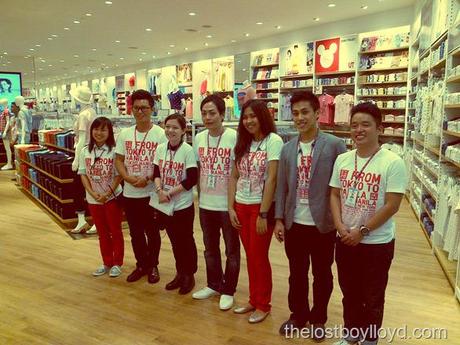 But before the party, the infectiously nice people of Uniqlo Philippines took us for a store viewing. I admit it was painful to be looking and touching the colorful merchandise without being able to buy them yet. Going around the store, I felt like a little kid inside a candy shop.
Truth be told, it was the most expansive one I've been to at 1,550 square meters. And as I've said before, I've been to Uniqlo boutiques in Singapore and Hong Kong, yet the first store here in the Philippines looks classier. They did a great job at visual merchandising.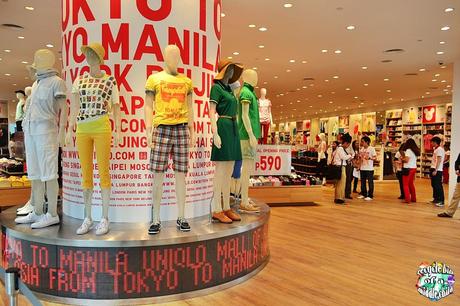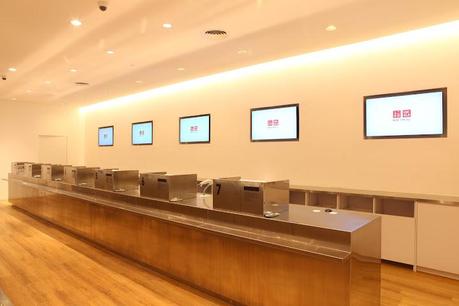 Following the philosophy "Made for All," Uniqlo Philippines has visually-stimulating sections for each family member. Before I give a run-through of the store, below is the floor map.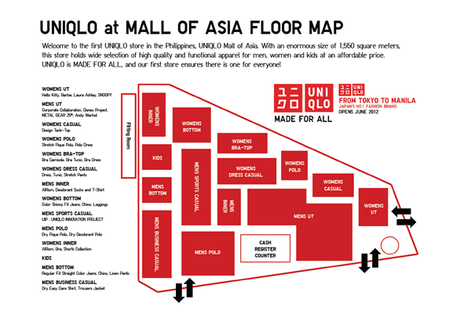 The men's portion of the store was, of course, where I spent lots of time. There was a big display for their UT Collection, and among what I saw were Metal Gear, Lords of Liverpool, Corporate Collaboration, and Peanuts. I was told they'll add more designs next month.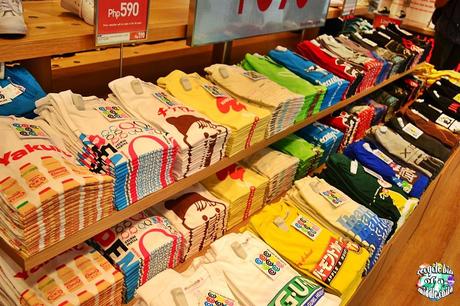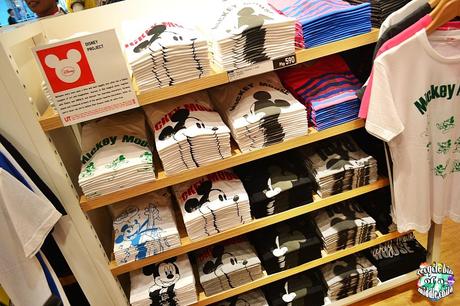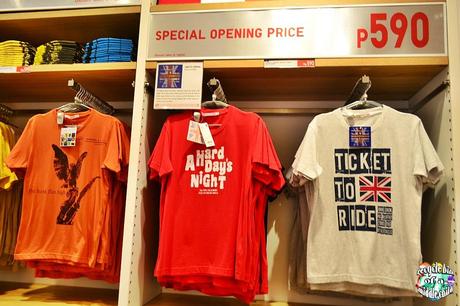 We spent a lot of time at the men's innerwear and sports casual sections. Our gracious host explained to us the technology that Uniqlo uses for their dry shirts and underwear. From what I understood, the absorbent fabric has a property that makes the sweat evaporate quickly for comfort. Plus, they have this antibacterial characteristic that prevents perspiration.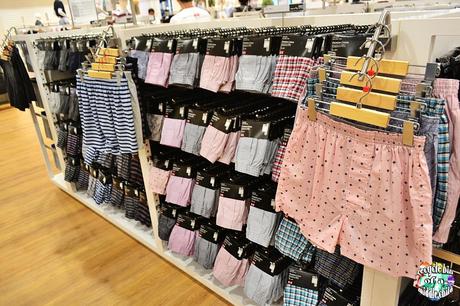 The business casual section had this blazer made of linen that I really wanted. Too bad, I wasn't prepared for it. Well, at least now I have something in the store to aspire for. The polo section, on the other hand, had the all-time favorite garment in a number of colors.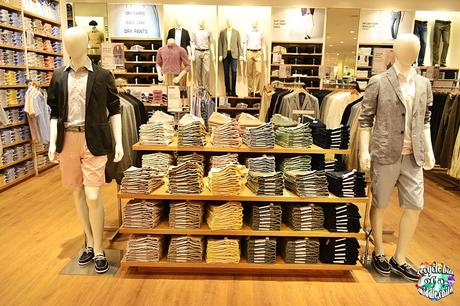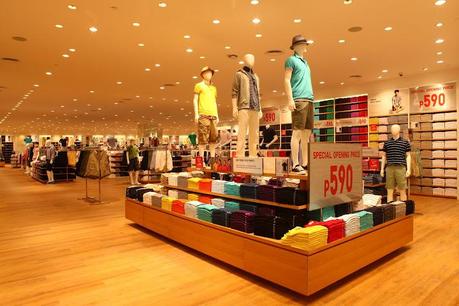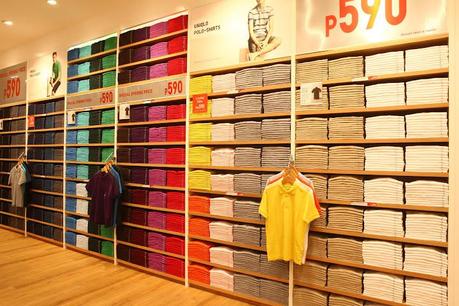 Lastly, for bottoms, they have an opening discount for jeans. From the already affordable 990 PHP per pair, they've marked them down to 590 PHP. It was one of the best deals ever.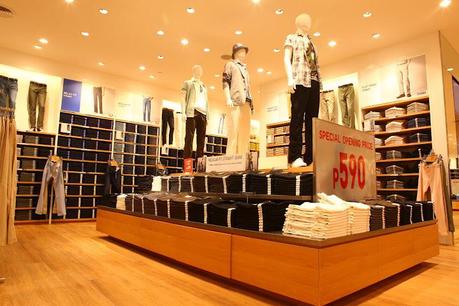 They have a section for the kids, too. Again, had I brought extra money with me, I would've bought my goddaughters something from the UT Collection that's on sale for only 390 PHP.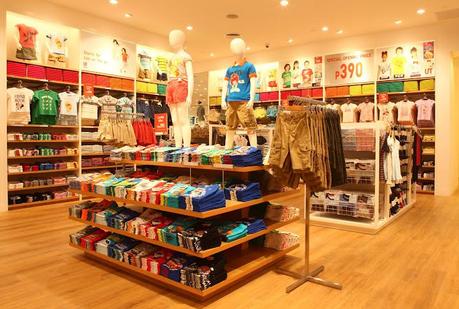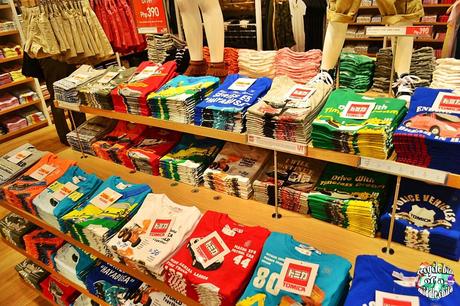 I won't dwell on the women's side of the store, as I might not discuss it well. But I would like to share something about the famous Uniqlo bratop. Our host said that it's worn from the feet up to the shoulders; I thought it was cool. Below are pictures of the women's sections.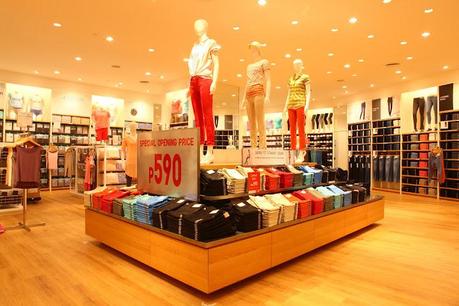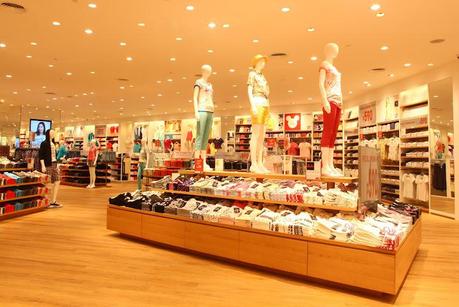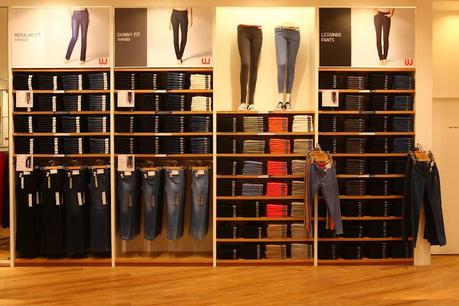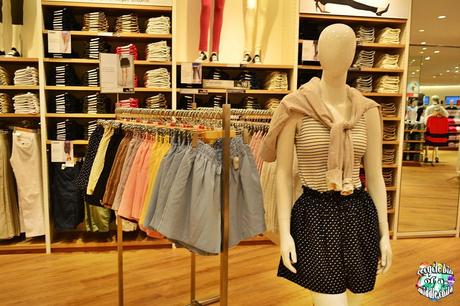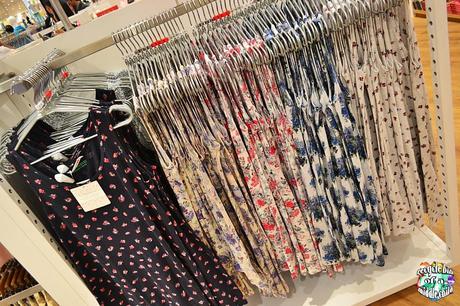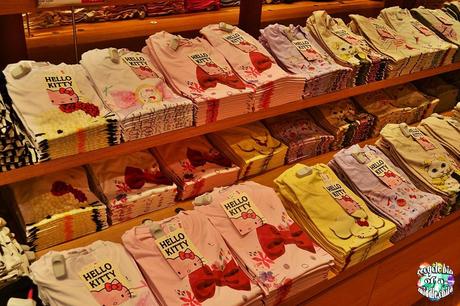 After the store viewing was the actual Japanese-style pre-opening party. What made the event so special was that the Chairman, President, and CEO of Fast Retailing Co. Ltd., Tadashi Yanai actually flew all the way from Tokyo to grace the historic moment.
Joining Mr. Yanai for the night's highlight, a ceremonial sake toasting, were the Executive Vice President of Fast Retailing Co. Ltd. and Managing Director of Uniqlo Asia and Japan, Naoki Otoma; the Chief Operating Officer of Fast Retailing Philippines, Inc., Katsumi Kubota; and the Vice Chairman of SM Investment Corp., Teresita Coson. Making the ceremony more special were Uniqlo Philippines cast members Iza Calzado, Chris Tiu, and Chito Miranda.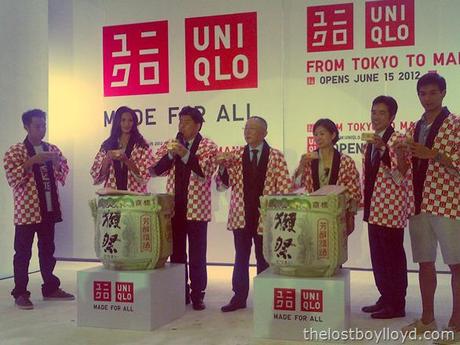 Right after the program, I wasn't able hold the excitement any longer—it was time for us to shop. We rushed up to the store and started making our selections. During the store viewing, I already made up my mind on what to buy with my budget.
Anyway, my haul included four items. I bought gray regular fit straight cut jeans on sale for 590 PHP from 990 PHP (right), a dry pique polo on sale for 590 PHP from 990 PHP (lower left), and two cotton v-necks for 290 PHP (upper left). I now have new clothes for school.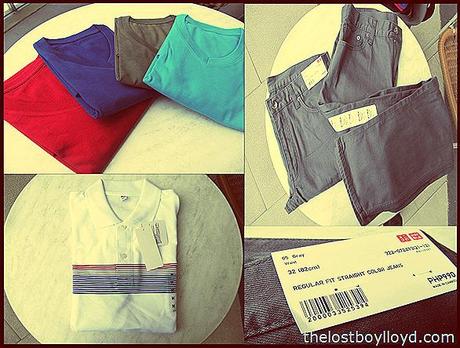 Celebrities were later seen shopping; too bad I had to go home early. Sure, I was so happy with the great deals I scored at the store, but the entire experience sent me home smiling.
Some photos were used with kind permission from Alex of Recycle Bin of a Middle Child.