The 7th Commandment: Thou shall not commit adultery.
Adultery is a sin, so are acts that cooperate in adultery by enabling adultery and protecting adulterers, an example of which is a website with the oh-so-genteel WASPy name, Ashley Madison.
Ashley Madison is a Canadian-based online "dating service" for "people who are already in a relationship," i.e., adulterers. Its slogan is "Life is short. Have an affair" — a variant of satanist Aleister Crowley's motto "Do as thou will."
Launched in 2001, the site is ranked #18 among "adult" sites, with more than 124 million visits a month, according to web analytics provider SimilarWeb. In October, 2013, Alexa gave the site a ranking of 3,112.
But Ashley Madison's users are now in a panic because the adultery site had been hacked and its "sensitive" data breached.
Kevin Roose reports for Fusion that Ashley Madison was the target of a huge hack last weekend, and hackers are threatening to reveal data related to the accounts of millions of members, most of whom are in the U.S. and Canada.
The hack, which was reported by Krebs on Security, appears to have breached "sensitive internal data" from Avid Life Media, Ashley Madison's Toronto-based parent company. The hacker(s) stole "maps of internal company servers, employee network account information, company bank account data and salary information," as well as information relating to 40 million users of Ashley Madison and its sister sites, Cougar Life and Established Men. Some of Ashley Madison account data has already been published online.
In a message posted online, the "Impact Team" took credit for the hack, and threatens to publish more information every day until its demands — a complete and permanent takedown of Ashley Madison and Established Men — are met.
Impact Team writes:
"We've got the complete set of profiles in our DB dumps, and we'll release them soon if Ashley Madison stays online. And with over 37 million members, mostly from the US and Canada, a significant percentage of the population is about to have a very bad day, including many rich and powerful people."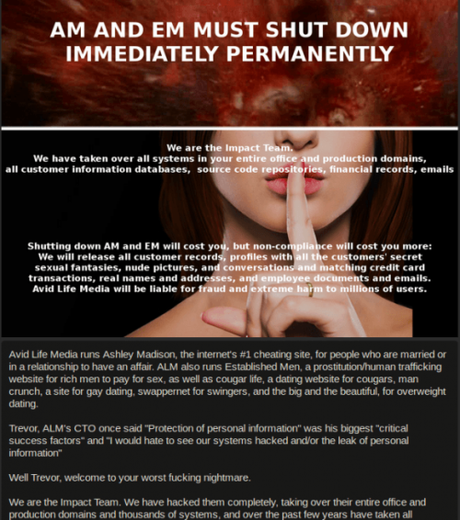 TwitterTweetFacebookShare via Krebs on Security
Ashley Madison, which drew national attention for its provocative ads, has become the largest online matchmaking site designed to facilitate infidelity. It's safe to say that the vast majority of those users expected their profiles to remain secure and anonymous, and would be horrified if their names and other account details came to light.
The hacker (or hackers) appear to have been angered by a premium feature on Ashley Madison called "Full Delete," which is advertised as a way to "remove all traces of your usage for only $19." The Impact Team accused Ashley Madison of holding on to certain customer details even after a "Full Delete" was purchased, such as their names and addresses.
Noel Biderman, Ashley Madison's CEO, confirmed the hack to Krebs on Security. He called the hack "a criminal act," and said that the company was "working diligently and feverishly" to remove its customers' extremely sensitive data from public view.
Tech blogger Robert Scoble reminds Ashley Madison that in 2014, the adultery enabling website had sent an email to reporters and bloggers touting itself as "the last truly secure space on the Internet."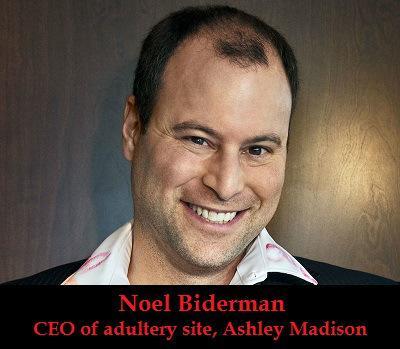 According to Wikipedia, Noel Biderman is the CEO of both Ashley Madison and its parent company, Avid Life Media. He had served as a judge for the Miss Tiger Woods mistress pageant on The Howard Stern Show, a contest sponsored by Ashley Madison. In an interview with the "A Current Affair" program in Australia, Biderman said "I would be devastated" if he found out his own wife was accessing his adultery site.
Biderman is Jewish.
From an article on Jews in the American porn industry, by Nathan Abrams (a Jew), in Jewish Quarterly (Winter 2004):
"there's no getting away from the fact that secular Jews have played (and still continue to play) a disproportionate role throughout the adult film industry in America. Jewish involvement in pornography has a long history in the United States, as Jews have helped to transform a fringe subculture into what has become a primary constituent of Americana…. Though Jews make up only two per cent of the American population, they have been prominent in pornography [as both makers and performers]…. Jews accounted for most of the leading male performers as well as a sizeable number of female stars in porn movies of the 1970s and '80s…. Jewish involvement in the X-rated industry can be seen as a proverbial two fingers to the entire WASP establishment in America. Some porn stars viewed themselves as frontline fighters in the spiritual battle between Christian America and secular humanism…. Jewish X-rated actors often brag about their 'joy in being anarchic, sexual gadflies to the puritanical beast'. Jewish involvement in porn, by this argument, is the result of an atavistic hatred of Christian authority: they are trying to weaken the dominant culture in America by moral subversion…. Al Goldstein, the publisher of Screw, said (on lukeford.net), 'The only reason that Jews are in pornography is that we think that Christ sucks. Catholicism sucks. We don't believe in authoritarianism.' Pornography thus becomes a way of defiling Christian culture…. Just as Jews have been disproportionately represented in radical [political] movements over the years, so they are also disproportionately represented in the porn industry."
~Éowyn