In April last year we moved to our new house, it took us until mid-December to decide how exactly we wanted it to look. We knew we had to "live" our new space first. As the space under the stairs is open, when we arrived we plonked a sideboard from our old kitchen into it and left it there. The back wall is orange and the sideboard is white so the contrast looked lovely. However, with time it became apparent that it didn't work as under stair storage or organisation method for us. When you arrive home with a toddler, things tend to be dropped rather than put away unless you make it easy.
This is how it looked a couple of days after arriving, the screen and lampshade were removed but more and more things were left in there, one on top of the other, there was nowhere to hang coats... it didn't work for us.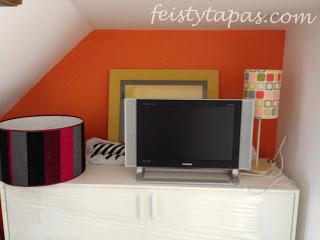 Obligatory "before" shot
By early December we really wanted the house to be looking more homely for Christmas, while were looking for much-needed storage for the living room and deciding on some BESTA and EXPEDIT units, husband had the idea of checking whether we could include a EXPEDIT under the stairs. We could! At its highest point the gap is 170 cm tall (5 foot 5 inches), basically I fit under that flat bit really nicely without knocking my head.
Yesterday I tidied up down there, removed a cabinet that we were using for shoes and that I kept meaning to get out of the way as it really was no longer needed so, while at it, took a few photos. READY?? I know you're at the edge of your seat with excitement.
Right, I will admit that the idea of positioning the shelving unit like this was husband's, I would have never thought of dividing the space like this: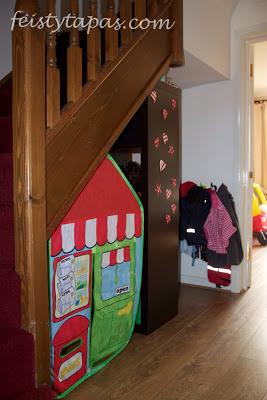 There has been a lot of  hiding in that house since it went there yesterday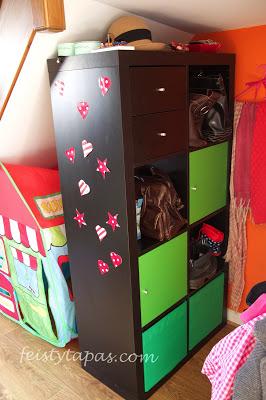 We chose a brown-black Expedit with green inserts
 After tidying up yesterday I had the idea of placing the pop-up house/shop there and it was an immediate hit! We have been spending a lot of time there already (yes, adults included) and LittleT is loving it.
To be honest at first I thought it looked a bit like a school, an old school at that, and I wasn't too sure but now I love it.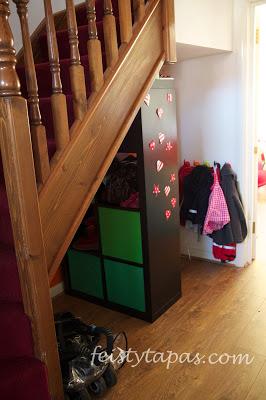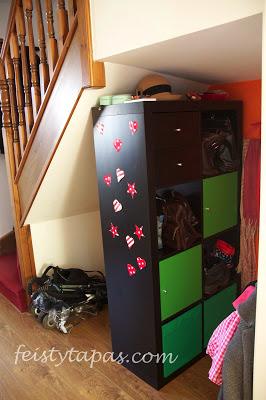 The more practical and functional but less cute houseless version
We are using the drawers and cabinets for shoes, the two drawers for each of the grown-up's "stuff" and the open cubicles mainly for bags (would you expect any less from me?)
The coat hooks have been placed at T's height (with a bit of room for growth), this means that she knows where to go for her coat (or painting apron) and also that she can hang it back up herself (most of the time anyway, she is only two and a half). You may be able to see in the photos that, going up the stairs, we have placed a coat rack for grown-up coats.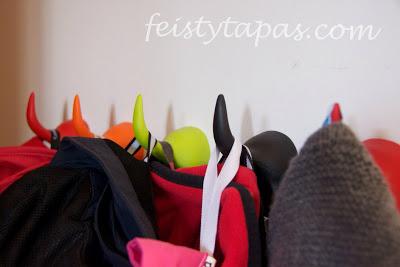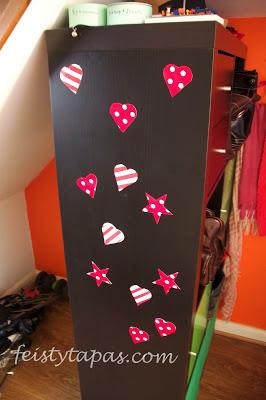 The decals were made by LittleT and me for Valentine's but they're too cute to remove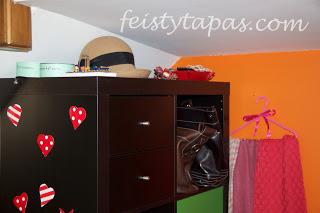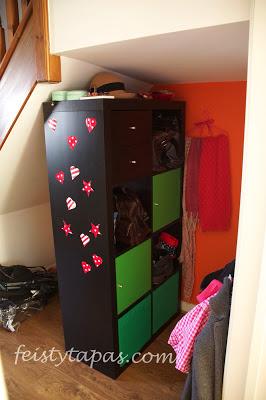 It won't stay this tidy for long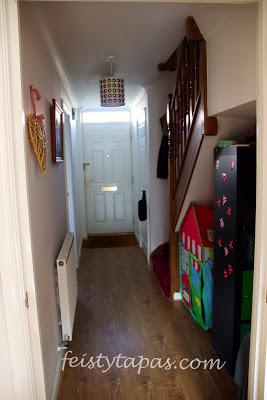 Best of all, it's all out of the way
The set-up works for us, we've been using it for two months, although the play house is a new addition, the good thing that it is a pop-up tent is that it doesn't have to stay there all the time.
Total cost: just under £125. The play tent we already had, we got it in the Tesco Clubcard Exchange last summer so basically it was free.
Well? What do you think?