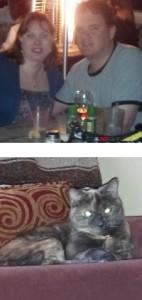 I'm not a married woman, but I have been with the same person for the past 8 year. At first we started out as friends, hanging out at the beach, attending rock concerts together and sharing a love for local dive bars that would play up-and-coming local heavy metal bands. Finally, after watching me go on one disastrous date after another with other guys in town, he asked me to date him exclusively.
Today we share a home, share our finances and share household responsibilities including our 6 year old rescue cat – an all-American mutt we called LuLu. We've gone through a lot together – both good and bad. Through everything, we've always had an approach of mutual respect and love for one another.
The Story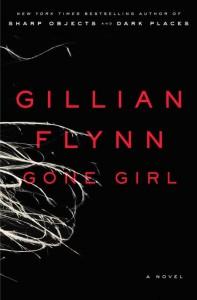 Nick and Amy Dunne, from the novel
Gone Girl: A Novel
by
Gillian Flynn
, have been together for 7 years. It's their 5
th
wedding anniversary when we enter into their lives and a pivotal moment in their relationship. Unlike the relationship that I've been experiencing myself, Nick and Amy have built their love on a web of lies.
It's natural in the beginning to make compromises while getting to know one another. I can't tell you how many horror movies I sat through before I told my boyfriend that I really didn't like slasher films, but preferred possession and ghost stories instead. And when I decided I needed to change my diet, he made me a delicious curry tofu dish twice a month for a year before he confessed that he really didn't like it. Eventually though, the true you comes out. He noticed me covering my eyes every time some poor soul got a finger chopped off on screen and I noticed that he made curry tofu less and less as time went by.
This is what Nick and Amy were experiencing – if not in an extreme way. Amy wasn't the "cool girl" that she had portrayed to Nick all those years. And Nick wasn't really as sophisticated and removed from his humble Midwest upbringing as he tried to pretend he was. As they approached their 5th wedding anniversary, it was becoming clearer and clearer to both of them that they may not really know the person they married.
Before the big conversation could be broached, Amy disappears from their Missouri home under suspicious circumstances. Two small-town detectives are called in to investigate her disappearance and we begin to learn more about the couple – both as individuals and as a couple.
Because Nick is not missing, we learn about him through his thoughts and memories. We get to see him react to Amy's disappearance, see his actions when in public and watch his reactions as the detectives follow a trail of clues that leads straight to him.
Since Amy is missing, we at first only see her through reading her journal entries that span over 5 years and begin with the moment she met a charming, sophisticated Nick in a swanky New York cocktail party. While Nick's thoughts and concerns about coming off as a jerk or uncaring are reverberating inside his head, Amy's diary entries slowly begin to confirm what a jerk he really is. This is about the part of the book where you might find yourself beginning to hate Nick Dunne.
Not everything is as it seems. You won't even believe the first major twist in the storyline, when we are introduced to the true Amazing Amy Elliot Dunne. After the first twist, there comes another and another until the reader is so turned around and upside down that you won't even trust your own feelings anymore. Each new turn is like a fresh slap in the face, almost stinging with its sudden appearance and game-changing revelation.
The Review
A few spoilers – Readers beware.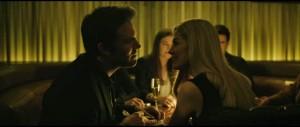 I'm always a fan of books that have a strong female lead. However, unlike Mike Well's Heather Bancroft in
Passion, Power & Sin
or S.L. Pierce's Rachel in
The Devil's Game
, Amy Elliot Dunne is a woman of a different color – a little crazy and way out of the Nick's league. While most reviewers have recently fallen in love with her character, I see her as being unredeemable and that doesn't make me like her – not even a little. The fact that I have such a strong reaction to one of Flynn's characters just shows how brilliant her writing really is. Flynn herself has a reputation for creating unredeemable female characters and said that "she felt that the idea that women are 'innately good, innately nurturing' put a 'very, very small window on what feminism is. Flynn also said people will dismiss 'trampy, vampy, bitchy types – but there's still a big pushback against the idea that women can be just pragmatically evil, bad, and selfish.'"[1]
Also, the book itself almost seems like one big middle finger to the institution of marriage. Amy and Nick's marriage, Nick's parents' marriage and even Amy's parents' marriage, although Amy refers to them as soul mates, are all broken or being used in some way to imprison themselves or their counterpart. It was so pronounced that I actually Googled the author to see if she had been through a bitter divorce or had some reason for wanting revenge on an ex-lover; nothing came up, but I'm not really a journalist. In fact, I found that she has been married for some time to a normal guy and lives in a normal neighborhood with a normal kid. How she went from there to Amy's famous last words: "…unconditional love is just undisciplined love," is beyond me.
That being said, the book had me enslaved to it. I couldn't wait to continue the story, to get to the next twist in the plot. The more uncomfortable I became with the direction of the story, the more I read on to see if another plot twist would come in and take us in another direction.
Halfway through the book, I went to see the movie and, although I got all the spoilers from the movie, they still caught me by surprise in their detail and timing in the book. The movie itself, starring Ben Affleck and Rosamund Pike was a clever and brilliant adaptation to the book. I heard Flynn actually helped to write the screenplay. Some of the events in the book were rearranged in the movie to play better to a visual audience versus a reading audience; however, as an adaptation it was very true to the storyline.
Overall, I give this book 4 stars because of how it captured me and kept me reading on. I recommend this book to anyone who is a true reader of thrillers and likes a story that will continue to keep you on your feet until the very end.
Keep the conversation going: What did you think of the book or the movie Gone Girl? Tell me in the comments area below.