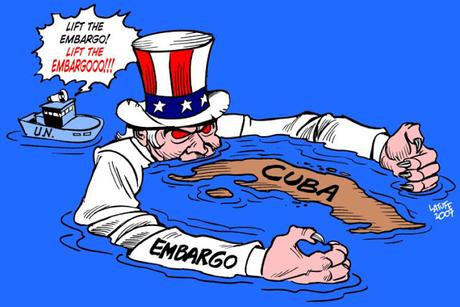 (The cartoon image above is from cuba-embargo.procon.org.)
On Wednesday, the United Nations passed a resolution calling on the United States to end the Cuban embargo (which has been in effect for over half a century). The vote in the U.N. General Assembly was 191 to 0.
It marks the 25 year in a row that the U.N. has passed this resolution, but the first time the United States has not voted against it. This year the United States abstained from voting. Israel, which in the past has voted against the resolution, also abstained.
This means that the Republican Congress, which has refused to lift the embargo, stands alone against the entire world. It is time for them to stop playing political games, and lift the embargo.