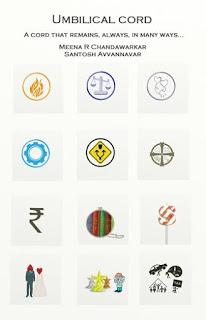 At birth, the umbilical cord is cut as a baby passes from the womb to the outside world. However, there are myriads of other cords that bind us to a blind existence. This book talks about a few of such cords that should be better, nipped off.
Umbilical cord is my 5th read of author Santosh's. All of his previous works speak of a theme, directed at, either an individual's development or a societal reform, mostly in the form of short fiction. To readers' delight, umbilical cord showers forty of such stories, each with a unique message.
The short stories are notably of just one or two pages which gives an additional charm to the authors' ability to convey a profound point in a few words. Most of the messages addressed are neither extraordinary nor new to readers. Rather, they are simple incidents that all of us can relate to, with the matters of our daily lives.

Though at a quick glance, Umbilical cord seems to enlighten readers about the most elusive emotions like love and forgiveness, at a greater depth, it actually intends to remind all of us, the little nuances of life that we unmindfully overlook with age and time.
40 stories within 116 pages is a wonder, definitely! So is giving a gist of each one of them. I've chosen, in random, a few of the titles that touched me for some reason, for a brief here. Certainly, there are other beautiful stories!
Cord 8: Are we Computers?
A man misses an office cab because the cab driver strictly follows the 3 minute-waiting rule. The author discusses if it is necessary to strictly adhere to mechanical procedures over courtesy and reminds us that we are not computers but humans who are capable of taking logical decisions. I admired the simplicity of the incident and the theme, justified in this story.
Cord 16: Booklorn
Booklorn is a wild imagination of a writer's wedding arrangement. I am not sure if this story is a fiction of the author or his real-life experience but it was a light and funny fantasy of a writer. The author plans to arrange his wedding around the theme of his published books. All the guests will be prompted to buy his books instead of giving wedding gifts. In fact, a photograph with the wedding couple wouldn't be allowed without a copy of a book. It's an inspiring wedding that highlights the 'heights of a writer'.
Cord 22: That Date!
A little boy feels neglected by his parents' constant busy schedule and unfortunately their fate ends up fatal. This was a heart-touching story and the best I liked. It underlines what working parents miss to give their children on the name of earning and saving for their future. As a mother, as a parent and as a reader, I appreciate the author for bringing out this concern. Spending time with children is crucial in today's lifestyle and definitely every parent need to take this message seriously.
Cord 29: Blessing in Disguise
Yet another beautiful story! It's about how the prayers of parents, though not actively connected to the child, save their son from dangerous situations. The story emphasizes the power of prayers through which miracles can happen.
Cord 31: Selfless Love
Sometimes, love feels beautiful between old age couples than between young romantics. This is one such story that glorifies the silent love between an aged couple. A grandson talks about the beautiful relationship between his grandfather and sick grandmother and what he learns about married love through his grandparents' life.
Umbilical cord is a nice, quick read that is sure to remind us of something important and perhaps, of certain things that we are missing to act upon in life.
Reviewed for the Author
Disclosure of Material Connection: I received this book as a complimentary copy from the Author in exchange for a honest review. I was not required to write a positive review. The opinions I have expressed are my own. 
Thanks to author Santosh Avvannavar for the signed copy. 
Title: 

Umbilical Cord: A cord that remains, always, in many ways…

Authors: Santosh Avvannavar & Meena R Chandawarkar Publisher: Hoffen Pages: 116
Author Connect
WebsiteBook BlogFacebook
@Goodreads
Buy Online
Pothi
About the Book
"Here comes a compilation of 40 short stories by Meena R Chandawarkar and Santosh Avvannavar that uses The Umbilical Cord as a metaphor to bring social awareness and intends to draw the reader's attention towards the society. The stories in this book revolve around love, forgiveness, empathy etc. as society is a cobweb of relationships. There is something for everyone in this book. Read on to find out which 'cord' is closer to your heart, as the Umbilical Cord is an attachment that remains forever…the name says it all…" 
About the Authors

Prof. Meena Rajiv Chandawarkar presently the Vice Chancellor, Karnataka State Women's University, Vijapura, is a multifaceted personality. After commencing her career as a Probationary Officer with Union Bank of India, she joined the noble profession of teaching at Narasapur Arts and Shirur Commerce College, Bagalkot, where she worked for 24 years. Basically a student of commerce, she switched over Human Resource Development related ac- tivities after her research on Human Development and Productivity. She then joined the UGC-Academic Staff College, Karnataka University Dhar- wad as its Director, made it a center of vibrant academic activity and enjoyed the unique privilege of inspiring and motivating teachers who underwent training programmes there. She is an ardent lover of dance, music and fine arts. She encourages youth to exhibit their inert potential in these areas by conducting various programmes on behalf of AMRITA Foundation for Human Resource Development, Bagalkot. She has bagged the Karnataka State Government's Department of Collegiate Education "Best Teacher Award for Commerce" and "ETV Kannada Channel's Solariser Paripoorna Mahila award". A staunch believer of in the saying "Be thy labor great or small, do it well or not at all". She strives to be an inspiring teacher and making a difference in the lives of her numerous students.
Santosh Avvannavar: Santosh started his career as a consultant and Soft Skills Trainer. He did his college education from NITK, Surathkal. He functioned as a researcher at University of Eindhoven, University of Twente and Indian Institute of Science, Bangalore. He was also the Placement President, while he was working at IISc, Bangalore. He has over 25 publications of mostly research documents that have found their place in National & International Jour- nals. Also, he has done 16 conference papers and regularly functions as a writer of different articles for a national and worldwide daily paper. He is an advisor for different organizations. He is an author of Adhuri Prem Kahaniya, Dear Wife, Your Husband is not a Superhero, Second Heart, Get a Job WITHOUT an Interview, Be a B.A., Surrogate Author, Title is Untitled, Black, Grey and White, The Departing Point. 
Throughout his personal time he composes his thoughts in a website, namely www.amritafoundation.wordpress. com and ventures into fiction writing. He delivered semi- nars and training to more than 40,000 people in India and abroad over the span of 7 years.