Most peeps say 'Finding appetizing, pure veg Andhra meals are not always an easy task when you're out for eating in Bangalore! but once you visit the outlets of Nandhana Palace – Andhra Style Restaurant you will not agree to this statement.
If you're looking for genuine, spicy and flavorful Andhra food, Nandhana Palace is the perfect place to head to.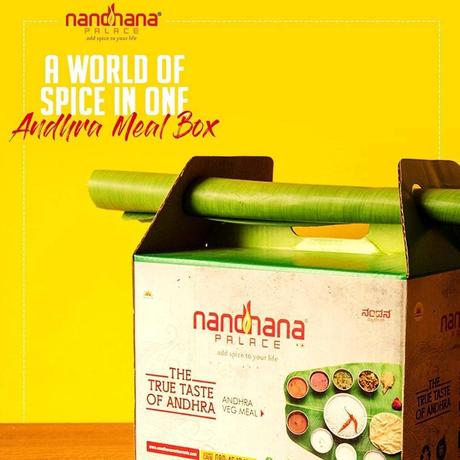 We South Indians usually prefer fluffy rice with fresh and tasty varieties of "vegetables, curries, pappu, sambar, rasam, pachadi, podi & ghee, papadam, pickles, thick curd and other side dishes" when it comes for lunch.
Nandhana gives you such type of the best south Indian veg meals in Bangalore.
The city might have fewer vegetarians compared to other parts of Karnataka but the city's vegetarian dining scene has always been teeming.
Anyone who has enjoyed the joy of authentic Andhra style food in Nandhana Palace will always long for delicious vegetarian meals. The Restaurant has a plethora of flavorful and mouthwatering Andhra meals for both Vegetarians and Non- Vegetarians.
Nandhana Palace's specialty- Andhra style banana leaf veg meal (Bhojanam) for lunch
Very few Restaurants manage to get the right flavor of Andhra cooking and this is one of the places that does.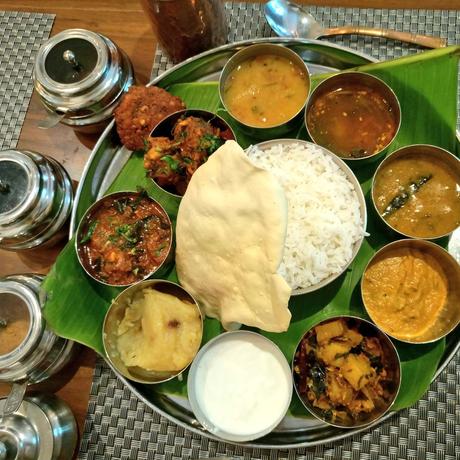 Once you're seated in a table, a splendid Andhra Meal is served on fresh banana leaf with unlimited steam rice and pure ghee, savoured with comforting akkurapappu, scrumptious vegetable vepudu, home style podi, standard sambar, flavorful rasam, thick curd along with cruncy papad, fried chillies and delightful special pachadi, spicy pickle and tasty sweet.
Mini Meals comes with 1 bowl of white rice, sambar, rasam, pappu, thalimpu, chutney, curd, papad, sweet, fried chilli and pickle.
Enjoy the banana leaf experience at your desk- Carrier Meal
For all you Andhra peeps and those who love Andhra style meals, now you can eat your meal just like how you'd do at home. Nandhana have launched carrier meal box that have all the goodness of Andhra style vegetarian meal along with plantain leaf.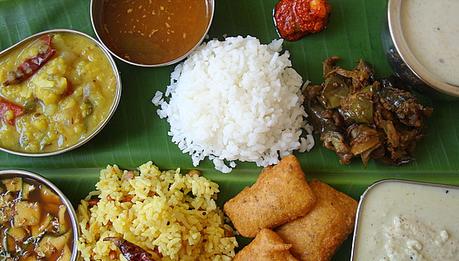 The meal box comes with enough rice to feel 3 people easily! It's satisfying and delicious with pappu, vepudu, sambar, rasam, curd, payasam, papad, ghee, podi, pickle and chutney. This is why we say Nandhana provides best of the best Andhra meals in Bangalore.
That's not all, Nandhana Palace has more than just one spot for the most filing and yummy meals ever. Yeah its immense popularity among many foodies has led them to have many outlets around the city. Visit the outlets nearby you or Order and get a pure vegetarian treat delivered right to your doorstep!
Related Article:
https://sparkwebjournal.blogspot.com/2019/10/must-visit-place-in-bangalore-to-get.html
https://www.nandhanarestaurants.com/blog/2019/10/03/explore-the-best-biryani-of-nandhana-restaurants/