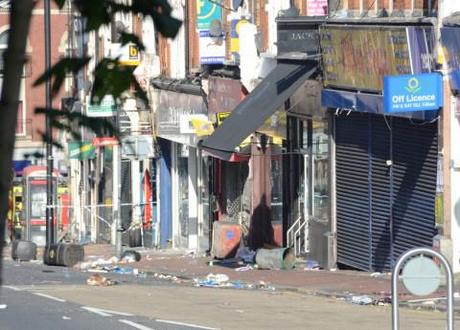 Clapham, the day after rioters and looters swept through. Photo credit: Ben Tilley, http://www.flickr.com/photos/benluketilley/6024827605/
(Paranoid) footballer's conspiracy theories. Footballers aren't best-known for their searing socio-political analysis. But, even with this in mind, QPR right-back Bradley Orr's take on events has been somewhat laughable. In a flurry of Tuesday tweets, Orr suggested the riots might be being organized by the government to allow them to rule with "even more of an iron fist." Here's Orr's reasoning in full: "The illuminati, new world order!!! Events like these pointless riots make me think is events planned by the government? I don't know for certain but read about it on Google or watch clips on YouTube and decide for yourself, because for me it isn't just coincidence that at the time all this kicks off the PM and his comrades are out of the country and don't rush back! Once the country is in a state of fear they will have us in the palm of their hands just where they want us and then they rule with even more of an iron fist and our identities are not our own! They rule us and what they say goes! End of, no questions asked!!! Maybe I'm going mad but somehow I don't think so! There is a method in this madness!"
Chill … Hulk Hogan's here to help. "Y'know, it doesn't really matter if Hulk Hogan's over there bodyslamming all the youth like I did Andre the Giant but, at the end of the day, we need to grab these kids, shake them, and say 'Stop! Regroup! Just look at yourself in the mirror," legendary wrestler Hulk Hogan said on Richard Bacon's BBC radio show. The self-aggrandizing celebrity added that he was happy to lend a (big) hand to sort out the mess: "But, you know what? I will do anything because I love my UK Hulkamaniacs."
Howe: I don't call it rioting. Few reactions to the rioting have been as fiery as West Indian community leader Darcus Howe's booming response. When interviewed by the BBC, Howe said, "I don't call it rioting, I call it an insurrection of the masses of the people. It is happening in Syria, it's happening in Clapham, it is happening in Liverpool, it is happening in Port-of-Spain,Trinidad. That is the nature of the historical moment." When asked if he had ever been involved in a riot he accused the interviewer of being an "idiot" and demanded that she "have some respect for and old West Indian negro."
Dan Snow: Have-a-go hero. When burly TV presenter Dan Snow heard riots raging outside his London home his curiosity got the better of him and he went out for a gawp. One thing led to another and soon he found himself sitting on a looter (complete with pillaged trainers) until the police were able to apprehend him. Way to go Dan!
Photoshoplooter. A spoof website called Photoshoplooter has been set up to provide some much-needed light-relief. It sports real pictures of looters photoshopped to include ridiculous items of bounty like fish and board games. It's a surrealists' treat.
Nyman not impressed. In his reaction to the riots, legendary composer Michael Nyman managed to question both British foreign policy and domestic policing in one sentence. He Facebook updated, "Michael Nyman is pleased that whereas Britain uses its army to 'solve' problems internationally through violence [inIraq, Afghanistan and Libya, for instance] it refrains from doing so in London, Birmingham and Manchester." Spicy!