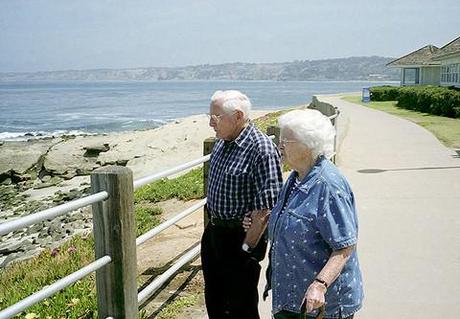 Elderly people: Dementia fears. Photo credit: Brian Auer
UK Prime Minister David Cameron has pledged million-pound funding to tackle the "national crisis" of dementia. Under the new government plans, the research budget for the disease will double to £66 million by 2015. Cameron also announced a series of measures to improve care and diagnosis of sufferers.
According to the BBC, dementia is estimated to affect 800,000 people, at a cost to society of £23 billion. And that number is set to rise to one million sufferers over the next decade.
The PM's announcement comes as a new Care Quality Commission report claimed some residential dementia patients are locked in their rooms by nurses. "Other methods used by nursing staff include physical restraint, sedation, preventing patients from seeing family and friends and placing them under high levels of supervision," wrote Stephen Adams in The Telegraph.
But not everyone appeared convinced by Cameron's plans. Former Strictly Come Dancing judge Arlene Phillips, supporter of The Alzheimer's Society, confronted the PM over patient care after the policy announcement. Phillips slammed the lack of compassion shown by nurses towards dementia sufferers, reported The Daily Mail, and demanded: "How will you train nurses to care?"
Good start but still not enough. An Independent editorial welcomed plans to double research funding into dementia but pointed out that this remains a sorely underfunded field: "Spending will rise to just £66m by 2015, in comparison with the £590m invested in cancer research and the £169m in heart disease. The editorial argued that as treatments will take a long time to develop, the government must also turn it attention to the care of current sufferers.
The Alzheimer's Society said lifestyle factors may contribute to certain types of dementia, reported Channel 4 News: "The society says conditions such as high blood pressure, diabetes and obesity may increase the chances of developing dementia."
Better diagnosis. "The focus of [dementia] research is on how to modify and hopefully slow down the rate of disease progression, not cure it," wrote Julia Manning for The Daily Mail. "It is still a terminal illness with the average life expectancy after diagnosis being eight years." According to Manning, this bleak scenario is why many sufferers avoid the doctor in the early stage, and why some healthcare professionals take a resigned attitude to diagnosing the disease: "What's the point of diagnosing something you can't prevent?" Manning hoped the new plans will encourage a change in attitude.
Range of initiatives. Writing in The Guardian, National Clinical Director for Dementia Alistair Burns wrote that there is "widespread fear, stigma and misunderstanding" over the disease among both public and professionals. Therefore, said Burns, the plans will include measures to educate NHS workers, as well as improving care in hospitals and residential care homes. "People with dementia and their carers will receive the best treatment and care that they deserve and which we as a society have the duty to provide." Burns wrote.