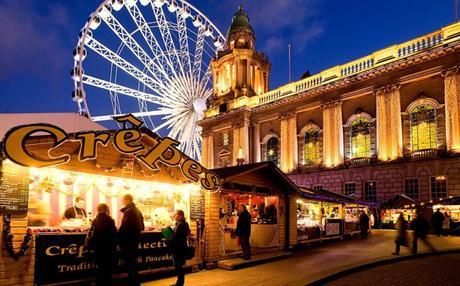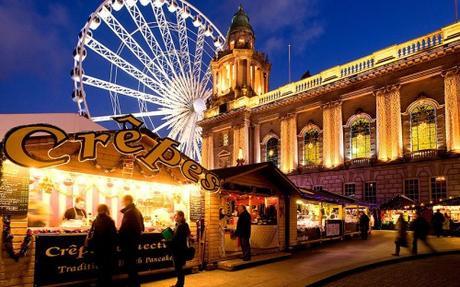 Whether or not you made plans for winter holidays, we invite you to admire a selection of the most beautiful Christmas markets in Europe.
4 of the Coziest Christmas Markets in Europe
You've probably heard a ton about European
Christmas Markets
lately. And if not, well, I'm here to tell you that they are pretty much the greatest wintry thing ever invented. In a nutshell (nutcracker?), they are outdoor festivals home to little wooden
…
Winter in Europe is a wonderful time to visit the most beautiful Christmas markets. If you are looking for Christmas gifts and fir dream of smell or sound wonderful Christmas carols, we invite you to brainstorm selection of europeanbestdestinations.com admire the most beautiful Christmas markets in Europe, the perfect destination for winter holidays.
Strasbourg
The first Christmas market was held in 1570 in Strasbourg, under the name "Christkindelsmärik" (market of the Child Jesus). Starting this year, Strasbourg has continued the tradition by organizing a traditional Christmas market, authentic and rich.
Aachen
Every year before Christmas, markets and streets around the Cathedral and Aachen City Hall is transformed into a paradise of lights and colors, festive sounds and smells. Christmas Fair fascinate both the young and the old ones.
Christmas Markets in Vienna truly an ancient tradition. Forerunners current events dating from the Middle Ages, when in 1298 I gave Albrecht Vienna citizens the privilege of holding a market in December or "Krippenmarkt". Since then, nature and prevalence of these markets have changed considerably. Currently, more than 20 Christmas markets sell a wide range of seasonal gifts and delicacies.
Birmingham has the largest authentic German market in Europe outside of Germany and Austria, with 5.5 million visitors in 2014. Consisting of the Birmingham Frankfurt Christmas Market and the Craft Market, the market has grown from just 24 stalls in 2001 to 180 this year, covering New Street, Victoria Square and Centenary Square. The Frankfurt Market offers a wide range of products, including Christmas decorations, handcrafted jewellery, carved wooden toys, sausages, beer and pretzels, while Christmas Craft Market will offer handmade crafts, soaps and candles by local artisans, as well as a wide range of unique and quirky items imported from around the world. Additionally, visitors can enjoy the popular ice rink and big wheel.
Let's go to Colmar, a city where the magic of Christmas can be experienced in its purest form for six entire weeks, since 17 years. Your way will be drawn by illuminations linking to the city's five Christmas markets, in a labyrinth of small streets lined with century old half-timbered houses.
Nestling in town squares with their own special architectural features, these islands of togetherness are like the city itself: intimate and authentic. Each market is a mini-village, highlighting passionate and enthusiastic craftsmen. Most of them are from Alsace and have been chosen for the quality and the uniqueness of their products.
Next to that, you are invited to participate to a wide range of activities, making the Christmas in Colmar an uncommon experience: guided tours, wine-tastings, children animations, exhibition of traditional toys, as well as many shows and concerts.
If you like Christmas, you'll love Dresden. A grand total of eleven completely different Christmas markets, from the by no means Dark Ages to the après ski charm of alpine huts, makes for wonderfully conflicting decisions.
Holiday sounds fill the air throughout the city. From the many oratorios, Advent, organ and gospel concerts, Dresden's churches brim with festive insider tips.
Christmas tales also come to life in the city's theatres whilst museums host special exhibitions and boats bejewelled with lights glide along the Elbe. If only Christmas could last more than just a few weeks…
Highlights:
581st Striezelmarkt plus 10 other specially themed Christmas markets, 26th November – 24th December 2015
800th Anniversary of the Dresden Kreuzchor:
Open-Air Advent Concert in Dresden Stadium, 18th December 2015
Traditional Christmas Vespers outside the Frauenkirche
23rd December 2015
The, original, biggest and – arguably – the best Christmas market in the country, Manchester Christmas Markets is the ideal destination for a festive outing.
Arriving in the city in 1999, the first Christmas market in the UK has grown every year since, now attracting more than nine millions visitors each year.
Some 300 beautifully crafted stalls offer mouth-watering international food, drinks and finely crafted Yuletide gifts in the heart of the buzzing city centre.
Spread across 10 individual sites – each with distinctive own distinctive character – Manchester Christmas Markets has something to offer every festive visitor.
This year the market will also introduce a designated family site for the first time with fun rides and entertainment throughout the season, including: LED light performers, magicians and street theatre – with spectacular views of theManchester Cathedral and National Football Museum.
London's spectacular Christmas destination – Hyde Park Winter Wonderland returns on 20th November for six exciting weeks of winter festivities with FREE admission and even more entertainment than before. With more than 100 rides and attractions on site, there's something for everyone.
For those Christmas shoppers, there's the traditional German Christmas market with over 200 chalets. The Angels Christmas Market offers unusual and handmade gifts and crafts, including ceramics, candles, jewellery, wooden toys, nativity scenes and Christmas decorations.
Whether you enjoy a traditional or contemporary Christmas, Stockholm has something to offer you. Experience aChristmas market, have some glögg and ginger bread and go shopping under the beautiful Christmas decorations that light up the city every year. For a genuine Stockholm Christmas, the Old Town's Christmas market is a must. This market has been held in Stortorget since 1915, and the little red stalls sell warm "glögg", gingerbread, cheese, candy and craft.
From mid-November to Christmas, Vienna's prettiest squares transform into magical Christmas markets. The aroma of Christmas bakery items and hot punch creates a pre-Christmas atmosphere.
One of the most well-known Christmas Markets is the traditional "Vienna Magic of Advent", which turns the City Hall Square into a shining fairytale land. Christmas gifts, tree decorations, sweets and warming drinks are awaiting you as well as a carousel and craft fun Christmas Workshops for kids. The trees of the surrounding City Hall park are festively decorated and radiate in a sea of lights – a Viennese experience, you'll definitely don't want to miss!
Another hot spot before Christmas is the cultural and Christmas market in front of Schönbrunn Palace. It offers sheer romance in front of an imperial backdrop, and is converted into a New Year's market after Christmas. The atmospheric market offers traditional handicrafts, hand-made Christmas decorations, Christmas concerts and an extensive children's program, including Christmas workshop.
Come and see for yourself why is the Croatian capital visited by an increasing numbers of tourists during the time of Advent; get to know its idyllic side and partake in themed programmes which take place on the streets and squares around the city centre.
During the time of Advent, Zagreb offers a special atmosphere which simply must be experienced. An ever growing number of tourists choose the capital of Croatia as their destination at that time of year as good fun is had by all literally every step of the way. The city streets and squares invite you to let your hair down and partake in singing, dancing, and other kinds of entertainment with family and friends. You can also sample traditional delicacies alfresco or enjoy themed programmes which take you down memory lane.
Welcome to Tallinn Christmas Market! The fairy-tale atmosphere of the Christmas market, which is held on the Town Hall Square in Tallinn, makes anything possible! At the heart of it all – apart from Santa and his reindeer, who are eternal favourites with the kids – is Estonia's most famous Christmas tree, surrounded by little huts selling their wares. Here you will find handicraft specialists with their work, and seasonal Estonian food and drink.
Tallinn's Medieval Old Town takes on an especially magical quality during this time of the year as a fresh powdering of snow covers its gabled rooftops and outdoor candles fill its cobblestone lanes with a flickering glow.
Tallinn is also the home of the world's first Christmas tree. This tree was erected on Tallinn's Town Hall Square and was the focal point of a ritual, that began in 1441, and involved unmarried merchants singing and dancing with local girls around a tree, which was then burnt. The tree was the first public Christmas tree ever put on display in Europe by the Brotherhood of Black Heads guild. The tradition has now been revived.
Medieval towns, fairytale castles and spectacular cathedrals
Castle Neuschwanstein at Schwangau, Bavaria, Germany (Photo credit: Wikipedia) The most beautiful places in Germany. Even if it does not occupy one of the first places in the top tourist destinations, Germany is a country with numerous scenic and many things that can attract tourists. It has dream castles, medieval …
.
Originally posted 2015-12-16 15:26:10. Republished by Blog Post Promoter