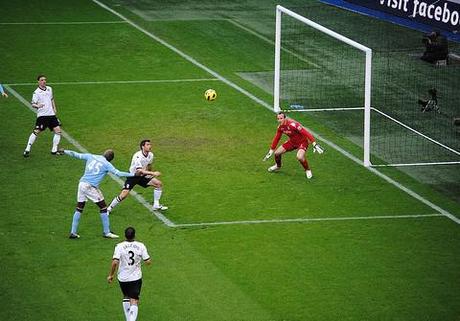 Mario Balotelli (45) heads toward goal in a Manchester City versus Fulham FC game. Photo credit: ZawTowers
The background
Manchester City and Italy's maverick striker Mario Balotelli is as well known for his verbal outbursts as for his goals. But even by Balotelli's pretty sensational standards, his latest comments are explosive to say the very least. Reacting to concerns that there will be racist chanting towards black players at Euro 2012 from ultra right-wing Polish and Ukrainian fans, Balotelli told Sky Sports News that "if someone throws a banana at me in the street, I will go to prison because I will kill him. Racism is unacceptable to me."
His not-so-soothing words are not exactly going to cool down the heated debate about whether Poland and Ukraine's problems with racism and anti-Semitism, as depicted in a hard-hitting 28 May BBC Panorama Stadiums of Hate documentary, make the countries unsuitable hosts of the high-profile tournament.
The BBC Panorama team interviewed ex-England international Sol Campbell for the film who had this advice for fans thinking of traveling to Euro 2012: "Stay at home, watch it on TV. Don't even risk it … because you could end up coming back in a coffin."
Balotelli through his own eyes
Balotelli is certainly no stranger to controversy. The Telegraph considered Balotelli in his own words. Here is a selection of the most outlandish quotes, as selected by The Periscope Post: 
On whether he considers himself as a child, adolescent or adult? 
I feel like all three at the same time. I'm happy to be that way, and I hope I'll always be like that.
On being not your average footballer:
 If I was born again I'd do the same things again in my life. I am different. If you find another guy like me, I'll buy you dinner!
On what being Italian means to him: 
I don't know. What's sure is that you eat better in Italy than anywhere else in the world.
On if he is a genius?
 Yes I think I'm a genius. But I don't think I'm a rebel genius. I have my life, my world, I behave how I like, without stepping on anyone's toes.
On becoming a dad in the future:
 I would be ready to become a dad if I was with the right person. I'd like a boy though. Because they're in charge.