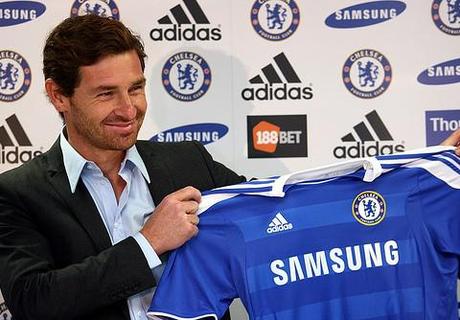 Andre Villas-Boas is only ten months into the Chelsea job but he's already under enormous pressure. Photo credit: The Sport Review http://www.flickr.com/photos/[email protected]/6144390163/sizes/m/in/photostream/
Chelsea manager André Villas-Boas is clinging on to his job by his fingernails after his side were beaten 3-1 by Napoli in the first leg of the last-16 Champions League tie with the fiesty Italian side. The defeat was especially damaging for the under-fire young Portuguese manager because he chose to bench experienced players including Frank Lampard and Ashley Cole, popular figures in a reportedly mutinous Stamford Bridge dressing room.
In characteristic fashion, Villas-Boas used the post-match press conference to reaffirm his belief in the three-year plan undertaken at the owner's behest. "We have our idea very focused on the future," he said, "but we have to understand that we are committed to the present." Ominously for Villas-Boas, Russian owner Roman Abramovich did not publically back his young charge in the wake of the crushing defeat in Naples.
The molten heat on Villas-Boas. At The Guardian's Sport blog, Richard Williams wrote that "if Vesuvius had erupted during the match and sent its molten lava rolling down the hillside to engulf the old San Paolo stadium, the archaeologists of a future generation might have unearthed the remains of a youngish man, charred scraps of a rather fussy belted raincoat clinging to a corpse frozen for all time in a strangely contorted position, perhaps crouched down on its haunches, its hands fashioning an urgent gesticulation. The historians would have noted the anguish on the man's features and assumed it to be the result of the shock and pain caused by the lava flood, like the victims in nearby Pompeii almost 2,000 years ago. They would be wrong. André Villas-Boas's pain was all caused by his football team, or rather his difficulty in making his players function according to his blueprint." Williams suggested that Villas-Boas' fate as Chelsea manager depends on his ability to overturn the first-leg deficit: "On 14 March, the eve of the Ides, his team face Napoli again in the return leg, and in the view of much of the outside world he now has exactly 90 minutes to save his 'project and prove to the many sceptics that, at 34 years old and with very little serious experience, he is capable of managing a side at this level. Failure would make the following morning's conversation with Roman Abramovich a very difficult one."
"Chelsea's rearguard, with the untempered combination of David Luiz and Gary Cahill at its heart, were never up to coping with the combination of Cavani and Lavezzi. Napoli may be lying only sixth in Serie A, with a mere nine wins in 24 matches this season, but El Matador and El Pocho (or Tubby, as Lavezzi is known) tend to make the most of the scope offered them by English defences," observed Richard Williams at The Guardian.
Terry not wanted, desperately needed. Writing at The Telegraph, Paul Hayward sympathized with Villas-Boas' painful predicament as a man with a "reform mandate" but few able replacements for the established and aging Chelsea stars: "A chronic imbalance exists between the ambitions set out in Villas-Boas's job spec and the disorder at the rear of his team … Villas-Boas is edging the old guard into shadow. His problem is that he possesses too few players to effect the transformation. He has one Juan Mata but needs five. He has one Fernando Torres and would be better off with none." Hayward argued that Villas-Boas' plight is pretty much summed up by the John Terry situation: "Who could have guessed when Villas-Boas arrived with a reformist mandate that his future would hang on precisely those virtues Chelsea are trying to evolve beyond: know-how, solidity, power … There must have been many days over the past three months when Villas-Boas wanted to steer Terry into a siding and leave him there. In a bad run of form, the kind of intestinal fortitude Terry brings to these overseas ordeals was bound to be missed."
"No Cole was the biggest shock. No Essien the biggest mistake. No Fernando Torres, no surprise. It is hard to imagine what he would have added to this, bar a reminder of the headache that awaits Villas-Boas' successor," said Samuel of Villas-Boas' controversial team selection.
Straw men got burned. Martin Samuel of The Daily Mail said Villas-Boas "played that most dangerous game in Naples: look how clever I am. Not as clever as he thinks, as it turned out." Samuel said the manager "compounded" weaknesses: "He left Ashley Cole, Frank Lampard and Michael Essien out of his starting line-up and played straw men where figures of resilience and determination once stood. At the back, Chelsea were soft, soft, soft. Napoli ran far too easily through the middle where Raul Meireles proved a poor sentinel. Behind him, David Luiz and Gary Cahill continue to form the least convincing partnership since David Cameron ended up with a half share in a general election victory." "In place of vindication, Villas-Boas has earned instead a stay of execution, at best," opined Samuel, who said Villas-Boas is "little more than a dead man walking, staggering on with a group of players we have come to regard as his gang. Rather an unconvincing bunch they are, but there you go … That is the problem for all Chelsea managers in recent times. Villas-Boas' team is a collection of the greatest hits, and misses, of several Chelsea coaches past … We never get to see the manager's team at Chelsea because the shadow of the owner's whims always places him in gloom."