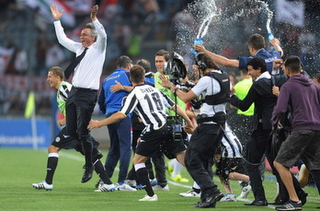 While the Serie A has lost its next season fourth Champions League spot to the German Bundesliga, next season will be the last one in which we'll have the chance to see four Italian teams in Europe's top competition. Udinese have made it to the Serie A's fourth Champions League spot, just edging ahead of Lazio thanks to a superior goal difference.
Udinese's season has been a fantastic one thanks to their attacking style of play brought by their coach Francesco Guidolin. The tactician imprinted an expansive style of "pass and move" which earned Udinese the nickname
piccolo-Barca
, which translates to "little Barca". And just like how Barcelona have Leo Messi, Udinese have their own magical goalscorer, Antonio Di Natale. The 33 year-old captain of Udinese scored 28 goals in the Serie A for Udinese, earning the top goalscorer award in Italy for the second season running.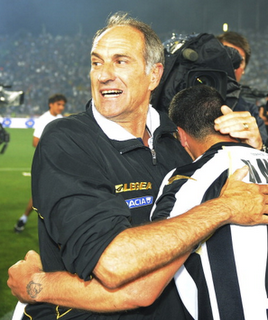 Udinese coach Guidolin embracing Di Natale
Every hero has a sidekick, and Di Natale's is the Chilean, Alexis Sanchez. With 12 goals in the Serie A this season, Sanchez has terrorized defences with his speed and dribbling. His creativity and versatility allowed Guidolin to pair him with Di Natale, forming an unparalleled attacking couple. Yet Sanchez will most likely be moving away from Udine in the summer, as his talent has caught the eye of Manchester City, Manchester United, Inter Milan, and many other top European clubs. 
What makes Sanchez special is the fact that he is a complete forward. He can be played on either wing of a 4-3-3, as a forward in a 4-4-2, or even as a
trequartista
or attacking midfielder in a formation like the 4-3-1-2. Not only can Sanchez dribble by just about any defender with his trickery and change of pace, but he also has great vision for picking out passes and creating assists. At just 22 years-old, Sanchez has plenty of time to develop, and can easily become a star of the modern game if used in the proper system.
While Udinese has been reliant on this duo for goals, what has helped Guidolin's fight to achieve Champions League football is the unity in the team. It's said that at the beginning of the season he invited every player, one by one, to his house for a hearty dinner, where he got to know each one and let them know of their importance in Udinese's Serie A campaign. This unity shines through in a team which really plays as an organism. The One-touch passing has cut through so many Serie A defences, and their tireless speed with which they attack has been a huge problem for many opponents.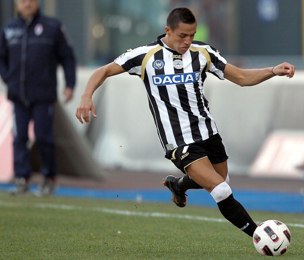 Alexis Sanchez will probably join a 'bigger' club next season
Of course, this unit has some very key parts which make it function properly. Armero has run players ragged on the flanks, and has attracted the interest of AC Milan which could make a move for him in the summer. Cristian Zapata has been a rock in Udinese's three-man defence, and could be a bargain for any sides looking for a strong and physical central defender. The mastermind in midfield for Udinese has been Gokhan Inler, his wide range of passing, and long range shooting has helped score and create goals. But maybe the true unsung hero for Udinese has been the goalkeeper, Samir Handanovic. The Slovenian keeper has been a wall, saving at least six penalties in the Serie A, and producing spectacular saves to keep Udinese's Champions League dream alive. 
Now Udinese will have to hold on to their many stars, including maybe even their coach. While Francesco Guidolin would surely love to take Udinese to the Champions League next season, if he is stripped of his best players and is left with little to work with, we could see him move to a different Serie A club next season. While this season has been a fantastic one full of great memories and brilliant playing by Udinese, an even better one is yet to come, where the loveable city of Udine can chase European glory.