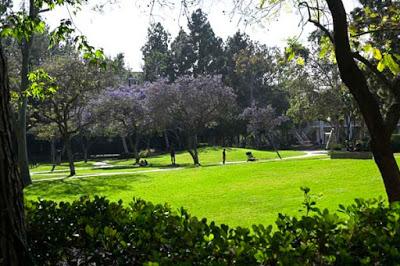 Sculpture Garden, UCLA, Los Angeles, California
On a recent Sunday afternoon, our excursion to get out of the house was a walk on the UCLA campus in Los Angeles, California, visiting the botanical garden at one end and the
Franklin D. Murphy Sculpture Garden
at the other. It was the perfect place to get some exercise and fresh air.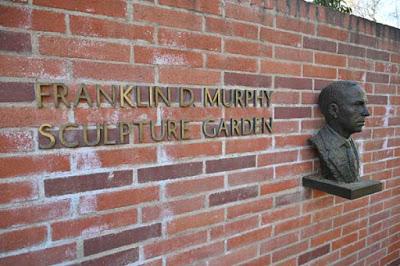 The Sculpture Garden is dedicated to Franklin D. Murphy, UCLA's Third Chancellor
There were a few other people, but not many, and lots of flowers and birds. (We wore our masks and kept our social distance when necessary.) The jacaranda trees were just beginning to bloom. Soon, the lawn will be a carpet of purple petals. It was a beautiful day and the grand vista brought to mind the famous pointillist painting by Georges Seurat,
Sunday Afternoon at La Grande Jatte
--without the ladies in their long skirts and parasols.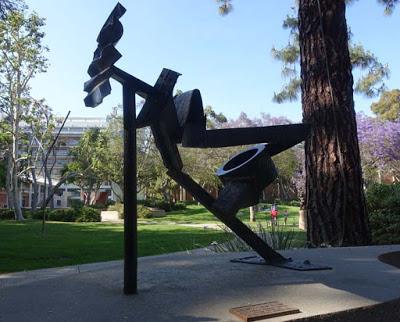 Architectural Sculpture, Oliver Andrews
The sculpture garden is nestled on five acres between campus buildings and consists of a network of walkways around large stretches of lawn.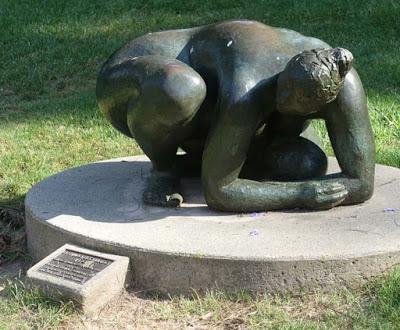 Desnudo Reclinado, Francisco Zunicka
More than seventy sculptures, by artists ranging from Auguste Rodin and Henri Matisse to Barbara Hepworth and Alexander Calder dot the landscape.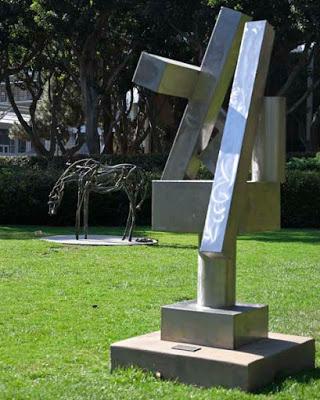 Cubi XX by David Smith; the horse sculpture in the background is Pensive by Deborah Butterfield
A large metal piece called Cubi XX by David Smith brought back memories of the sculpture class I took at Hunter College many years ago when he was my teacher. He encouraged us to work with contemporary materials. I spent the semester creating small abstract constructions with Plexiglas.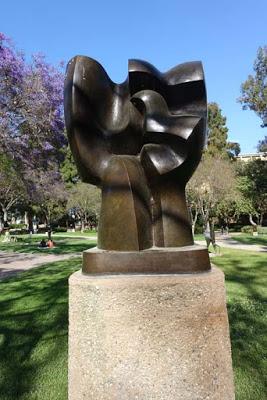 The Bird Goddess, Vladis Vildziunas
As Art and I rested in one of the seating areas, we watched a beautiful pair of western bluebirds, as well as flycatchers and juncos with young, foraging among the surrounding plants. It seemed appropriate that one of nearby sculptures was called
Bird Goddess
!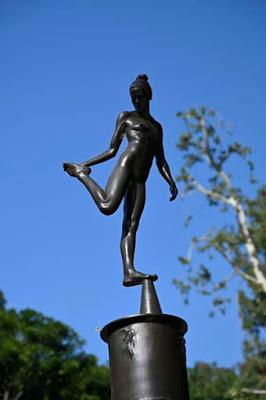 A pair of dancers by Robert Graham are mounted on pedestals near a pool at the edge of the garden.
Both the Sculpture Garden and the Botanical Garden are free and open to the public. When school is in session they are popular places for students to gather and enjoy the fresh air. But now, with classes online and the school year nearly over, relatively few people are on campus and there is plenty of room to move about and keep one's social distance.
For more information about the Franklin D. Murphy Sculpture garden and a map of the area, click
HERE
.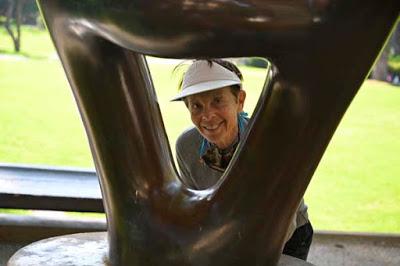 Looking through Ptolemy III by Jean Arp