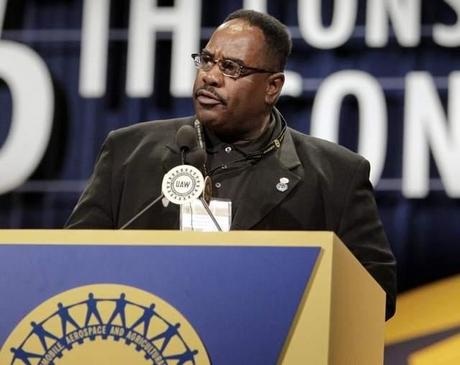 UAW Vice President General Holiefield speaks during the 35th UAW Constitutional Convention held at Cobo Center in Detroit in 2010. A misdemeanor charge was announced Friday against him in the accidental shooting of his wife. / Rashaun Rucker/Detroit Free Press




Detroit Free Press




UAW Vice President General Holiefield faces a charge of reckless use of a firearm in what police called an accidental shooting at his home in Harrison Township on Dec. 30. 




The Macomb County Prosecutor's Office authorized a warrant for the misdemeanor, which is punishable by up to 90 days in jail and a fine of $500 upon conviction, police said. "He will have to be booked, fingerprinted and (have) a mug shot taken," Macomb County Sheriff's Office Lt. John Michalke said. "But that has not been done yet." 




Police said Holiefield's wife, 50-year-old photographer Monica Morgan, was shot in the stomach in what appears to have been an accident. Holiefield could not be reached for comment today. 




Morgan underwent surgery for her injury. She has been released from the hospital and is recovering, Michalke said. 




Police have said that Holiefield, 60, was at his home on Mazuchet Drive, cleaning his semiautomatic handgun at the kitchen table when the gun accidentally discharged.


I realize he's the wrong color to receive such lenient treatment, but he's not your average black dude either. This is a guy with political connections and influence. Unfortunately, due to those connections and influence, he'll continue to be a menace to himself and those around him. Instead, he should be disarmed tout de suite.